I am one of the Crypsty Settlement Class Members, and I filed an opposition to the settlement. After reading the details of the settlement, it gave me cause for concern. Chiefly, the settlement is pegging the value on class member holdings at the cryptocurrency values of November 1, 2015. However there are other aspects that concern me. I have until June 2, 2017 to withdraw my objection. So, I would like to get the opinion of other class members and those in the cryptocurrency world as to whether they think the settlement is fair or not, and whether I should continue to oppose.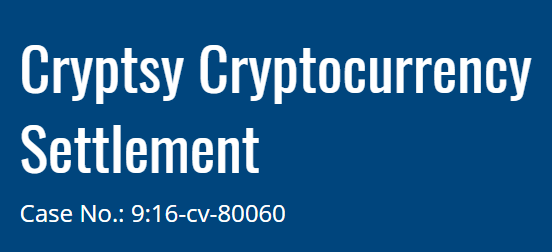 The cost of a Bitcoin on November 1, 2015, was a little over $300. Yesterday, the price of a Bitcoin was over $2600. To me, it seems that when Vernon purportedly stole our coins he robbed us of "things" that need replaced at a current value. So it would make sense that the class members were due the price on the settlement date.
The attorneys handling the case contend that there won't be enough money to spread around anyway, and so it doesn't matter. Also, there is no way to tell who had what at Cryptsy, as Vernon destroyed the account records. So, November 1, 2015 really is the fairest date possible.
But this leads me to my major concern: How destroyed are these records? It would seem that Cryptsy had numerous wallets with known addresses. I would think that with a certain amount of sleuthing, these accounts and transactions could be verified. For example, many of us transferred Bitcoins from Coinbase to Cryptsy, and those wallets are known and verified in numerous ways.
Furthermore, what vetting process has there really been to verify account holders? It would seem to me to be fairly easy: Email from Crypsy, and wallet transaction records into Cryptsy's wallets. But, it should be pointed out: I had both of these things but was never sent an email notifying me of my inclusion in the class. How many others are there? How many fake claims are there?
Though I know more than the average person about cryptocurrency, I am not an expert. So, it anyone out there can chime into the extent of the detective work needed to reverse engineer Cryptsy accounts, I would appreciate it. I do want to say, despite my current opposition, I really respect what the attorneys have done so far in the case. I really believe this is a watershed moment, good or bad, for cryptocurrency in general.
But, I do have my reservations, and I'm guessing after reading the details of the settlement, you may too. So, please chime in and let me know what you think. There are currently 2-3 opposers to the settlement, and I want to know from the community what it thinks I should do. You can read the details of the Cryptsy Settlement here:
http://www.cryptsysettlement.com/