Review Cryptovouchers & Earn Upvote + Raffle Bounty 500 USD Up for Grabs!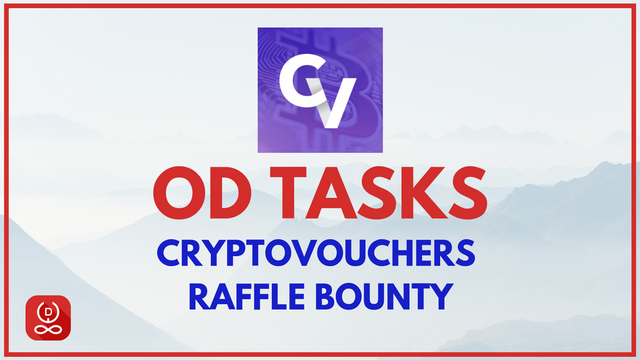 Hello Everyone,
Last month @cryptovouchers implemented STEEM with the help of @Oracle-D. Now anyone can buy its vouchers on their website or locally very easily. Check their introductory post for more info.
Overview
As part of this Steem exclusive task, all steemians have the chance to earn raffle prizes for purchasing 10 USD or more worth of Steem! They may also write a review of their experience. Best reviews can earn Oracle-D upvotes and are eligible for the top raffle prizes!! See details below for further information.
REWARDS
Every blog that meets Oracle-D requirements & guidelines mentioned in this blog will be rewarded with upvotes based at our own discretion.
Top 5 content pieces will get full OD upvotes.
More details about rewards are given in "TO DO" section
TASK DURATION
Start date: 11 - Apr- 2019
End date: 18 - Apr- 2019
MANDATORY GUIDELINES
Upvote & Resteem this post. Share the link of your reviews under this post of @Oracle-D.Tasks.
MAKE SURE YOU SHARE YOUR ENTRIES HERE: https://steemit.com/odtasks/@oracle-d.tasks/task-8-review-cryptovouchers-and-earn-upvote-raffle-bounty
GOALS
Promote and review Cryptovoucher services.
PROJECT/CLIENT DETAILS – Background Research
Crypto Voucher is the easiest way to buy Bitcoin, Ethereum or other cryptocurrencies instantly. Access the crypto-space with your voucher quickly.
TO DO
Buy a STEEM crypto voucher worth 10 USD minimum.
Users may create a review (blog/video) of this experience on STEEM. Oracle-D will upvote the blogs/Videos with proof of voucher purchase.
Users who purchase STEEM using crypto vouchers automatically enter a raffle.
Raffle top prize is 50 USD (given away in crypto vouchers).
Total raffle bounty is 250 USD (given away in crypto vouchers).
Only users who both carry out crypto voucher transaction and create a "review blog/vlog" are eligible for top raffle prizes.
Tag 5 of your STEEM friends in your review content and ask them to try cryptovouchers.
KEYPHRASES, LONG TAIL KEY WORDS AND SUBJECTS TO FOCUS ON (use only those tags that are pertinent to your content)
Cryptovouchers Review, Steem on Cryptovouchers, Buy crypto through vouchers, Crypto Gift Cards
TIPS
Read the following tips on how to write reviews in order to maximize the chance to win:
Please follow these guidelines for best results and high upvotes:
Create only high-quality professional blogs, videos, images, graphics etc.
Upload your videos on Youtube and embed in your content.
The article must be at least 400-800 words in length. Video content can range from 3-5minutes in length.
Share your content on various social media websites and spread the word as much as you can without spamming.
Follow the instructions and task specific details.
Original content only. Plagiarism will get you banned.
Enjoy your task and upvotes.
---