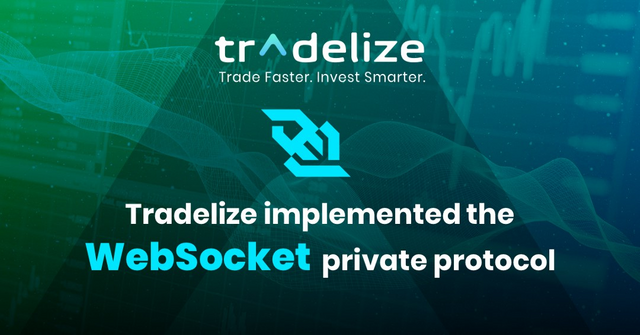 Tradelize strives to provide its users with the most advanced crypto trading tools. That's why Tradelize, just like all the crypto exchanges at the head of the game which are available within the Tradelize Terminal (like HitBTC, Okex, Bitfinex, and Cexio) has implemented the WebSocket private protocol.
Tradelize has implemented the WebSocket private protocol.
This cutting-edge technology noticeably speeds up our already quick system. Data transfer speeds are especially important in crypto trading, so a secondary advantage of this improvement is more efficient trades.
Tradelize is the first company of its kind, releasing a professional crypto trading terminal while introducing the newest trends in technology into their product. This places them at the forefront of the highest rated crypto trading products and exchanges.
WebSocket tangibly increases the speed and efficiency of data transfer, and therefore the efficiency of the entire ecosystem.
WebSocket API receives information in real time without having to transfer any redundant or unnecessary data. This means that information transfer through Tradelize Terminal will be faster.
Using private WebSocket to post trades with Tradelize will markedly increase the capability of the system and give traders an undeniable advantage since their trades will be processed at superior speeds.
This mechanism has already been implemented in the beta version of the Terminal and is already being tested. Traders who are already using the Tradelize Terminal with this updated function are already seeing the difference.
Tradelize developers are not stopping there. New features are being added every day as the system is improved and perfected. All this while providing support for a working version of the product. You can download and use the beta right now.
Tradelize
Trade faster. Invest smarter.
Website: https://tradelize.com
Facebook: https://www.facebook.com/tradelize
Twitter: https://twitter.com/tradelize
YouTube: https://www.youtube.com/c/Tradelize
Medium: https://medium.com/@tradelize