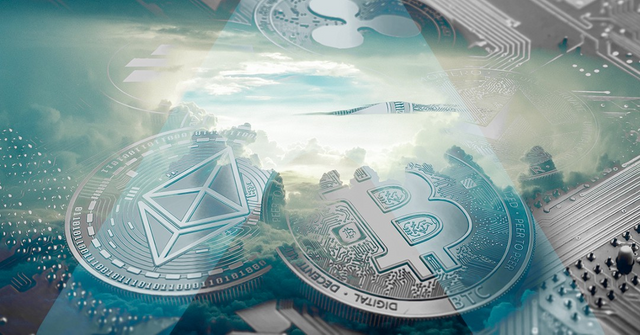 When crypto was high, we we thought we were too late. Now it's low, and we say we were too early. We have to step back from these market cycles. In our view, the market is bound to rally. With Tradelize, you'll be able to mimic the trades of actively managing traders, so you won't miss the shot up.
Since January and February, about all the major news linked to the crypto market, has been optimistic.
Here are 5 reasons the market is turning around:
1. Big Banks Are Waiting For a Dip
As we introduced in an earlier report, Goldman Sachs exploring ways for institutional investors and large banks to get into crypto by putting together a trading table for their mega-wealthy clients. In December 2017, we saw the result of mom and pop investors going in on the markets, and now we are likely to see an uptick made by big groups. These groups are looking to do what most cryptoinvestors are anyway: make money. So logically they are looking for the markets to go down before coming in. The lower the markets go, the theory states, the more possible the banks are to appear and buy large amounts of bitcoin.
Now, finance behemoth Fidelity is thinking to set up a crypto exchange of its own, according to Business Insider. That would introduce the crypto market to tons of new investors who already have online counts with fiat in them.
2. Bittrex accepting USD, Binance Opens Bank Account, Coinbase obtains Keystone Capital
One of the largest exchanges working in the USA, Bittrex has strived to be obedient to regulators, and the effect is something great: a government-approved pairing crypto with USD. Meantime, the largest exchange, Binance, has established a bank account in Malta to manage its future fiat trading. This will lead money not only to the bitcoin markets but to altcoin exchanges as well. Soon you won't need to turn exchanges to get from BTC to alts, you can do it in one place. And the smoothers and simpler trading crypto is, the closer to mass approval we become.
CNBC reported that crypto giant coinbase has acquired Keystone Capital (a stock brokerage firm) in a bid to become an SEC-regulated broker. This is a step closer to the elusive crypto ETF that would be a boon for crypto investors.
Maybe of extra significance in the Bittrex story is that the US states serviced by Bittrex for USD are now Montana, California, and New York. California has a large community and a tremendous market, and New York is where the Wall Street investors are.
3. Young Wall Street traders are leaving Wall Street
Bloomberg recently announced that traders are abandoning Wall Street with "pockets full of crypto". Those savvy millennials felt that scrambling their way to the top was a difficult, while in crypto many of them made tons of money. They can now use their knowledge of the stock market to earn profits on investments in digital money. If all the young talent is leaving big investment firms, Wall Street is going to have to find a way to attract that young talent back. The method could be crypto.
Also, any of the traders fleeing Wall Street might become Tradelize's Pros. Tradelize is searching for the best professional traders who will be given up to $500K to manage, risk-free.
4. SEC Appointed a Crypto Czar
Just as things are warming up, the SEC is becoming involved in maybe a good way. Valerie Szczepanik has been appointed to the overseer of the digital assets and innovative technologies. The SEC said that Ms. Szczepanik, "will coordinate efforts across all SEC Divisions and Offices regarding the application of U.S. securities laws to emerging digital asset technologies and innovations, including Initial Coin Offerings and cryptocurrencies."
In other words, there is now a person who is in charge of investing in cryptoassets and assessing relating law in the United States. This is great because Ms. Szczepanik has prior knowledge of crypto. She seems to know how it works. Also, if the law in the US may frighten some investors in the short term, in the long term it will decrease uncertainty and likely grow the markets.
5. Products: Buzz and Manipulation
Notwithstanding the network launches of many of the top cryptos including EOS, Raiden and more, and despite projects like Substratum and Tradelize that are offering running demos and betas, the real rolling out of blockchain products with use cases hasn't lifted the market yet.
Meanwhile, market manipulation by whales has been a constant fear on the minds of investors, further distorting prices from market forces (and the CFTC has launched a probe into market manipulation). The sensible investor (famously, according to Benjamin Graham) studies price and value and finds the inconsistencies. These products, which lost value during the cycles of speculation, may still have a higher value, and it is up to the smart investor to buy them.
---
What better way to take advantage of this possible growth than by maximizing your revenue? If you are a professional trader, you'll be able to take part in Tradelize's contest to get your part of $24 million dollars. After a two-month period of use of the software, Tradelize users who take advantage of the most advanced crypto-trading terminal around to do their trading will be ranked. The top 300 traders will be given up to $500K each to manage. The profits made from the managed funds will be split between the traders and Tradelize with no personal risk to the trader. Using this method, Tradelize will find the best of the best.
Finally, those who do not want to take the time to trade actively will be able to mimic the trades of those expert traders who got the top ratings with a single click. They'll be able to just trust the experts.
Tradelize is an excellent way to make sure you are benefiting from this expanding market. Join Tradelize now before you blow your chance to ride this likely bounce.
Tradelize
Trade faster. Invest smarter.