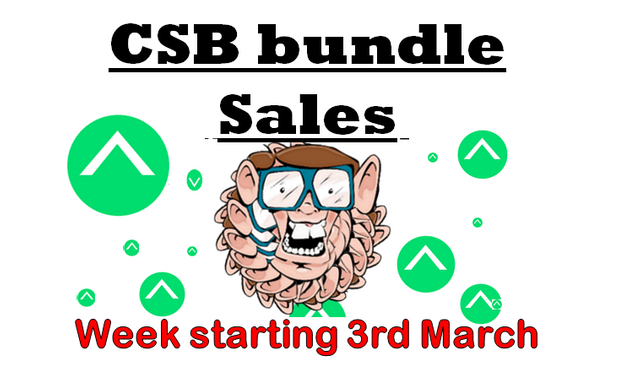 Bitesize Summary of last week
There have been a few new members buying CSB bundles but sales are far and few between. On total this week, there was 28 bundles old and 7 given away which is equal to 3500 voting SP, not a small number but not big either, it's an ok amount. Dont forget, these are great for giveaways in contests at only 0.5 STEEM each, add the receivee's name in the memo field.
eg..
CryptoSicko has 5000 voting SP and x1 CSB bundle is worth a 20% upvote
CryptoSicko has 10000 voting SP and x1 CSB bundle is worth a 10% upvote
CryptoSicko has 20000 voting SP and x1 CSB bundle is worth a 5% upvote


Nothing new are exciting happening this week in the world of CryptoSicko bundles, they will continue to be offered to people that would like to pay STEEM instead of delegating but they are a good marketing tool for me to use for giveways and at only 0.50 STEEM each, i thought that others might give them a try but 5 months in and no luck. I could have pushed them harder, i tihnk these will do well doing a bull run when everyone has lots of liquid STEEM compared to now when it harder to get. If you are interested in weekly are 4 weekly upvotes, please see more details and buying links below.
What's new for 2019
New 4 week subscription CSB bundles
Start your subscription today, no more waiting until Sunday to get added
New sales table to include finish subscription dates
Here is the new CSB bundle table. It will be updated daily to include new members and a new table will be posted every week same as before. You can see a few changes have been made and i hope it is formatted simple enough that it explains itself.
CSB bundle Table of active members
What is a CSB bundle?
CSB bundle's are subscriptions to CryptoSicko bot to receive daily upvotes. These are perfect to get an autovote for your own posts, gifting to friends and using for giveaways and contests. Each bundle is equal to 100SP delegated to CryptoSicko to receive 1 are 4 weeks worth of daily upvotes from CryptoSicko Bot. The more bundles you own, the bigger your upvote. No waiting around, when the buy a CSB bundle today, you will start to receive upvotes within 12 hours and you can track your finish date on the CSB bundle table that is posted every Sunday
1 week subscription bundles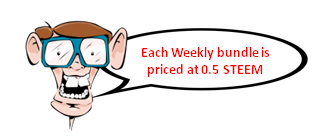 Weekly 1 bundle - 1 CSB bundle for 1 week
Weekly 3 bundle - 3 CSB bundle's for 1 week
Weekly 5 bundle - 5 CSB bundle's for 1 week
Weekly 10 bundle - 10 CSB bundle's for 1 week
4 week subscription bundles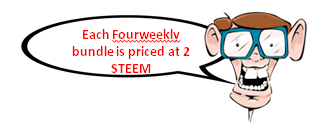 Fourweekly 1 bundle - 1 Fourweekly CSB bundle for 4 week
Fourweekly 3 bundle - 3 Fourweekly CSB bundles for 4 week
Fourweekly 5 bundle - 5 Fourweekly CSB bundles for 4 week
Fourweekly 10 bundle - 10 Fourweekly CSB bundles for 4 week
Here is everything you need to know about CryptoSicko