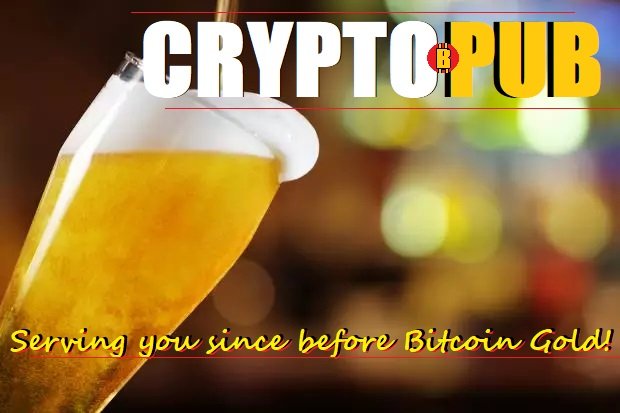 Good morning CryptoPub and welcome to the start of a new week! I have relaxed on my daily updates but will resume them when they are entertaining again or there is news to report. In this case, taking a look at the beginning of the week after a nice green jump is fun!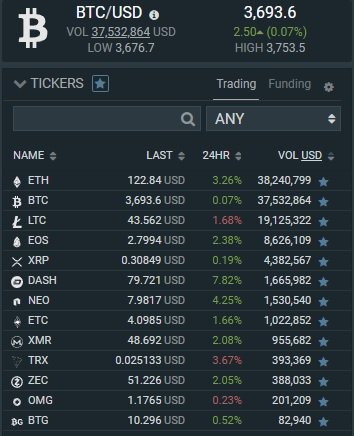 Bitcoin volume is a little low still compared to late last week but price is about even on the day. Ethereum has taken over the lead in trade volume by about a million and is up over 3% on the day to $123. Dash is kicking it today, up 8% to almost$8 and one might expect Monero to follow suit? In the Poodle race of entertaining alts, we are in the red on the day with Tron down over 4% (incoming Bittorrent airdrop for TRX hodlers) and FunFair is the only green one, up about 1.4% from where it was yesterday at this point.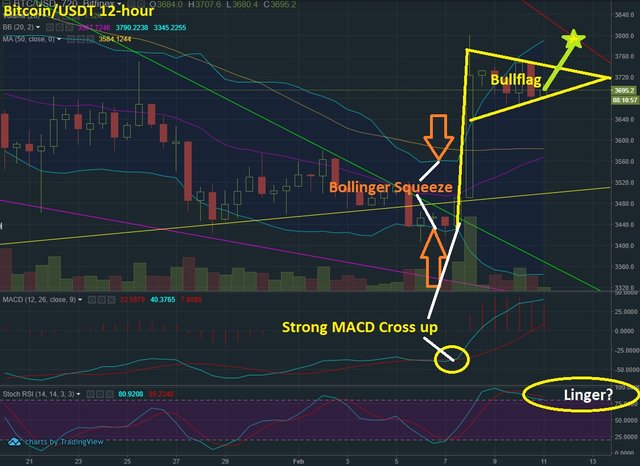 T&A today brought to you by @slobberchops and the gripping saga he is regaling us with over a few pints https://steemit.com/life/@slobberchops/the-software-piracy-chronicles-of-slobberchops-part-eleven
I am looking right to the 12-hour Bitcoin chart to see what happened with the pump and where we should go on a shorter term basis. You can see the MACD cross upward for that old familiar pump and scalpers would have netted themselves a quick 10% return if they scooped down below the Bollinger line and sold when it crossed the upper one. The Stochastic Relative Support index on the bottom is in overbought/overvalued and looking to correct back down but this uptick in volume, and the nice Bull Flag we are in may carry us back up to $3800 riding the EFT rumors.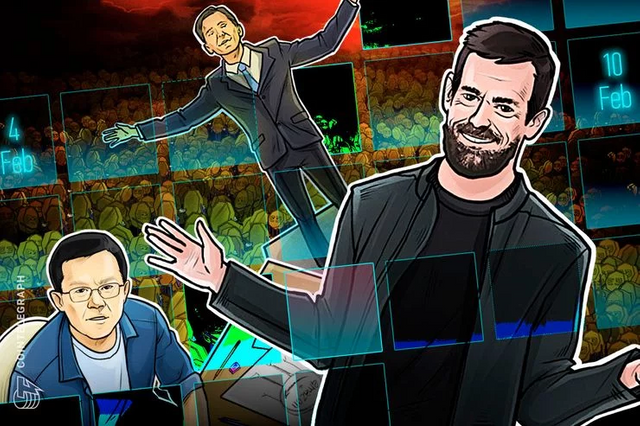 Source/News: HODLers digest!
https://cointelegraph.com/news/hodlers-digest-february-410-top-stories-price-movements-quotes-and-fud-of-the-week
When things heat up, we will return to the airdrop initiative for #cryptoPub followers. In the meantime, you can support the CryptoPub Airdrop Initiative through a donation to one of the following addresses. We also accept alt coin donations that will be given away in the Airdrop!
Steem: @vanessav
SBD: @vanessav
Bitcoin: 1C6hMc172hbn1q9TFkkkaeeku3DxBju1eg
Ether: 0x27A5E16545fFf9301f52915A951C80D672717A12
SmartCash: SgsDm6PunExWcQKq2hDs7ruSGeiLAsSFLK
Monero: 42h5cfr1xVpgZhcksYZnq5BdXXrA42sCZFrZfz6se6SwHh8r5cX51gnJGqzqmcLS9145aNd3NPvYvMTRep7fxnYeGSmg95p
CryptoPub Discord: https://discord.gg/xc77Cyk