Best And Worst Coin Of August, 2018!!!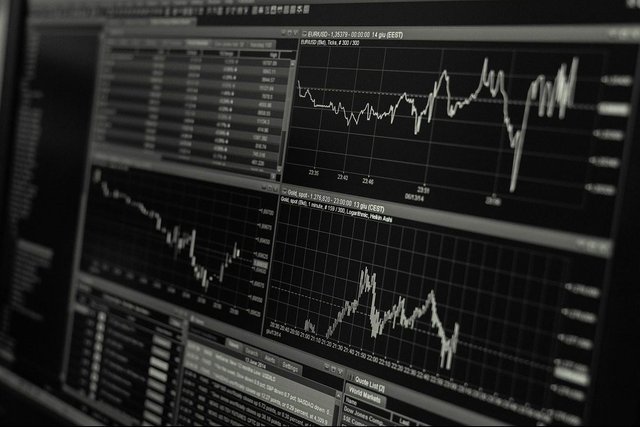 ****Neo Price Bleeds 40% to End August as Worst-Performing Big Crypto****
NEO's dismal performance in August has likely strengthened the already strong bear grip on its market. 
Down 39.6 percent month-on-month in  August, it is the biggest loser among the top 25 cryptocurrencies by market capitalization, according to CoinMarketCap and analysis by  CoinDesk.  
Throughout the month, the world's 14th largest cryptocurrency has  moved in tandem with the broader market, which took a beating in August  due to SEC's rejection of multiple bitcoin exchange-traded funds (ETFs). 
Notably, the total market  capitalization of all cryptocurrencies was printing more than $100  billion loss just two weeks into the month as the metric sank below $200  billion for the first time in over eight months. At the same time, NEO was reporting monthly lows below $14.50.
However, the broader market made a  considerable rebound in the final two weeks of August, regaining nearly $40 billion of the lost value in total market capitalization. 
Still, the rally towards August's end  was not enough for many cryptocurrencies to salvage the considerable losses endured in the weeks prior, including the likes of bitcoin (BTC)  and ether (ETH), the markets largest assets, reporting double-digit  monthly losses. 
NEO also recovered 35 percent from the lows seen on Aug. 14 but is still a standout performer in the losers column.  
Monthly Loser
NEO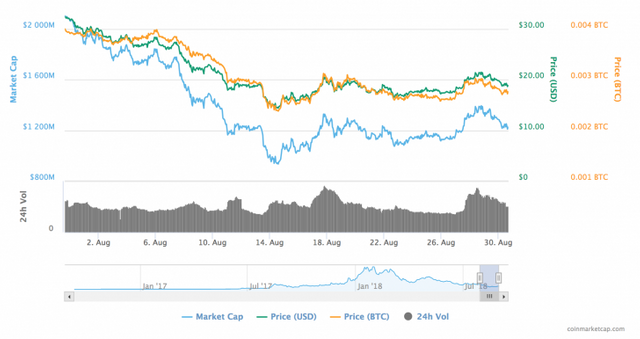 **Monthly performance: **-39.62 percent
**All-time high: **$162.11
**Closing price on August 31: **$31.73
**Current market price: **$19.16
**Rank as per market capitalization: **15 
NEO came stumbling into August thanks  to a less than impressive performance in July when its price declined more than 40 percent month to month. The resulting short-term oversold  conditions, however, did little to put a bid under the cryptocurrency.  
Prices continued their descent from a  starting price of $28.87 on Aug. 1 to its monthly low of $14.38 set on Aug. 14, at the time representing a 50.16 percent two-week depreciation.    
The cryptocurrency made a bit of a  comeback during the last two weeks of August, climbing 33 percent from  its monthly low to a final price of just over $19 on Aug. 31. All in  all, NEO printed a 39.62 percent loss during the month of August.  
Monthly Chart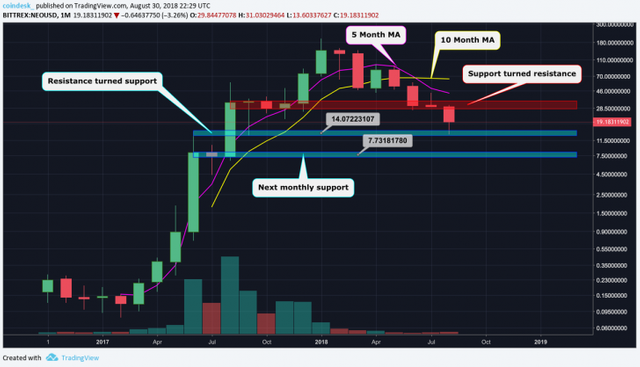 The above chart paints the picture of a cryptocurrency stuck in limbo.  
A rebound from the key support of  $14, though encouraging, is not enough to for the bulls to make a strong comeback. Only a break above $30 (former support-turned-resistance)  would indicate a bottom has been made.  
However, it could be a tough task, as  the 5-month and 10-month moving averages (MAs) reside above current prices, indicating the path of least resistance is still to the  downside. Further, with six of the last seven months flashing red, it is  clear that bears are in control. 
Still, the monthly candle does offer  some hope for bulls due to its lengthy bottom wick, which indicates  there was considerable buying after price touched the $14 support.  
A monthly close above current  resistance at $34.00 would return the longer term trend to bullish favor  and set the scope for a rally to $50 - the location of prior support  and 5-month moving average. On the other hand, a close below current  support of $14 would confirm the bearish strength and likely send prices  to the prior support of $7.70.  
https://www.coindesk.com/neo-price-bleeds-40-to-end-august-as-worst-performing-big-crypto/
****Nano Was August's Top-Performing Big Crypto Despite Yearly Low****
The cryptocurrency markets had a rough run in August, with only a handful of projects making it into the green.
Major names such as ethereum, bitcoin and XRP all dropped on the month, down 35.45, 9.44, and 27.93 percent, respectively. 
Adding pressure to the situation, bitcoin's dominance rate rose substantially, up 6 points from July's period of 48.34 to 54.58  percent on Aug. 15 – levels not seen since December last year. 
The high rate was a telling sign that traders were uncertain about  price direction, utilizing bitcoin to exit the market through a transfer  of crypto to fiat. 
One name, however, made a substantial  case against broader bearish market conditions to reach the top spot of August's best-performing crypto assets.  
Nano delivered exceptional gains during the second half of the month despite falling to a yearly low of $0.74 on Aug,14. 
After fighting off the worst day in  its two-year history, nano rose 73.85 percent over the August period and outperformed the top 30 cryptocurrencies by market capitalization to  finish ahead by a margin of 50 percent against the other big names  according to CoinMarketCap data.  
The token's overall market cap also  rose more than $160 million on the month, almost doubling from $260 million to $420 million, and pushing its ranking briefly from 27th to  24th on Aug. 30 before it slipped back to 28th spot on the final day of  the month. 
Monthly performance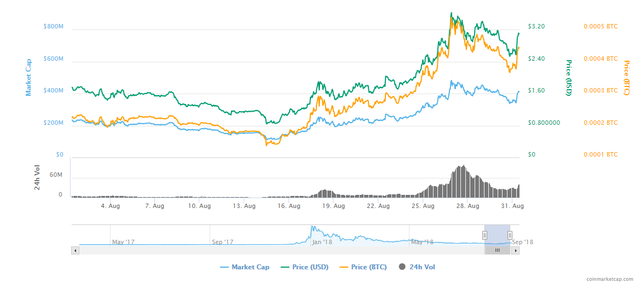 **Monthly performance:** +73.85 percent
All-time high: $34.43
Closing price on August 31: 3.01
Current market price: $2.92
Rank as per market capitalization: 28 
Nano began its climb on Aug. 15 after the bears were finally exhausted at the yearly low of $0.74. 
Savvy investors immediately snapped up discounted prices, leaving a long tail wick from the bottom on Aug. 14's candle (a sign of a bullish reversal). By the end of the month, it had managed  to close above $3.00 after defying a last minute sell-off on Aug. 30. 
Nano's all-time high was $34.43 back in December last year. At time of writing, the cryptocurrency is changing hands at $2.92, 89 percent down from that peak. 
Daily chart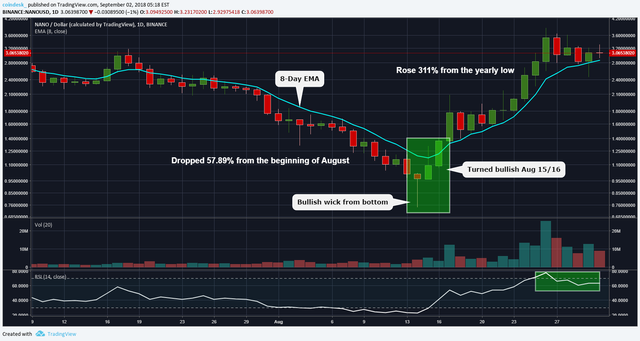 Nano was supported by the 8-day exponential moving average (EMA) over the second half of August, which had acted as the resistance level during most of the month of July. 
As Nano closed convincingly above on Aug. 16, a bearish-to-bullish trend change occurred. 
More importantly, total volume also picked up, with Aug. 26 seeing  the most volume traded on record at $25.05 million during a single daily  period, validating the rally to the monthly high of $3.79. 
Looking ahead, prices could defy expectations in September, albeit  after a retracement to the lower end of the 8-day EMA at $2.80 in the  coming days – that's because therelative strength index, used to judge the momentum and trend of a particular asset, is showing overbought conditions. 
****Correction****** (09:45 UTC, Sept. 3, 2018): This  article has been amended to correct an error that said nano had hit an  all-time low in August. In fact, it was a yearly low.** 
https://www.coindesk.com/nano-returns-from-record-low-to-become-months-top-performing-big-crypto/
http://wegobusiness.com/bitcoin-nano-was-augusts-top-performing-big-crypto-despite-its-record-low/
****Share your thoughts on the subject in the comments section below. **** 
****Regards, ********@majestyman****