Ethereum GPU rig that cost me €2.600,-- to build costs €5,-- electricity per day and has revenue €24,-- per day. Is that a business?
- 6pcs AMD RX 480 
- 1pc Asus Prime H270 Plus
- Windows 10 64bit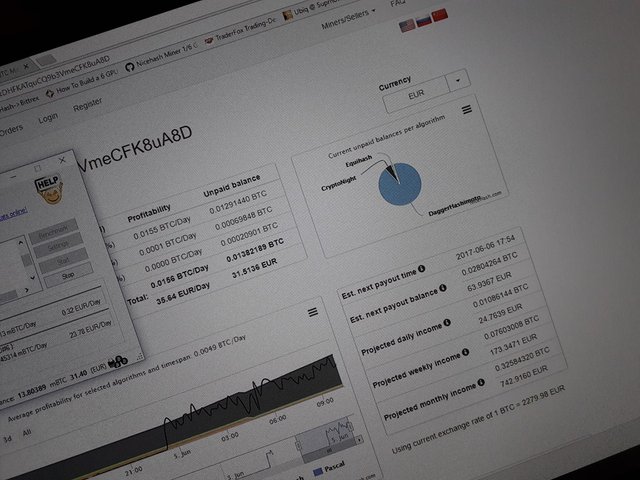 Problem: GPU0 underperforming
We are running following CPU & GPU Mining Setup:
ASUS Prime H270 Plus
6x AMD RX 480 8G (MSI)
Windows 10 64bit
GP0 is generally running at 20% of GPU1 - GPU5 regardless of what miner is being run. Regardless of switching cables. It is not coming from a specific GPU or specific PCI slot.Solution:
Check that you have the latest BIOS version, we flashed the mobo with version 611. Careful, we first downloaded this version from the com.au Asus site and the mobo couldnt read it. Then we downloaded it from the international site. Hit default settings first. Then change 3 settings in BIOS according to https://www.youtube.com/watch?v=Z1FnEYI25z0
Download the new chipset drivers and install.
Make sure you have latest Windows 10 version.
We are using AMD Radeon Driver 16.6 this is a somewhat older driver, we had trouble with 17.XX
Make sure to have the GPU with the Display connected to it hooked to the first PCIx16. All other GPUs must be fitted to the remaining 4 slots PCIx1 and PCIx16
When you do your mobo BIOS settings make sure you are only hooked up via GPU to the first PCIx16 only, flash the version 0611 BIOS (only download it from the international main website and store it on a usb stick. Then boot. Install all the windows updates, then chipset updates, then AMD driver. Then shutdown. Add one GPU at a time and shut down. After all GPUs have been hooked up your system should be running.
Do not Install MSI Afterburner 4.3.0, this is to our mind the main reason why we have had issues with GP0 not performing, there are some interactions and presets coming from this software that is corrupting GP0. We verified this. Each time Afterburner was installed we had the issue, after deinstalling and keeping to the above recipe we were fine. Unfortunatelz you will have to find another way to overclock and tune your GPUs.
Check my notes here: https://github.com/nicehash/NiceHashMiner/issues/800
Your good friend - Yegor Orlow