Today was an exciting day for me. I am proud to announce I am the owner of a crypto kitty! Please meet my first cryto kitty, Kylo, Generation 14! I of course named it after Kylo Ren from Star Wars after yesterdays outing to see Star Wars the Last Jedi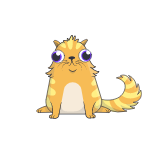 I hope to add to my collection but wanted to share this exciting moment with you all! Of course I am still new to cryptokitties and so will probably need help along the way.
What do you guys think? Is my first cryptokitty nice?