Ramdom CryptoKitty Winner! Get an Gen-1 with a chance at Making Money too!
Congrats @jaymesbawned , who won this random kitty , for no particularly good reason.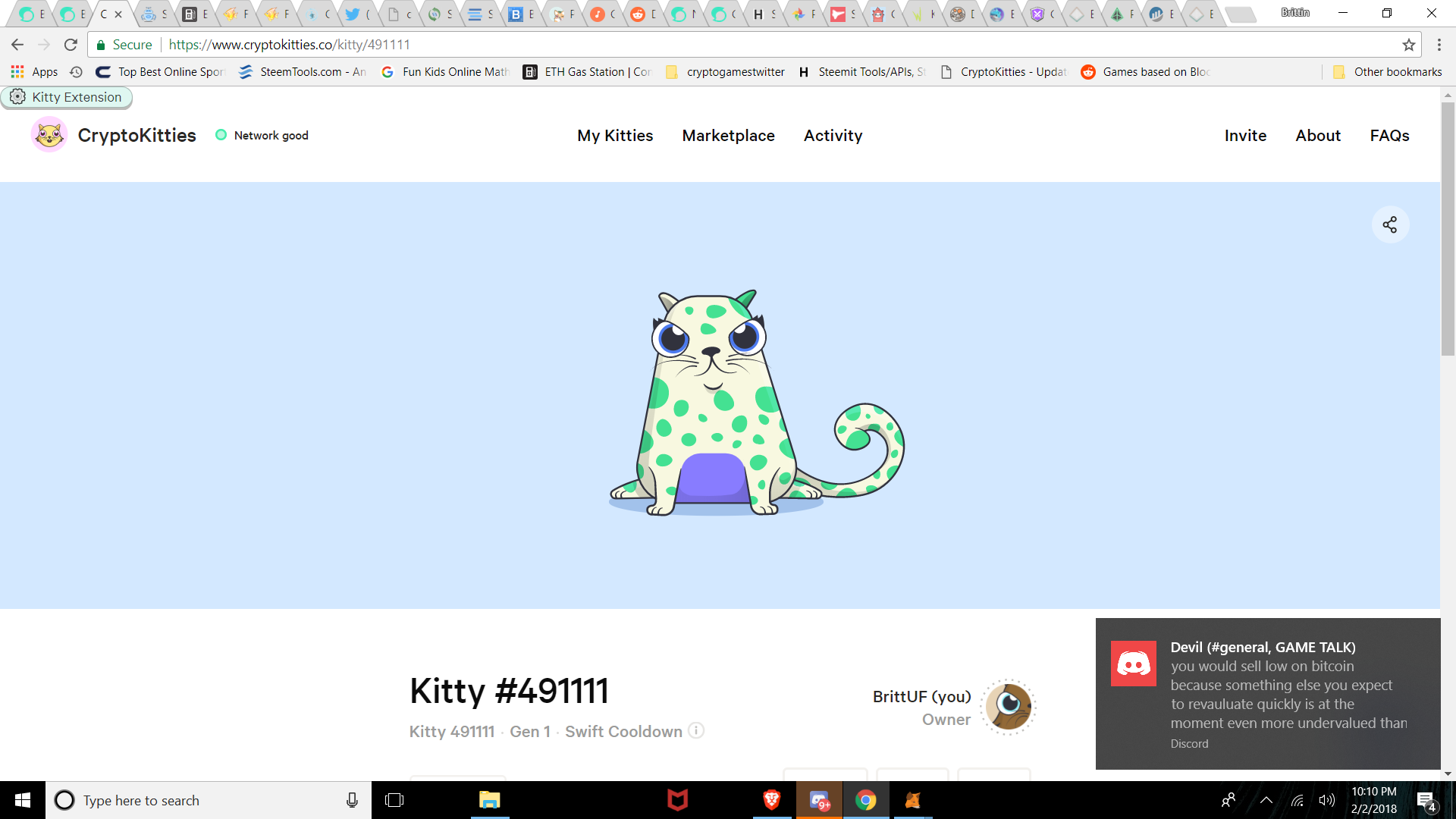 Secure Ponzi Evolution
So since the first gen of ponzi/ponzi copies crashed and burned, from the ashes arose anew. EthPyramid is the new thing. It was made a little more than 24 hrs ago, and it was tested and audited this time! The code has no guarantees, but it is definitely more secure than the last one. The way this one works is the sell price is 20% lower than the buy price. Everyone that holds the token receives 10% when someone buys in, and 10% when someone panics and sells. This is a great model because it promotes HODLing. Everyone in the pool gets paid on volatility. Basically, this is how exchanges like Coinbase make a lot of their money. They don't care about winner and losers, just volume. The best part about this new script is its public so anyone can use it.
I have decided to make a Gen-1 CryptoKitties Profit Pool. It will be based on the above script. Whoever reads this post will have a chance to get in early and receive a Gen-1 CryptoKitty. The CryptoKitties Profit Pool will launch at 2AM EST time/ 7AM GMT. If you put .015 ETH or more in the pool, I will send you a Gen-1 CryptoKitty just for joining the pool. I cannot guarantee profit or even that you won't lose all of your money, but you get a chance at making a profit with a Gen-1 CryptoKitty to show for it! Not a bad deal.
Here is how to enter the profit pool:
Wait til anytime after 2am Est/7am Gmt
Go to this site Profit Pools List
Find this address (0xA6230691b2B1CFF2f9737cCFA3Ff95d580e482a0) it should be on the bottom
3.b. If you don't see that address yet on the site, you can wait or send directly to the contract address 0xA6230691b2B1CFF2f9737cCFA3Ff95d580e482a0
Click "Buy" and send .015 ETH or more with the same address as your CryptoKitties Wallet Address
Comment with your address so I can verify it on the Blockchain.
Wait patiently for your Kitty and maybe make Eth in the profit pool!
Fell free to check the other addresses out. They are all running the same script so the backdoor issue is solved and secure. Still BE CAREFUL only use money you can lose!
The contract will be live in >10 mins for the profit pool