EtherSoccer is Still Under the Radar. Make a Suggestion, Get a Kitty!
The contestant Kitty on the Kitty Price is Right sold for .376 . Good job @justdik you were the only person that guessed below the amount that the kitty sold for. Here is your Kitty https://www.cryptokitties.co/kitty/459053 .
Soccer is Back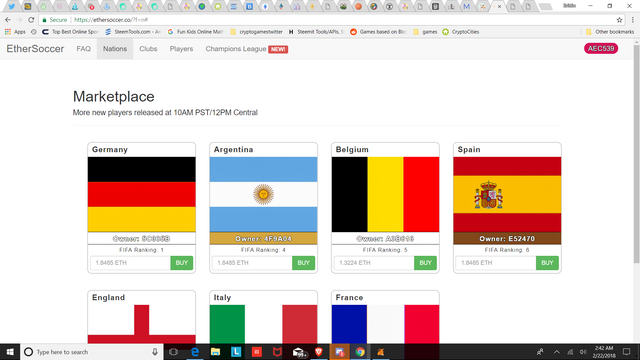 There are 2 soccer themed "hot potatoe games" as they call them out now. The first one World Crypto Cup is pretty mature now. You can still make some money when new players are released, but thats about it. The teams, clubs and nations are too expensive for my wallet at least. The newest one EtherSoccer.net is great. The entry level is low in comparison, and there is plenty of room to grab nations, clubs and player because less than 30 have been released so far. Feel free to check it out.. I own France. Remember to play responsibly.
EtherStocks is Getting a New Look!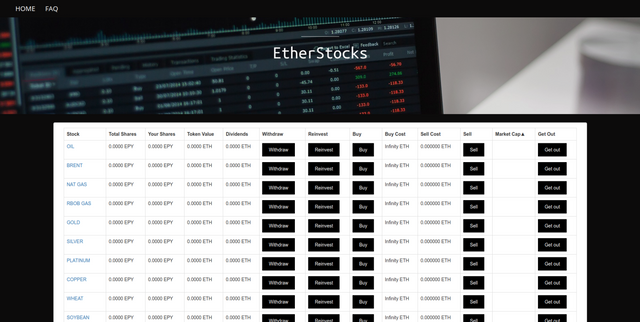 The dev team is busy giving EtherStocks a new look. If you have trouble with the site right now, you can use the old one. The stock names are different, but all the info and stats are correct. http://stocks-game.funsite.cz . The floor is still slowly rising. I can tell everyone is taking my advice and spreading their investments across the whole market. I will continue to tip everyone before I make an investment on a stock to give you time to invest before me. You can keep up with news like this on our discord https://discord.gg/Q5TWqe6 .
Now is your chance to win a Free CryptoKitty! All you have to do is make a suggestion to improve EtherStocks.net's look or features. Upvote, Resteem, Follow, and Comment with your suggestion and CryptoKitties Litter Wallet Address. I will pick the best suggestion and they win a Free CryptoKitty. I will also pass all suggestions to the devs and if we use it I will send you a Kitty!