HODLing, Crypto Investment Firms, and The Importance of ETFs.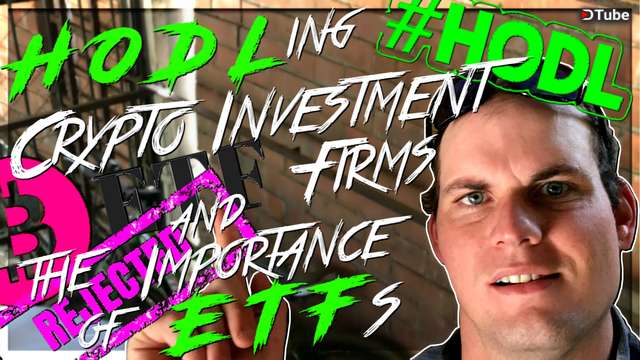 ---
If you're HODLing and the market is down. Think about how the crypto investment fund guys are doing. We've had a lot of talk about ETFs recently.
If your HODLing, that's part of the game, ups and downs. Hopefully you got in lower than what it is now, but even if you didn't. Just hang in there. Hold on for dear life. It should come right. Bitcoin is up from this time last year anyway.
Don't panic sell, have those strong hands. Lol.
So ETFs. Yes it'd be cool we could get an ETF to go through. But at the same time I don't think we're ready yet. There is still too much volatility, arbitrage, and manipulation going on in the crypto space for an ETF to be granted and to be meaningful.
Prices do still seem to fluctuate based on ETF news though but I think we need to focus on other things. Pump and dump groups need to be ousted. They need to be publicly shamed and people orchestrating them need to have the same treatment that the Bitconnect shillers received.
Also the liquidity is still pretty low in crypto at the moment. Once we get a larger market cap, we should be closer to being ready. We also need to get mass adoption going on.
Something that could help with this is that investment firms are pretty bullish on Bitcoin at the moment. This is great for crypto visibility. Pantera Capital is one of the firms that has a Bitcoin investment fund. A couple of years ago investing in crypto was very speculative and risky, but a good idea. This is still the case today. Investment firms make it more accessible for more people to get involved without the hassle of managing everything yourself. Try having a look into some of these if that sounds like something you'd like to do. Just make sure you research them and go with a reputable firm. Make sure to read the terms and conditions so that you aren't going to get charged stupid fees and have to pay large amounts when withdrawing or have the funds locked up for longer than you thought. Also check the taxation regulations.
The market cap is still small compared to the stock market so there is still a lot of room for expansion and growth in this space. Venture capital companies know this and they are still investing in cryptocurrencies through these investment firms. So think about where the big money is going and what it's doing. Some other investment firms to look into are Polychain Capital and Galaxy Digital.
For more #cryptocurrency and #cryptoworldevolution related talks, news, and updates, consider subscribing here:
🤜 https://goo.gl/zLiyB4
---
Get that crypto education. Check out these free Udemy crypto courses:
🧠 https://www.udemy.com/bitcoin-or-how-i-learned-to-stop-worrying-and-love-crypto/
🧠 https://www.udemy.com/altcoin-crypto-master-class-bull-run-or-bear-market/
---
Feel free to send a tip. Any donations will be used for equipment to make this channel better. I'd appreciate that.
💠 ETH or ERC20 Tokens: 0xd8edb45A0De0201e04c7D66Ae2f72815cf597238
🏅 BTC: 12fFJpogZ9XBWrXGPiKfxNb5bb8GqwgDkH
↩️ DASH: XsyaRjnac3Mvmn4i4UKF7JghuWpCfsLGWt
🥈 LTC: LPgHyuAhqQa3Qyti52j9VxHrmYVWREcAc4
---
Check out the #cryptospacezim merch here:
👕https://dexterscryptospace.threadless.com/
---
Wanna mail something? 📨
3 Eskdale Court, John Matetich Close
Avondale, Harare
Zimababwe
---
Feel free to get in touch with me here:
🕊Twitter: @Dexstaples
📸 Instagram: @dexstaples
🌀 Steemit: @dexstaples
🚰 Facebook: Crypto Space Zim
💬 WhatsApp: https://goo.gl/HPrvDi
✈️ Telegram: https://goo.gl/TnnxGb
🎮 Discord: https://discord.gg/8sFxf3
👻 Snapchat: @dexstaples
---
With this channel I hope to spread awareness of the possibilities #cryptocurrency can give people in general but especially people in #thirdworldcountries. So subscribe and let's share the awareness:
🤜 https://goo.gl/zLiyB4
---
Disclaimer: all thoughts expressed are my personal opinion. I am not a financial adviser.
---
▶️ DTube
▶️ IPFS