[ICO DEEX WILL LAST TILL 28 FEBRUARY 2018]
Deex provides individuals a reliable and convenient platform to quickly trade, buy or sell cryptocurrencies with help of the most popular payment methods for the fiat currencies available in the country of his/her residence. Initially more than 10 cryptocurrencies will be available for the exchange including Bitcoin and Ethereum and many other altcoins.
My Profil
Roadmap
The ever 1st user friendly cryptocurrency decentralized exchange. Including blockchain traded fund, secured decentralized blockchain financial p2p messenger, ICO platform and portfolio of inhouse high-end projects for investment

Blockstream launches the bitcoin micropayment processing system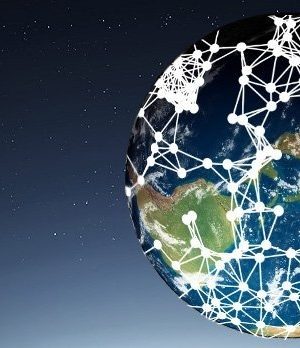 Blockstream has launched the system for bitcoin micropayment processing, which will simplify the development of bitcoin applications on top of Lightning network.

New system Lightning Charge complements the existing Blockstream's implementation of the Lightning spec, c-lightning, which focuses on the needs of the developers who will be creating Lightning-powered Bitcoin applications for the users.This complementary package for c-lightning, designed by independent developer Nadav Ivgi working with Blockstream, makes it simple to build apps on top of Lightning.

"Lightning Charge is a micropayment processing system written in node.js. It exposes the functionality of c-lightning through its REST API, which can be accessed through JavaScript and PHP libraries, both of which have also been released through the Elements Project. Web developers will be able to work with c-lightning through their normal programming techniques, and they'll also get expanded functionality such as currency conversion, invoice metadata, streaming payment updates, and webhooks. Together, these additions make it easy for developers to use c-lightning to create their own, independent web-payment infrastructures," — says the blog of the company.

The processing model demonstrates its viability by powering the Blockstream Store, a working e-commerce site, which was launched yesterday. The Blockstream Store allows Lightning payments on the Bitcoin mainnet to make small purchases of stickers and t-shirts.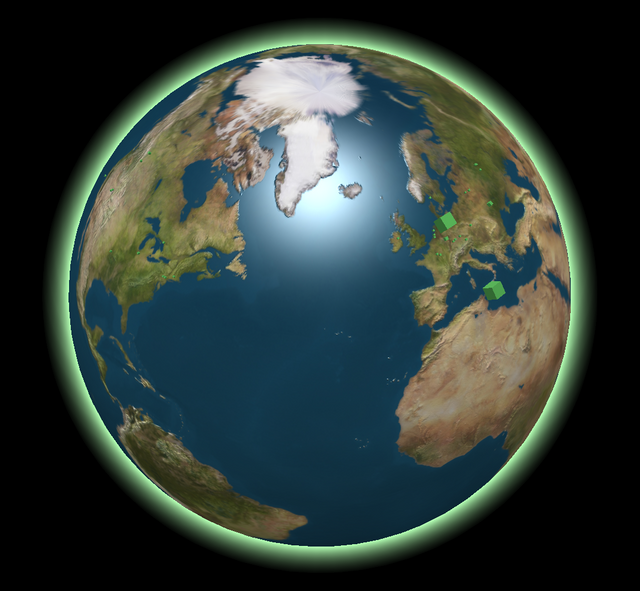 "By offering an early demonstration of this cutting-edge technology, we hope to bring Lightning to life with real-world functionality, providing a way for you to test Lightning and become a part of the micropayment revolution. However, the entire Lightning Network is still in a testing stage, with both known and unknown bugs, so you should use the Store with care, at your own risk," — notes the release.
---
---
WHITEPAPER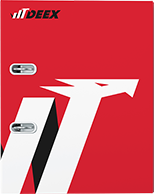 ONE PAGER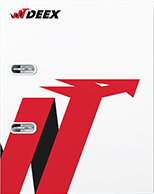 PRESENTATION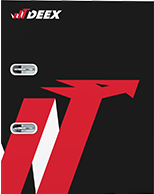 TERMS $ CONDITIONS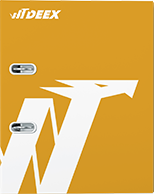 ---
---
# Decentralized Exchange DEEX to Start Token Sale on January 10, 2018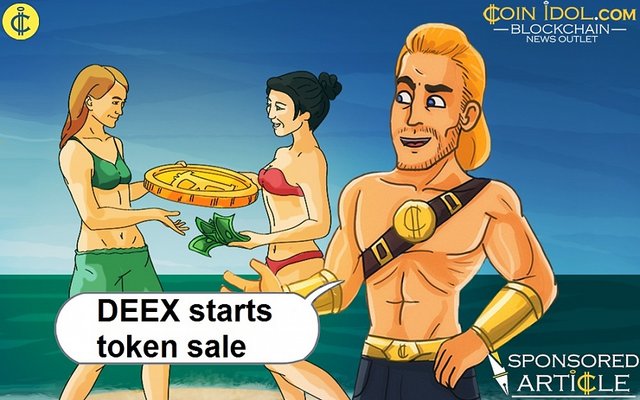 DEEX, a decentralized financial ecosystem based on the BitShares 2.0 platform, is all set to start its token sale campaign on January 10. This exchange offers functionalities comparable to the centralized exchanges without their typical shortcomings. DEEX, a uniquely designed decentralized financial exchange, is pleased to announce that their token sale will start on January 10. DEEX has already successfully closed presale in the end of 2017 and raised 3410 ETH within a month. ### This is a reliable and convenient platform where individuals can quickly trade, buy or sell cryptocurrencies using the fiat currencies available in their countries. To start with, DEEX is offering more than ten different cryptocurrencies including Bitcoin, Ethereum and many other altcoins. With the rapid growth cryptocurrencies over the last few years, the number of people showing interest in cryptocurrencies has expanded rapidly. In the initial stages of the crypto economic development, centralized exchanges were the more preferred option because they are easy to use, easy to access, and provide advanced trading functions such as margin trading, stop-loss, lending and others. However, these centralized systems are exposed to a number of risks such as security threats, unfair competition, danger of sanctions, political factors, and much more. Till date, the amount of stolen customer funds from centralized exchanges amounts to almost $500 million. # DEEX promises to solve this problem by building the world's first decentralized exchange with functional benefits close to a centralized exchange, but without its permanent security threats and sanction risks. It also provides the clients complete control over their fund. The core of this decentralized ecosystem is the BitShares 2.0 (Graphene) blockchain, an extremely fast and reliable platform with not a single hacking record since its creation. Technically speaking, BitShares 2.0 is a high-tech, decentralized, blockchain based platform which allows to create highly efficient financial smart contracts for all areas of economic activity that are used in the global internet space to provide services. Some of its key benefits include up to 100,000 transactions per second, cryptocurrencies trading with a stable price, dynamic account permissions, recurring and schedule payments, referral rewards programs, and much more. > Powered by its robust system architecture, DEEX users will enjoy several benefits including · A platform for safe ICO conduct in conjunction with the decentralized escrow toolkit from descrow.org. · A platform for creating a decentralized transparent blockchain system for cryptofund managed by DEEX professional traders · Cryptocurrency debit cards linked to users' wallets on DEEX and integration into fiat gateways · API for the integration of third-party applications and services with the DEEX platform · Creation of the own agent network of crypto ATMs for the purchase and sale of cryptocurrency for fiat money Discussing the immense potential of DEEX, a senior spokesperson from the company said, "More and more large market players are now willing to move to decentralized trading platforms. At the moment, the portfolio of investors interested in the DEEX project exceeds $100 million. The potential interest of large market players is estimated at five times or even more." The primary DEEX.CORE tokens share will be as follows\ · 75% reserved for pre-ICO and ICO participants · 15% reserved for the development team · 7% reserved for the advisors · 3% reserved for Bounty and PR More about the DEEX Exchange and their upcoming token presale can be found at Exchange DEEX offers generous bounty campaign for posting information in various social media, such as facebook, instagramm, twitter, steemit. # DEEX core token will be used for: - Setting commissions for trade deals - Participating in ICOs launched on DEEX platform - Paying for digital assets and coins listings within DEEX - Purchasing masternodes for DEEX ecosystem development and support
About DEEX Exchange: DEEX is the first ever decentralized financial exchange that provides individuals a reliable and convenient platform to quickly trade, buy or sell cryptocurrencies with the most popular payment methods for the fiat currencies available in the country of his/her residence. Built around the fast and reliable BitShares 2.0 (Graphene) blockchain platform, it will protect the users from the common shortcomings of centralized exchanges such as such as security threats, unfair competition, danger of sanctions, political factors, and much more.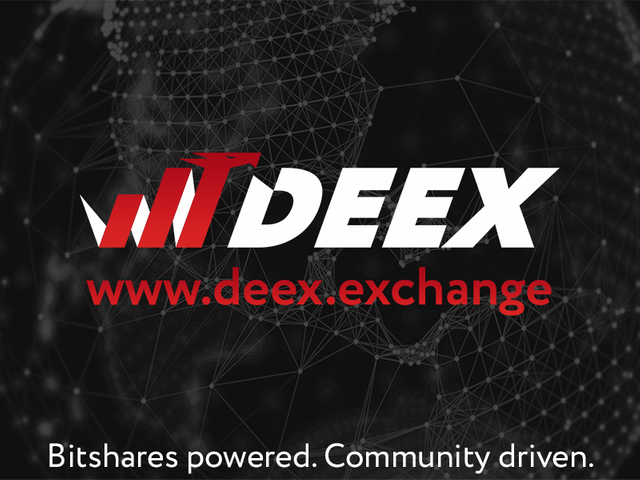 # DEEX – a decentralized exchange aimed to increase liquidity of the cryptomarket

Bitnovosti talked to Vlad Sapozhnikov, the founder of DEEX decentralized exchange about the problem of liquidity on the cryptocurrency market and his vision of the ideal decentralized exchange.
The total market capitalization of the cryptocurrencies already exceeds $ 135 billion. However, before everyone can safely conduct a significant amount of transactions through the cryptocurrency markets the problem of liquidity must be solved.
Liquidity is the volume of assets that the market allows buying and selling at stable prices. Low liquidity leads to an unstable market (especially when large orders are placed), which leads to a sharp price change. At the same time, high liquidity generates a less volatile market where prices do not fluctuate significantly.
The volume of the cryptocurrency available on a certain trading floor may require the buyer to complete the transaction by 1-10% more than he planned. To complete the same transaction of $ 1 million, you may end up spending $ 10,000 to $ 100,000 more than originally planned.
    Until now, the centralized exchanges have dominated in the cryptocurrency space which help to convert from state currencies into cryptocurrencies. Large centralized exchanges are easily accessible, easy to use and have a certain reputation. However, since many of them failed to provide adequate protection for their customers, the concept of decentralized exchanges is gaining popularity.

Centralized exchanges were simply not ready for the recent inflow of users, which led to serious disruptions in their systems and increased attention of hackers. Although some centralized exchanges are safer than others, their users are still not insured against losses.
   Decentralized trading platforms offer an alternative and perhaps even more valuable service promising greater security and transparency. They do not rely on third-party services to store customer funds. Instead, the P2P transactions can be committed directly through an automated process.

The advantage of working on a decentralized exchange is that you do not need to trust the platform itself, since the funds are stored by the user in their personal wallet, without the participation of a third party. Decentralized exchanges can also provide greater confidentiality, while reducing the risk of server downtime.
Unfortunately, decentralized trading platforms are still lack of cash which prevents the attraction of a large amount of new users. Thus, the liquidity and market capacity of these exchanges are still quite low.
Increasing liquidity on decentralized trading platforms is one of the ways of their distribution. Of course, many factors play a role in the liquidity of the asset. However, if the order in which customers make transactions using cryptocurrency can be simplified, then it is easy to imagine that the demand for such assets will increase.
Liquidity is not the only factor in adopting technology, but it plays an important role. Providing liquidity in the environment of the detachment especially on decentralized exchanges will be key to improving people's attitudes to cryptocurrencies and ensuring safe trade.
How does DEEX work? What are your main competitors on the market?
Vlad: DEEX – is the whole cryptocurrency financial ecosystem and its comparison with possible competitors is not entirely correct. DEEX project has a much greater potential and functionality in comparison with the one you can find on common stock exchanges.
Blockchain is the basis of DEEX platform. Of course, Bitshares 2.0 (Graphene) – is the basis for other exchanges, such as Bithares, RuDEX, etc. as well. However, the important difference lies in the implementation of the superior functionality of this blockchain in the DEEX in comparison with the mentioned examples.
For example, if you compare DEEX with the RuDEX exchange, you can immediately identify a number of advantages which guarantee DEEX users significantly better working conditions and a number of additional useful features.
The big problem of all DEX-exchanges is their low liquidity and low trading activity of the participants. This acts as a vicious circle: few participants – few trades, few trades – few participants.
We are confident that the provided convenient and efficient trading functionality and the higher interest of potential traders will make DEEX the most liquid platform among other DEX-exchanges.
How are you going to protect users funds?
Vlad: With the function of two-factor authentication DEEX provides its participant with the maximum possible level of security and convenience of access to the account and crypto-wallets. A special code message which will come to your mobile device (via sms or via the DEEX integrated messenger) won't allow an attacker who has your stolen password to log in and transfer money on your behalf. Two-factor authentication will allow you to use more convenient and easy-to-remember passwords than the long sets of meaningless characters.
Most of the cryptocurrency investors are not protected from fraudulent projects which have become too numerous. It can be very difficult to recognize skillfully camouflaged scam projects which after the ICO "suddenly" disappear with the investor's money.
Implementation of a partner service provided by DESCROW minimizes the risks for our investors on the stage of ICO launch. DESCROW allows to implement a reliable monitoring system on all phases of the project development. In addition to project's monitoring this service forms a special insurance fund which provides a return of money to investors in the amount of 70% of initial investment.
What other feature function does the platform provide?
Vlad: DEEX clients have the opportunity to receive crypto-currency debit cards linked to the cryptocurrency wallets and the integration into fiat gateways that allow on-the-fly conversion of cryptocurrency into the real currency when paying with such a card for the ordinary purchases.
We are sure that due to all the advantages in DEEX functionality and attraction of a sufficiently large number of customers we can reduce commission fees which will be a mutually beneficial result for customers and DEEX. DEEX Tokens presale has recently started. The project has already raised 3 300 ETH in two weeks.
LINK
SOURCE LINK
SOURCE LINK