Diversity, Bitcoin Private and Crypto Adoption.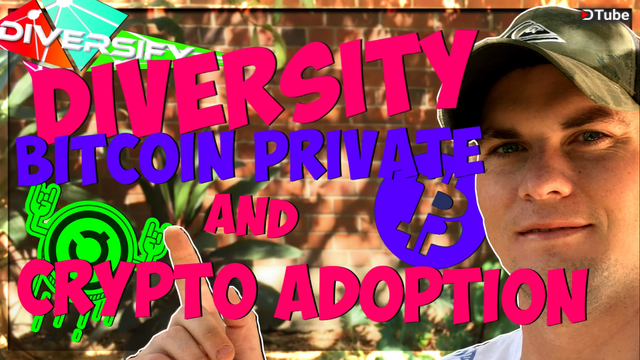 ---
Just remember to diversify guys. This video is on diversity, Bicoin Private, and crypto adoption. I'm interested to hear your thoughts.
If you are into either precious metals, or real estate, or crypto. Consider getting into one of the others as well, if you are not all ready. Particularly with money that you may have made in the form of gains. This money could be used more speculatively as it wasn't necessarily something you'd saved up for. Either way though, gained money or saved money should be invested with a fair amount of understanding into what you are speculating will increase in value. Get that education, do the research, keep your finances in order. A great way to educate yourself is from the guys at Crush the Street. Check out their Youtube channel here: https://www.youtube.com/user/CrushTheStreet.
Bitcoin Private was formerly known as Zclassic, Zclassic was a fork of Zcash, and funnily enough Zcash was cloned from Bitcoin. Anyway it was an alt coin that became a forked Bitcoin crypto dividend coin. This is a bit better than a straight forked coin and in this particular case it showed that Bitcoin had a strong name and a strong chain. I don't like though the confusion that this made. But people were so happy for it. Mainly because they got the same amount of Bitcoin Private as the amount of Bitcoin they were HODLing when BTP came out.
On a different note, with adoption and daily use of cryptocurrency. I really have to commend Ken Bosak. He really pushes for adoption and actual utilization of crypto, he shares his knowledge and insight with just about everyone he comes across and I admire him for that. We really need more people in the crypto space requesting to pay with crypto. Check him out as well on the YouTube here: https://www.youtube.com/user/MrKennbosak as he goes out and shares his crypto passion.
Another good example of something awesome in crypto was Charlie Lee's donation from selling his Litecoin. That was pretty selfless.
For more #cryptocurrency and #cryptoworldevolution related talks, news, and updates, consider subscribing here:
🤜 https://goo.gl/zLiyB4
---
Get that crypto education. Check out these free Udemy crypto courses:
🧠 https://www.udemy.com/bitcoin-or-how-i-learned-to-stop-worrying-and-love-crypto/
🧠 https://www.udemy.com/altcoin-crypto-master-class-bull-run-or-bear-market/
---
Feel free to send a tip. Any donations will be used for equipment to make this channel better. I'd appreciate that.
💠 ETH or ERC20 Tokens: 0xd8edb45A0De0201e04c7D66Ae2f72815cf597238
🏅 BTC: 12fFJpogZ9XBWrXGPiKfxNb5bb8GqwgDkH
↩️ DASH: XsyaRjnac3Mvmn4i4UKF7JghuWpCfsLGWt
🥈 LTC: LPgHyuAhqQa3Qyti52j9VxHrmYVWREcAc4
---
Check out the #cryptospacezim merch here:
👕https://dexterscryptospace.threadless.com/
---
Wanna mail something? 📨
3 Eskdale Court, John Matetich Close
Avondale, Harare
Zimababwe
---
Feel free to get in touch with me here:
🕊Twitter: @Dexstaples
📸 Instagram: @dexstaples
🌀 Steemit: @dexstaples
🚰 Facebook: Crypto Space Zim
💬 WhatsApp: https://goo.gl/HPrvDi
✈️ Telegram: https://goo.gl/TnnxGb
🎮 Discord: https://discord.gg/8sFxf3
👻 Snapchat: @dexstaples
---
With this channel I hope to spread awareness of the possibilities #cryptocurrency can give people in general but especially people in #thirdworldcountries. So subscribe and let's share the awareness:
🤜 https://goo.gl/zLiyB4
---
Disclaimer: all thoughts expressed are my personal opinion. I am not a financial adviser. Some links provided in this description are affiliate links. You know how this works. Helps make this channel better.
---
▶️ DTube
▶️ IPFS