BGoogle Censorship BTC/DOW Rocket 📈Pushing the Market & Trump 🇺🇸
I made this video talking about a lot of the major news coming out in the market with the DOW breaking new highs and the small BTC & Altcoin rally as we have seen all major markets: Stock, Crypto, Gold & Realestate rocket in price. Is this pump warranted & with the Trump administration talking about regulations on Google what does this mean for investors?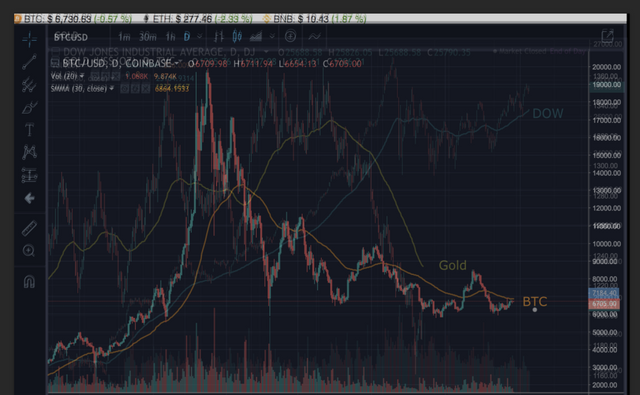 I'm expecting a lot of drastic fluctuation in the market & as a trader fluctuation is a good thing if you can put time into the politics, research & strategy. We are seeing a setup for something big this midterm election like we have never seen in the markets we have dealt with the muller investigation throughout Trump's first term & now it's getting close to the end. The people & this economy will decide Trump's fate & currently, both are in Trump's favor. All market sectors are up Housing, 401k, Gold, Bitcoin, this is reminiscing of the roaring 20's where anything you through your money at a good investment. I'm a young Investor that established my career in automation Trading industry pre-Bitcoin boom 2015+ throughout my 3 years day trading I've never seen all major currency market up with these impressive gains % wise.
Trump is good for the economy because he causes disruption, where there is disruption there is an opportunity for innovation. Expect fluxations this next month in markets though as the Democrats / Russia / Chiana will try and discredit the USA markets during these midterms set up tight stop losses & diversify your investments. Watch what is taking place & come up with a trading strategy & exit that fits your portfolio.
Personally, I think the big thing to focus on is the news that Trump is looking into Google as Google just finished a political hit in the EU as they were just finded $5 Billion based on business anti trust laws link: Click Here for Article . Trump establishing regulation on Google is disruption at its finest, what is the solution & the crime? Watch the video for the full break down. But I think in replace of algorithms controlled by single tech corporation we need to fight for a publicly backed blockchain internet. The thing is the internet was established in 1990 & being a 90's baby I can tell you the tech isn't all that impressive compared to what we have established today. The revolution & mass adoption of blockchain comes when we realize the infrastructure sucks, we live in a world where the internet is controlled by a handful of companies Google, Facebook, Twitter, Google. Regardless of political ideology, I can say I personally don't want the power of the internet in the hands of Google, Democrats or Trump. The only solution is a public internet & to restructure the innovation needed publicly with the leading blockchain companies that are offering an open secure solution.
Regardless I'd love to know what you guys are thinking about all the major markets going up in price right now? Any older investors that have experienced historical economic times i'd love to get your opinion. I've setup my portfolio 25% BTC / 25% Trading bot Altcoin/USD (for fast liquidating) 30% USD / 20% Gold / 10% other. Everyone has their own strategy mine is set up for fast liquidation as everything rocketing scares me as an investor. Would love to start a conversation on what you guys think of these market conditions.
🇺🇸 Crypto Potluck Links 💡
DOW, BTC, Gold 🗽Midterm Effect 📈
https://steemit.com/bitcoin/@cryptopo...
Ask Questions on discord: https://discord.gg/aEh9AM
🕵️ Join our trading Patreon & Private Community 📈
https://www.patreon.com/CryptoPotluck
💻 Check Out the Potluck Application alpha & Demo 🖥️
http://www.potlucktrader.net
===========================================================
The tools I use for trading
===========================================================
HassOnline (Promo Code: potluck)= 10% off
https://www.haasonline.com/?ref=2817
Crypto Hopper(Free Trail)
https://www.cryptohopper.com/?atid=1083
———————————————————————————————————————————