I joined up (late) to a Crypto Trading Class
I just signed up for IntroToCrypto's trading course, which I learned about from Gunbot University.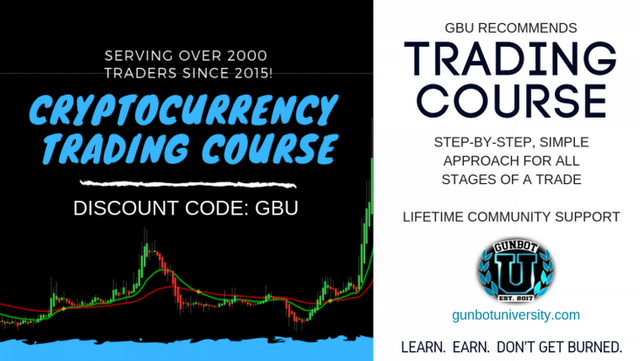 There is so. much. info in this course! It's a three week intensive, but since the author Doug gives "Lifetime" access, I'm sure I'll be taking advantage of the "lifetime access" quite a bit. A lot of the work is self-paced, and the full syllabus is available at the course link above.
I'm confident that beginners and experienced traders alike would enjoy this course.
The course already started last weekend, but Doug opened up $100 off special for stragglers just for today - if you use a coupon code, you get another 20% off as well. I used GBU since I'm a member there, but if you know someone else with a code, I'm sure any of their codes would work as well. I think I'll try to get my own discount code soon.
Feel free to join me if you read this today. Evidently the course will be locked up for months after this.
Tip: I've been watching Doug's YouTube channel for a while, so if you need to get a sample of his excellent knowledge and quality, check it out. Search for IntroToCryptos or go straight there by visiting https://www.youtube.com/user/lumbridgecity. If you catch him live, you can ask questions and he'll analyze a specific pair live.