YEHEY Coins - Crypto Currency of the Philippines.
The YEHEY Coins (Token) is live and ready to serve you and our community. The YEHEY Coins or YEHEY cryptocurrency is based on Ethereum Decentralized Platform on a blockchain network which means you can hold and secure your tokens (YEHEY Coins) or other cryptocurrency assets on Ethereum compatible wallet e.g. MyEtherWallet.
We started giving rewards to our community using Points (Y$), this is the official digital currency within our network so they can transact and pay for products and/or services. Now with YEHEY cryptocurrency, you can convert your existing Y$ to YEHEY coins so you can keep it outside of our network for your own safe keeping.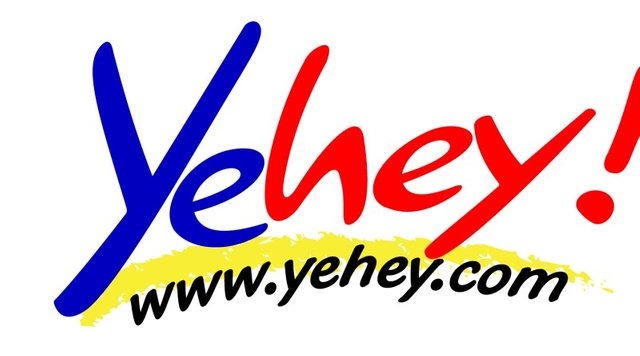 1.0 Y$ = 1.0 YEHEY Coin
About YEHEY coins, can be use and build for:
A tradeable token within our website. Soon in public exchange so we can all go to the moon.
A decentralized network to issue a digital currency. You control and manage your own token.
Token is not-mineable to save energy. You simply join our community to earn (mine) your points. Your points is equal to token.
The total tokens is set to a fixed amount: 1,000,000,000 YEHEY
The Source Code Verification is completed:
https://etherscan.io/address/0x20cdc3acc3a54b095d5cd6e7aae71269cd1b5083
The Etherscan.io Token Verification: Verified.
https://etherscan.io/token/0x20cdc3acc3a54b095d5cd6e7aae71269cd1b5083
How to buy YEHEY Coins? To buy YEHEY coins, payment should be only send to the following cryptocurrency addresses.
Bitcoin – 13vLod8MfG56KDueuVXkT9YZ4ExgkMTMBW – create your free account at Coinbase and we both earn $10 of free bitcoin.
Ethereum – 0xeB6F0Af12930d30252Df3F159Bbff9504c78D866 (MyEtherWallet)
For other crypto currency, please send email to EM @ Yehey.com.
Pricing Examples:
1,000 YEHEY Coins = 2 STEEM = 0.01 ETH = 0.001 BTC
5,000 YEHEY Coins = 10 STEEM = 0.05 ETH = 0.005 BTC
10,000 YEHEY Coins = 20 STEEM = 0.1 ETH = 0.010 BTC
100,000 YEHEY Coins = 200 STEEM = 1.0 ETH = 0.1 BTC
1,000,000 YEHEY Coins = 2,000 STEEM = 10 ETH = 1.0 BTC
2,000,000 YEHEY Coins = 4,000 STEEM = 20 ETH = 2.0 BTC
Create your own
Ethereum Wallet
to manage your
YEHEY coins
.
How to add a "Custom Token"? Please follow this step by step procedure. This applies to any new cryptocurrencies created on top of Ethereum Decentralized Platform.
I will use YEHEY and QUE tokens as an example.
Go to MyEtherWallet.com and login to your Ether Wallet using Keystore or Private key. Scroll down, click on "Add Custom Token".
For YEHEY Token: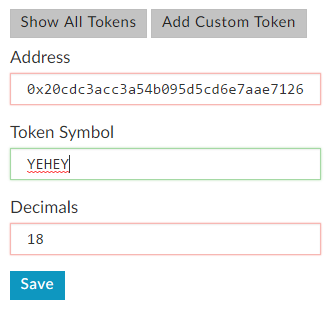 Token Address: 0x20cdc3acc3a54b095d5cd6e7aae71269cd1b5083
Token Symbol: YEHEY
Token Decimals: 18
Once you click on
Save
. You will see these token on your Ethereum Wallet as shown below.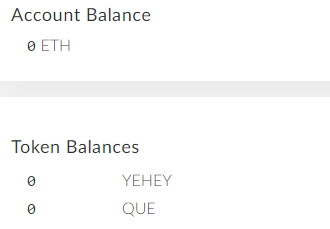 I am now ready to receive or buy these coins (YEHEY).
I bought 10,000 YEHEY and 100,000 QUE cryptocurrencies. Now, I have some cryptocurrencies on Ethereum Wallet.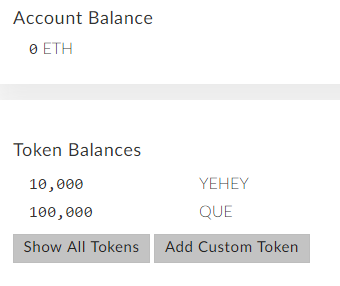 Source: https://yehey.com/token/ (Official Website: https://yehey.com/)
Thank you,
Follow me @Yehey - YEHEY Coins