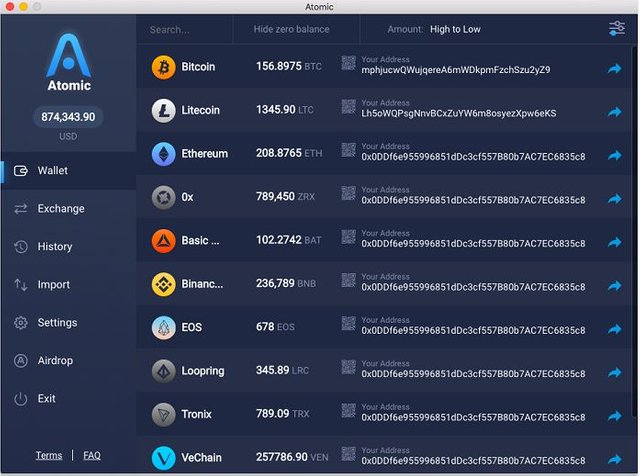 Are you looking to buy your first cryptocurrency? Thus, Ethereum to be specific. If you find yourself figuring out solutions to this question, then I suggest you spend a few minutes of your time to read this post. I hope it turns out to be useful 
Ethereum is a blockchain solution for everyone. The Ethereum network allows individuals and organizations to develop decentralized applications and make use of the network. The native cryptocurrency of Ethereum is Ether(ETH) which plays an important in the ecosystem. It makes it possible to perform specific operations such as paying transaction fees on the network. As of today, there are a whole lot of ways to acquire Ethereum and the one we're going to cover in this report is how to buy ETH with bank card worldwide.
Atomic Wallet
Atomic wallet is a decentralized cross-blockchain exchange that provides a custody-free, transparent, immutable cryptocurrency trading amongst users around to world. It provides users with the ability to securely manage over 300 digital assets. Atomic wallet also now supports the purchasing some cryptocurrency like bitcoin, Ethereum, and others with a credit card. Interestingly, Atomic Wallet multi-platform and is available on both Windows and Mac PCs and mobile.
How to buy Ethereum on Atomic Wallet using a bank card.
The process of buying ETH with your bank card is much simple than we taught. First, you should make sure you are using the latest version of Atomic Wallet desktop app which can be download at atomicwallet.io
Once you have opened the app, navigate to the "buy crypto" tab in the left menu.
Next, enter the amount worth of ETH you would like to purchase and make sure to set ETH as exchange pair to USD or EUR then click the "continue" button.
Proceed to enter your billing information and verify your email and phone number thereafter
The next window will require you to input your card details. Complete the form and click the "Pay now" button and enter your security code on the next window.
Complete identity verification and wait for a couple of hours for your order to be processed
Once successfully executed, you can check details of your transaction via the history tab.
Buy Ethereum explainer Vidoe by Atomic Wallet team ->
What you should know about buying crypto with a bank card on Atomic Wallet
Security of Transaction
An integral and important component of a card processing company is security. Having said that, Simplex ensures all private information of users are securely store and not shared with third-parties. From their wide range of trusted partners like Binance, Bitmart, Kucoin and the rest, you can be assured your information would be kept confidential.
Fees
Simplex charges a fee ranging from 5% due to factors like fraud detection & mitigation and the fees associated with card processing. In addition, Atomic Wallet charges you with 2% fees which I think is moderate considering the swiftness in receiving your bitcoin and the security.
I hope you have a great experience with Atomic Wallet :)
Links
Atomic Wallet: https://atomicwallet.io
Buy Bitcoin - https://atomicwallet.io/buy-bitcoin
Buy Litecoin - https://atomicwallet.io/buy-litecoin
Buy Ethereum - https://atomicwallet.io/buy-ethereum
Buy Ripple - https://atomicwallet.io/buy-ripple
Buy Bitcoin Cash - https://atomicwallet.io/buy-bitcoin-cash
btt username: FOPL