XPChain: Age Burnable PoS

About ABPoS
XPChain is building a completely new PoS mechanism from scratch, which has never existed while using existing PoS currency as a reference.
This will be the first currency that implements this new PoS mechanism in the cryptocurrency market.
XPChain has decided to name this new innovative PoS, "Age Burnable PoS (abbreviation: ABPoS)".
The XPChain development team is currently working day and night to complete the ABPoS development. It has been a tough process to complete this implementation from scratch.
The XPChain team is doing its best to make ABPoS easy for everyone to use. We appreciate all your support on this innovative project!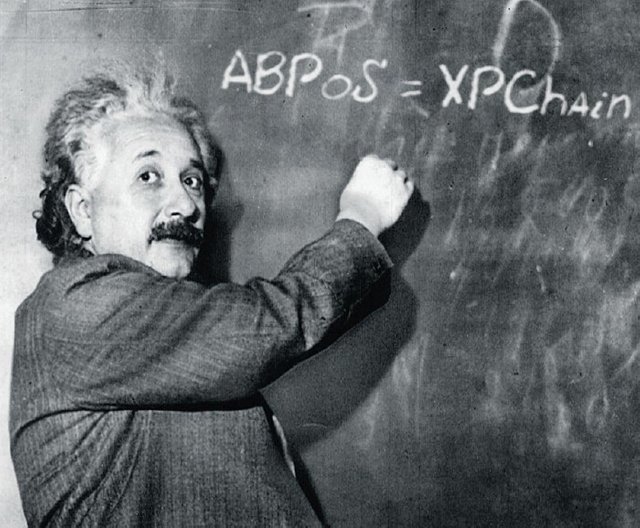 New receiving method of PoS rewards
Current PoS currency has been creating a new chunk which basically includes the principal chunk and the PoS reward when succeeding in the stake. Also, if the stake succeeded before completing the aging process, this chunk could split into two. In ABPoS, when holders succeed in stake, stake rewards will always receive with a separate chunk than the principal.
Example 1
When the stake of 1,000,000 XP succeeded in XP and the reward of 20,000 XP is to be obtained
1,020,000 XP will be received as one chunk, if aging process was completed prior.
Chunks of 510,000 XP and 510,000 XP will be received separately, if aging process was not completed
Example 2
When the stake of 1,000,000 XPC succeeds in XPC and rewards 20,000 XPC
A chunk of 1,000,000 XPC subtracted commission, and another chunk of 20,000 XPC will be received separately.
Compound interest to a simple interest
Continuing PoS staking will change the rewards calculation from compound interest to simple interest.
By changing the receiving method of PoS rewards, when stake continues as rewards arrive, rewards will be calculated as a simple interest.
In order to earn rewards with compound interest as the previous PoS system, it is necessary to manually combine the chunks, and it will take more time to start staking due to refreshing aging process.
ABPoS suppresses excessive inflation by making rewards calculation as a simple rate.
New method of using PoS rewards
By changing the receiving method of PoS rewards, the principal and the reward can be divided clearly, and holders can chose to only use the portion of the reward easily.
ABPoS will allow holders to send rewards to a separate address when stake was successful.
PoS currency tends to remain in the PC wallet because it will continue the staking process, and that tends to suppress distribution in general.
ABPoS is designed to promote the distribution of rewards as the rewards are distinguished and the receiving address can be changed.
For example: it is possible to the select mobile wallet to receive PoS rewards while staking with home PC regularly.
New calculation method of the transaction fee
The fee calculation of current PoS currencies is very complicated.
It is very difficult to understand that when the fee becomes unnecessary depending on the time of trading, or when a small amount is sent, a lot of commissions are required. It was difficult for both users and developers.
Therefore, ABPoS simplifies the calculation of the fee and changes the form to collect the fee according to the data size recorded in the blockchain regardless of the time of the transaction
Fee will be completely burned
All transaction fees will be discarded (Burned) and the amount discarded will be reduced from the total supply.
ABPoS collects fees from all transactions according to the data size recorded in the block chain, including staking.
When the stake succeeds, a fee will be charged on the chunk of the principal.
XPC provides various countermeasures so that currencies can easily be distributed, and the more the currency is distributed, the more fees will be collected.
All fees collected will be deleted (burned) from the block chain and the total issue amount will be reduced.
In other words, currencies are always burned, even though they are small amounts, as it helps to control inflation.
Just like a bill printed and circulated, which will face "death" due to wear and damage, XPC is also born by ABPoS and it is designed to face "death" by burning coins.
The reason that the supply limit is not set is because there is a risk that the currency will run short if the amount of death of coins by the burn increases.
Safer Blockchain
With current PoS currencies, attackers with multiple aged chunks were able to attack blockchains consecutively without risk.
With ABPoS, when attacking with aged chunks, measures were taken so that they could not be carried out continuously, and the blockchain is improved in a way that the attackers will carry the risk.
Reference:
https://gist.github.com/mquandalle/7fe702a595f07f4b0f81
Benefits for Developers
Developers have the benefit of making their own wallets and services.
There have been many cases where developers and service providers/operators faced difficulty in making profits with the cryptocurrency so far.
In order to continue development and operation, it was necessary to earn profits in something other than the cryptocurrency system, such as donation and affiliate, and it was quite difficult.
XPC will make various efforts to increase profit.
Examples
Here are examples of things that can be done by ABPoS adopting XPC.
With ABPoS, the PoS reward part can be delivered to another address and it can be sent freely to distribute to plural addresses.
Let's say someone developed a more convenient wallet than the official, a wallet that will send the rewards portion of PoS to a specified smartphone.
With the consent from the user attached, this wallet can be set to return (receive) 5% of the PoS rewards when the stake is succeeded to benefit the developer.
The user receives rewards to their smartphone every time the stake succeeds, and at the same time, it automatically returns 5% to the developer.
Developers will be able to maintain motivation while earning rewards and will be able to work on developing new functions.
And users can expect new functions, and if they are released safely, they can continue this win-win relationship with each other.
By successfully distributing PoS fees like this, it becomes easy for developers and service providers/operators to earn revenue.
All distribution of the PoS fees is recorded in the blockchain and everyone can verify and confirm the contents at any time.
By recording everything in the blockchain, everyone can promote a clean and fair business.
As soon as the first official XPC Wallet is completed, XPChain will be completely open. All available source code and the blockchain and currency specifications will be released publically.
To make it easier for third parties and other developers to join to create focusing on various features, Official Wallet will not be packed with many functions on purpose.
XPChain aims for the true meaning of Developer Friendly, and will release the SDK and knowledge base that will make it easy to handle blockchains.
Please look forward for XPChain's innovative development. We truly appreciate and thank you all for your interest and support.