🗳️ Support XPC at CoinDeal voting round 13 🗳️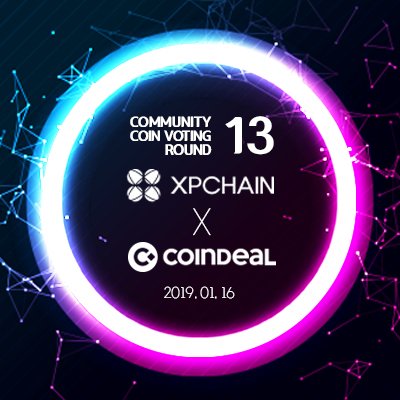 🗳️ ➡️ https://coindeal.com/vote
1️⃣ What is CoinDeal Exchange? 💱
CoinDeal opened its exchange on March 2018.
It is listed 69th on CoinMarketCap exchange ranking. (as of 2019/01/16)
Coindeal is an official global partner to the Premier League team, Wolverhampton Wanderers FC.
Currently over 30 currencies are traded on CoinDeal and they also support Fiat (USD, EUR, GBP, RUB, PLN) as well.
2️⃣ Voting period and how to win 📅
Voting period for 13th round will last until February 13th 2019 12:00 CET
From each round, the most voted currency will get listed on CoinDeal. But every vote that a currency gets will be passed on to the next voting round (until the currency gets listed).
With that being said, many other currencies have been on voting round for many times and if XPC couldn't get the top spot this time, every vote we get will be counted for the next voting round.
Every single vote counts! (For a long time!)
3️⃣ How to vote 🗳️
A CoinDeal account is required to join CoinDeal voting.
To create an account on CoinDeal, please go to https://coindeal.com/
You will need an ID (such as Driver's license and passport) to complete the account registration.
To vote, you simply go to the CoinDeal voting web page: https://coindeal.com/vote and type XPC in the cryptocurrencies searcher.
1 vote per 24 Hours and you can vote everyday!
⚠️ CoinDeal is currently not available to US residents. (Their service is scheduled to get expanded to US residents within this year)