Advertising Industry Disruptor DATx to Be Featured on Huobi Talk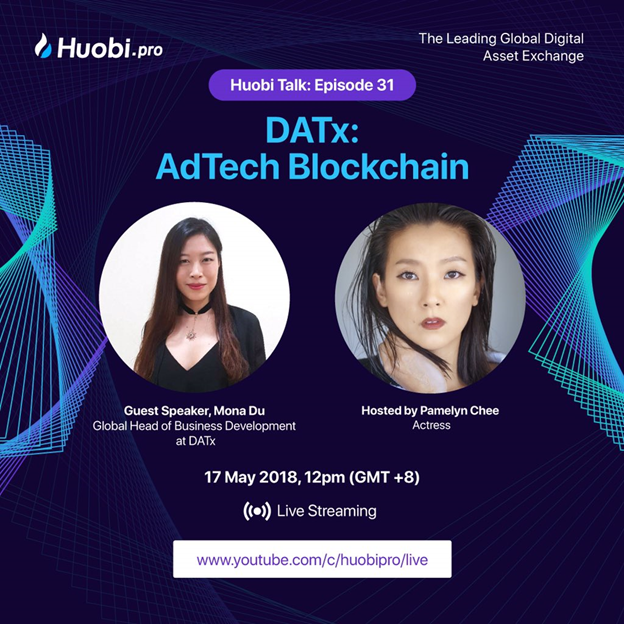 Leading cryptocurrency exchange Huobi Pro just announced that it will host Mona Du, head of business development for emerging cryptocurrency company DATx, on its next episode of Huobi Talk. Pamelyn Chee, star of HBO Asia's supernatural series Grace, will guest host the episode live from Huobi Pro's headquarters in Singapore.
Huobi Talk is a weekly video program that highlights the latest innovative blockchain and cryptocurrency projects to hit the cryptocurrency space. It was recently launched by Huobi Pro, a global cryptocurrency exchange that uses SMART-chain evaluation models and distributed system architecture to ensure safe and informative cryptocurrency trading. The program has featured founders and key members of emerging cryptocurrency projects such as NEM, Ontology, MATRIX and Game.com. It also covers key trading features and tips on Huobi Pro's platform designed to help first-time and experienced traders get started with entering the world of cryptocurrency trading. The show is held every Thursday from 12 pm to 2 pm and can be streamed live on Huobi Pro's YouTube channel.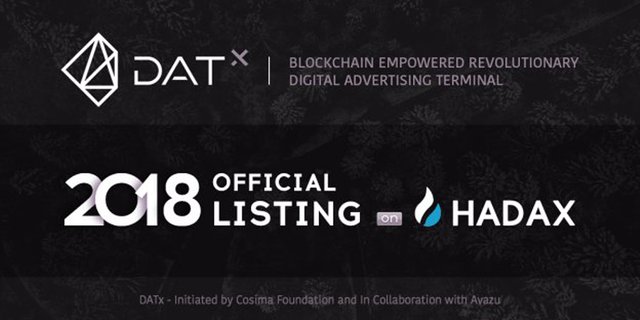 This week's Huobi Talk by Huobi Pro will feature DATx, a new cryptocurrency company that uses blockchain technology to solve flaws in traditional digital advertising models. The project abandons traditional targeted advertising models used by most of today's digital marketing platforms in favor of a blockchain and artificial intelligence-powered ecosystem that delivers effective advertising while ensuring consumers' personal information remains private. The platform adds a new twist to the digital advertising process by rewarding digital advertisers with DATx tokens for campaigns that receive positive engagement from consumers. DATx also incorporates centralized-decentralized hybrid data storage to ensure strong user security and privacy, and a decentralized audit trail designed to combat fraud and ensure that the whole process is transparent. The cryptocurrency's team of advisors include the founders and CEOs of high-profile cryptocurrency projects such as QTUM, Game.com, and aelf.
DATx's head of business development Mona Du will appear on Huobi Pro's Huobi Talk to discuss how the company's take on blockchain technology will disrupt the way advertisers market their goods and services to users online. Viewers will also be eligible to receive an airdrop of DATx tokens from a total pool of 833,340 DATx. Tokens will be distributed as follows depending on viewership figures: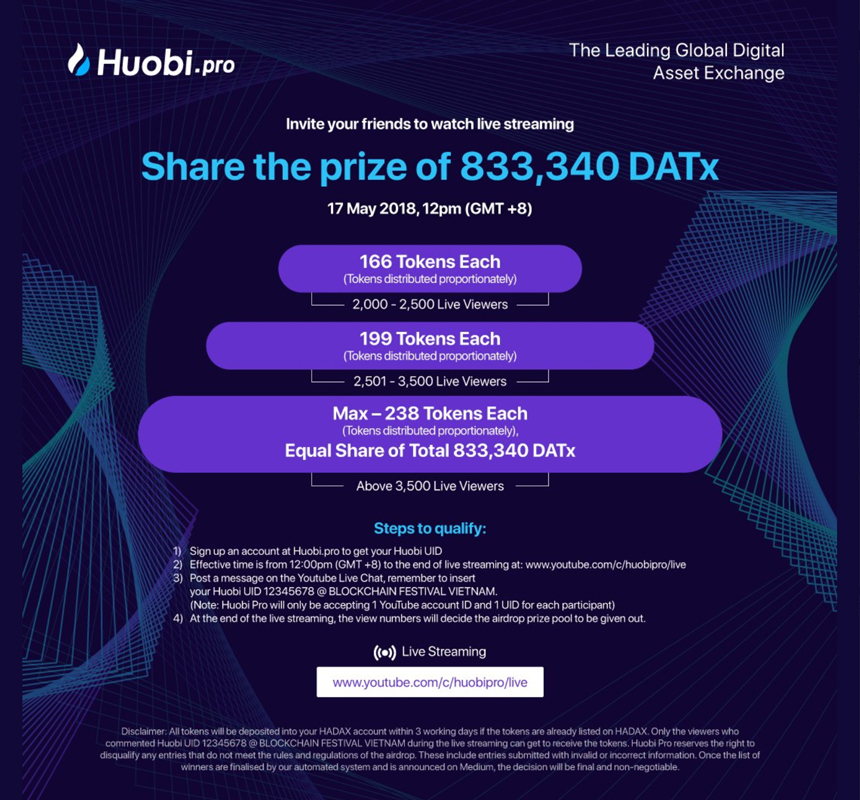 · 166 tokens per viewer if there are 2,000-2,500 live viewers watching
· 199 tokens per viewer if there are 2,501-3,500 live viewers watching
· 238 tokens maximum per viewer if there are more than 3,500 viewers watching
To be eligible for the airdrop, you must open a Huobi Pro account before the livecast and post a comment to the YouTube interview's Livechat that lists your Huobi UID and the phrase "@ BLOCKCHAIN FESTIVAL VIETNAM." Viewership numbers and token distribution will be determined at the end of the livecast.
Be sure to tune in at 12 pm (GMT +8) on May 17th, 2018 to listen to the full interview.
This article was developed in collaboration with Huobi Pro. Huobi Pro is a leading cryptocurrency exchange that currently empowers millions of users across 130 countries trading over $1 billion worth of assets. Huobi Pro's innovative SMART-Chain Evaluation Model provides users with strategic insights to help cryptocurrency investors evaluate cryptocurrencies in ways unmatched by other exchanges. You can learn more about Huobi Pro at https://www.huobi.pro/.