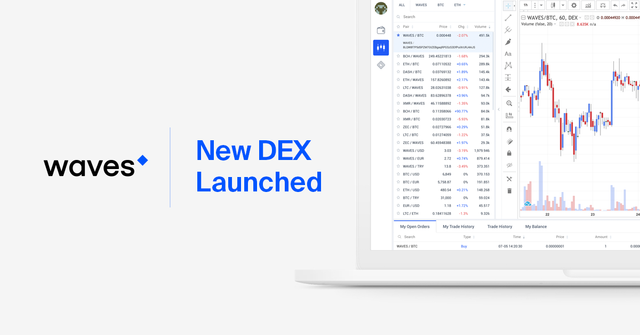 Huge news: Waves' decentralised exchange has undergone a major redesign and UI update, making it more user-friendly and professional-looking than ever before!
Here are the main highlights for the new DEX:
Completely new UI, in line with the top professional platforms
Improved app stability and performance by moving to custom-built data infrastructure and API
While other projects are still trying hard to achieve cutting-edge functionality, speed and security, we've already got those covered — and there's much more to come. Here are further reasons you should only use the Waves DEX:
Decentralised and anonymous. No middle man or difficult registration procedures. Funds are stored safely in your wallet, not on the exchange.
Real liquidity. >$6,310,000 average 24h volume.
Insanely low fees. <$0.01 (0.003 WAVES) per order.
Fast and secure. Matcher nodes execute trades in near-real time, whilst the Waves-NG protocol ensures that settlement occurs on the blockchain within seconds — giving speeds similar to centralised exchanges.
Unlimited withdrawal limits for crypto.
Issue a token and see it on DEX straight away. All tokens launched within the Waves Platform appear on DEX immediately after issuance and can be traded instantly.
Trading of any pairs. Easy and flexible search for a given pair, from hundreds of thousands of possibilities.
Multiple fiat and crypto gateways. BTC, BCH, ETH, WAVES, ZEC, DASH, LTC and XMR; EUR, USD and TRY.
Available for any device. Use DEX within your browser, or in standalone or mobile versions.
Now, let's take a closer look at the new DEX UI.
Watchlist
All tokens issued on the Waves Platform appear on DEX right after they are created. You can trade them against any of the other 16,000 tokens issued so far, in any pair combination.
With the new Watchlist, you can find any pairs you're interested in, quickly and easily. Here's a full rundown of Watchlist features:
Search by full pair, not just one token
Add any pair to Favourites
Market volume calculation by pair
Sorting of pairs — all pairs are organised by volume by default, so the most liquid examples come up first
Token ID info can be obtained with one click
Before/after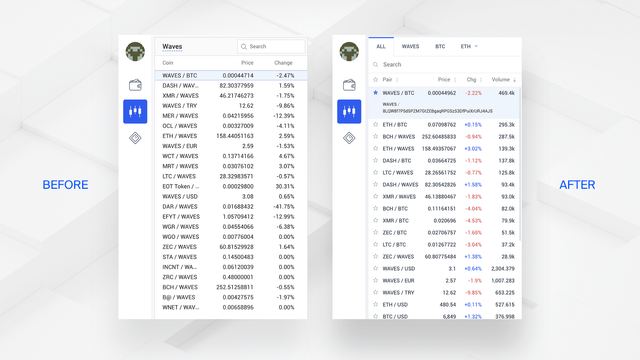 Order book
What's new:
Highlighting for volume of a submitted order
User's orders are highlighted in the list of all orders
Returning to the centre allows comfortable viewing of order list after scrolling
Before/after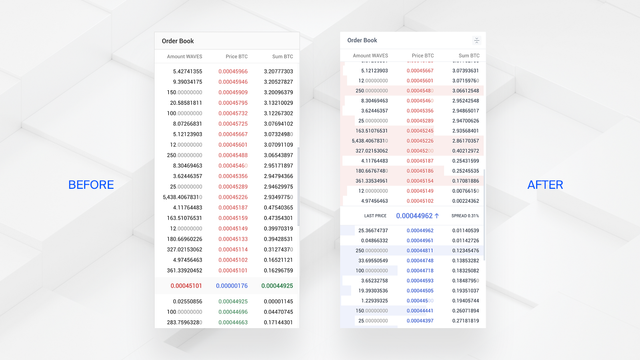 My open orders
What's new:
View detailed info on partially fulfilled orders
Sorting and filtering
'Close all' button that allows cancellation of all orders at once
Order submission
What's new:
Total field can be edited
Scheduling of orders for a precise time now available within UI
Ask, Bid, and Last buttons allow quick trades at market price
New sections
Trading history. Detailed trading history.
My balance. Lists of all balances and tokens the user has in their possession.
Conclusion
We hope you'll agree that the most recent set of updates brings the Waves DEX into line with the user experiences of the most popular crypto exchanges, and in fact offers even more sophisticated functionality than some of the top trading platforms. Liquidity is increasing all the time, and we expect to see many, many more traders take the step to using a decentralised platform that is free from hacks and downtime. Come and join them!
Users can check FAQ and give feedback on the new DEX.
---
Join Waves Community
Read Waves News channel
Follow Waves Twitter
Subscribe to Waves Facebook