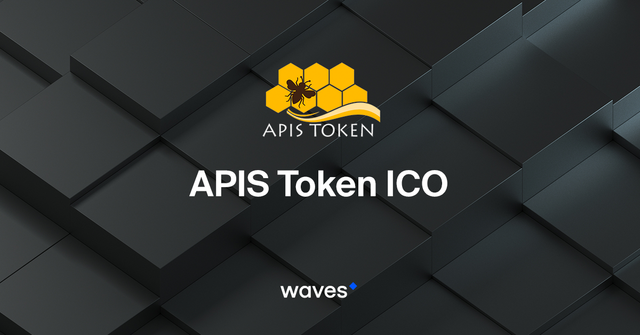 We've always waxed lyrical about the benefits of blockchain for small businesses, but there are good reasons why this initiative has prompted such a buzz in the community.
The Waves platform was designed to bring the benefits of blockchain technology to as many people as possible. Apis, a new bee-farming business, is exactly the kind of project we always wanted to see in our community.
Tokenising hives
The idea behind Apis is simple: the world desperately needs more bees, people love honey, but there's a shortage of space and expertise to set up and look after new hives. And so Apis — founded by Ancau Florin (Catza) and Farcas Ciprian (CyM) – is crowdfunding one or more apiaries, or colonies of bees, and managing them for the community.
The Apis team are selling tokens on DEX and using the funds received to set up several hundred hives in Romania, where land is cheap. There are different ownership plans. Anyone can buy APIS tokens, but if you hold 30,000 then you can lock them to receive your own dedicated hive. In due course, once the crowdfund has ended and the platform is launched, it will even be possible to have your hive customised — personalised hives have already been created for the first five adopters. (You can see photos on the very active Apis Telegram channel.)
If you have your own hive, you can receive monthly 'dividends' of 1 kg of honey per hive – or choose to receive the cash equivalent. Given that the average hive might produce anything between 24 and 70 kg of honey per year, this leaves plenty of margin for postage costs, maintenance and occasional replacements. Premium accounts of 10-49 hives receive half of all the honey the hives produce, plus a week-long visit to Romania to see the apiary and do an apiculture course for a diploma. If you go all in and buy a whole apiary (50+ hives), there's even more on offer. You can find out more about the different plans and their benefits on Facebook.
Crypto bees
There's more than one reason why Apis is such a great use case for Waves. These guys know their way around both bees and crypto, as should be clear from their white paper, which makes for a convincing read whether you're interested in the tech, the environmental impact, or the liquid gold returns.
Firstly, they are active supporters of the Waves ecosystem, with their own mining pool you can lease your WAVES to. Secondly, the platform will use some of Waves' key functionality once smart contracts are launched. The Apis team needs to know that tokens representing hives won't be sold during a given period of time, when they are managing the hive and sending honey to the owners. As Catza comments, 'because an adopter needs to lock 30k Apis Tokens in order to receive his honey share, we want to use the freeze balance function when smart contracts are live on mainnet.' The team are building a custom wallet for the platform.
Apis has already proven adept at engaging with the community and tapping into the evident enthusiasm for projects that not only use the blockchain but provide some kind of social or environmental benefit, as this one does (put simply, without bees our lives would be very, very different, and most likely a lot shorter). They have done this in part through a generous airdrop, and plan to conduct another of 1 million APIS tokens to WCT holders once the crowdsale is over.
Bottom line, this is a great project and it should be obvious why the community has been swarming all over it. Congratulations to the Apis team and good luck for the future!
---
Join Waves Community
Read Waves News channel
Follow Waves Twitter
Subscribe to Waves Facebook