Dragonchain: Disney-Developed Blockchain Turns Open Source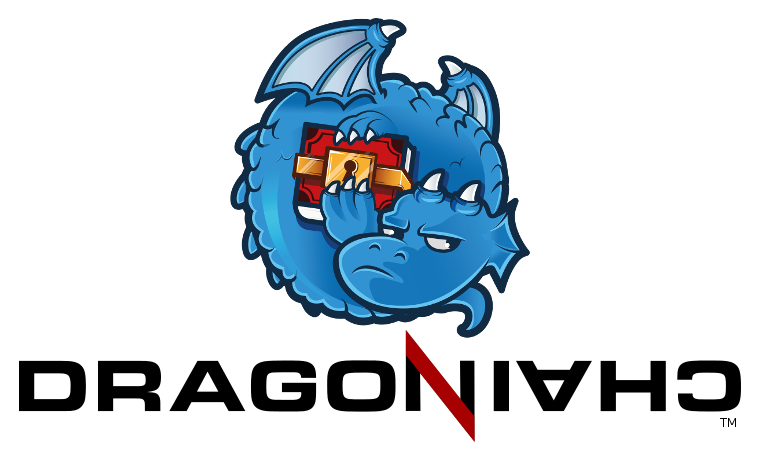 Disney's Blockchain Project
The Walt Disney Company is a media and entertainment conglomerate that brings in tens of billions of dollars on an annual basis. The company holds assets of nearly $100 billion, and, in 2014, it garnered an interest in Blockchain technology for use within its massive business organization. Seeking more efficient ways of managing its business operations in the 21st century, the company decided to develop its own private Blockchain in 2015 under the moniker Disney Private Blockchain Platform. Recognizing the importance of the technology, however, Disney later decided to make the platform open source with a modified Apache 2 open source license on October 2, 2016. Dragonchain currently operates as a nonprofit, but will launch as a commercial enterprise (Dragonchain, Inc.) once the platform is fully rolled out. The project is now maintained by the Dragonchain Foundation and the ICO effort of Dragonchain, Inc. was not affiliated with Disney.
What Is Dragonchain?
Dragonchain is a digital ledger that uses complex algorithms to document transactions, immutably, via an emerging cryptographic technology called Blockchain. Blockchain is an incorruptible digital ledger of economic transactions that can be programmed to record not just financial transactions but virtually everything of value. Proponents of Blockchain technology, which originate from the digital currency Bitcoin, argue that it will make a multitude of transactions transparent, more reliable, and easier to audit without the need for centralized processing.
As a distributed cryptographic ledger framework protocol, Dragonchain makes it easy to create cost-efficient business networks where virtually anything of value can be tracked and traded—without requiring a central point of control. Unlike the public Bitcoin and Ethereum protocols, however, Dragonchain is a hybrid. This means that some information is private, and some is public (depending on the specific use case).
Many large corporations (such as Disney) have been hesitant to put their own data on public blockchains because the design would leave much of their proprietary and sensitive data open to prying eyes. The hope for Dragonchain is that other companies feel the same way.
Think of Dragonchain as an enterprise-grade Ethereum, with the ability to toggle on/off private or public blockchains for business-related use cases. Some data needs to be retained privately, and Dragonchain has built inherent in the protocol the ability for businesses/clients to decide which chain they want to use for specific scenarios.
Dragonchain allows smart contract developers to build on a scalable, serverless platform with built-in protection of business data using established programming languages (Java, Python, Node, C#). Whereas Ethereum uses a proprietary language called Solidity which is similar to JavaScript, but this limits adoption since the amount of developers proficient in Python, Java, C#, et. al. far outweigh the number of Solidity developers. Smart contract developers also have full access to Amazon AWS services/capabilities through the Dragonchain platform.
Blockchain technology is immensely complicated to navigate through, and it will take businesses millions of dollars to implement. So, by providing a simplified "turn-key" platform to create blockchain-based projects, Dragonchain simplifies the process and makes it more accessible to new startups. Further simplifying the process, Dragonchain provides an incubator for these companies to receive early access to technology, as well as access to a community of entrepreneurs and guidance. The various components work in tandem to deliver lower development costs, faster speed to market for company projects, higher scalability for those projects, and significantly heightened levels of security.
How Does It Work?
Dragonchain will penetrate the market through developer relations, corporate sales, and start-up services ranging from advisory to financing to development. To achieve this, the team and go to market protocols are assigned across a geographic emphasis with market managers across 3 separate regions; Asia, USA, Europe. The role of the market manager is primarily concerned with localization issues and second the specific market tailored offerings.
The core of Dragonchain's growth will stem from a blend of technology and incubation services. The technology model is similar to Amazon's AWS model, and the incubation model is similar to Y-Combinator. Both highly prominent organizations that are deep rooted with community and market success.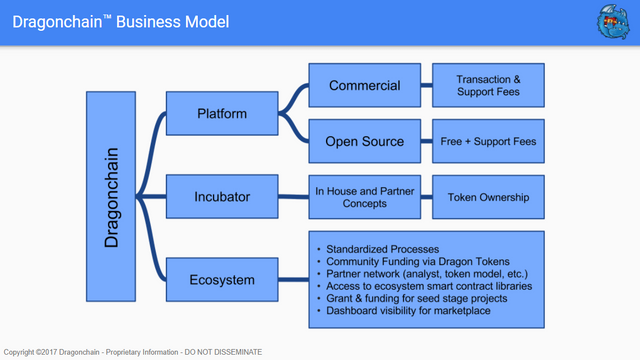 The Dragonchain platform has three components that work together to create its ecosystem:
The Platform
The Incubator
The Marketplace
The Platform
The Platform can be thought of as the backend aspect of Dragonchain that stores and secures business-client data. This is where developers can create and store Smart Contracts in common programming languages. Also included in the platform is access to Amazon Web Services (a subsidiary of Amazon.com that provides on-demand cloud computing platforms).
The Incubator
The Crowd-Scaled Incubator is where companies will be able to easily develop their blockchain projects by following Dragonchain's standardized process.
Marketplace dashboard for community engagement to monitor and compare projects
Direct access to legal, technical, marketing, and economic subject matter experts as partners for advice and support
Dragonchain platform team to model digital economics aligned with token model; business design, user acquisition and retention, lifetime value, creation of network effects, monetization models, data strategy, and KPI's.
Expedited launch cycles
Sustainable token marketplaces
The "crowd-scaled" aspect of the incubator is meant to be of major benefit to company projects. This means that, after a business develops their blockchain project in the incubator, they can have it reviewed and scaled by a crowd consisting of people/investors from all over the world. If successful, the incubation process works to drastically reduce the resources needed for a client to get exposure on a developing project.
In terms of outcomes, the crowd-scaled incubator aims to allow business projects to launch and start producing market value much quicker. On Dragonchain's website, you can see that they're currently taking applications from businesses looking to start their commercial platform and incubation process.
DragonFund works with companies to help them identify how blockchain technology and smart contracts can advance their mission, and in select cases to build-out token marketplace environments that will build and increase long term value. Dragonchain will benefit from licensing fees and token ownership and will also provide access to strategic resources to advance an incubated project.
Dragonchain currently has five projects under incubation: Look Lateral – Liquid Art, Seed2You, lifeID, IDPay, and ClevX.
The Marketplace
Lastly, the Dragonchain Marketplace is a support system for client companies. Here they can access a pool of verified Subject Matter Experts on topics like crypto, marketing, and software development. The Marketplace is also where Dragonchain clients access the library of pre-developed smart contracts.
Together, these three components (the platform, the incubator, and the marketplace) make up the Dragonchain ecosystem. The ecosystem is fueled by the Dragon coin (DRGN), a token that is micro-licensed to serve as credit for each of the service components.
Projects Under Incubation
Look Lateral - Liquid Art
Blockchain-based arts Provenance and Liquid marketplace. Provides market-based Provenance in advance of a service to securitize rare assets for a liquid market.
Website: http://www.looklateral.com
Location: Mantova, Italy & San Francisco, USA
Seed2You
Company in the cannabis sector that has commissioned Dragonchain with building out a suite of smart contract applications to support the state laws in tandem with operator needs and finance from banking and private financiers. Initially for Washington state, and then for all 9 states that have legalized industry.
Location: Seattle, WA
lifeID
Blockchain-based open identity platform that allows users to manage a digital identity and use it to interact with both the digital and physical world, all without relying on the oversight or control of a large social network, company, or government. Identities on this blockchain are created and managed via a system of smart contracts on a permissionless blockchain that will be governed by identity holders. This means anyone can create one digital identity to use for his/her entire life and everything in it. Using this blockchain and a biometric-capable smartphone app such as lifeID for iOS, users can safely and securely identify themselves, taking the place of a login and password online or a card key in the physical world, all while giving the user complete control over his/her privacy.
Website: https://lifeid.io/
Location: Bellevue, WA
IDPay
Existing company providing solutions for Government Treasury, including Budget optimization, Payroll, and Social funds optimization. The Costa Rican Government Treasury, has been using the software for 8 years, and saved hundreds of millions of dollars. Project will build on existing product onto Dragonchain platform.
Location: San Jose, Costa Rica.
ClevX
An intellectual development and licensing firm focused in the area of security offerings. Maintains a strong dominance in government accounts through value-added resellers for their FIPS Level 3 authentication designs.
Website: http://www.clevx.com
Location: Kirkland WA USA
Give With Nothing
Non-profit aiming to increase transparency and accountability of charitable foundations through Dragonchain's blockchain technology.
Website: http://givewithnothing.org
Location: Seattle, WA
---
Dragonchain, the Problem Slayer?
The Dragonchain developers have identified two distinct problems which they believe their platform can solve:
Security on A Blockchain platform
A vast amount of knowledge is required to develop and implement the blockchain. This means that there are millions of ways through which its security could be compromised. The developers at Dragonchain hope to provide startups with a secure platform, such that consumers would not be privy to data loss.

Skill Set Challenge for developers
Adding on to the complexity of the blockchain, developers must master a vast amount of subjects to create a functional and secure network. By providing an open source platform, Dragonchain makes it easier for people to contribute to the platforms development. At the same time, Dragonchain also makes it easier for startups to create their own private blockchain.
To combat these problems, the developers have set several goals for features of the platform, such as:
Protection of Business Data and Processes
Ease of Integration
Simplified Development
No Base Currency
Simple Architecture
These goals were all incorporated in the development of Dragonchain, and have made the process of creating a blockchain-based startup so much easier.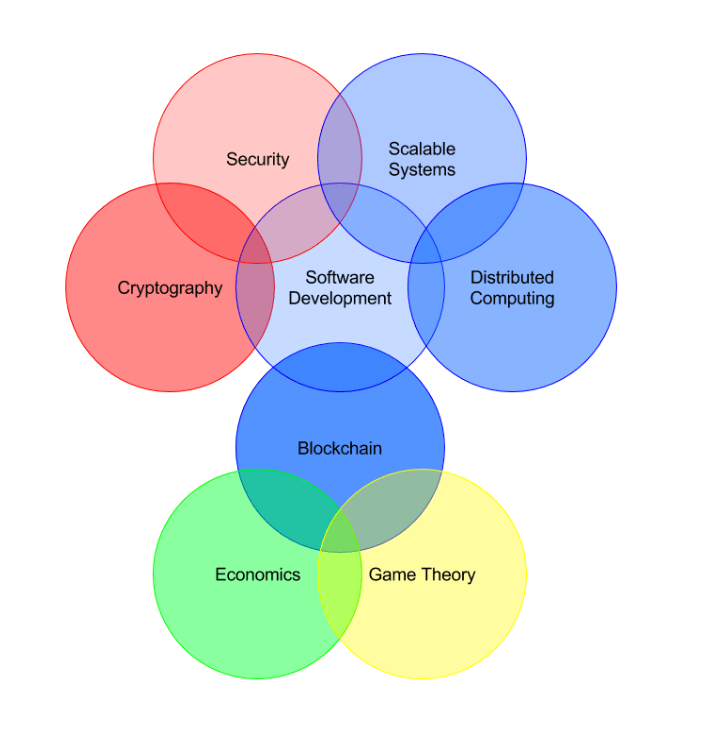 Blockchain technology has so much potential, but there are so many intricacies which a developer must understand and implement in order to commercialize the platform.
Secure Architecture
To ensure the security of the blockchain, the Dragonchain architecture is designed to approve transactions based on five levels of network consensus, allowing for a secure network for the consumers.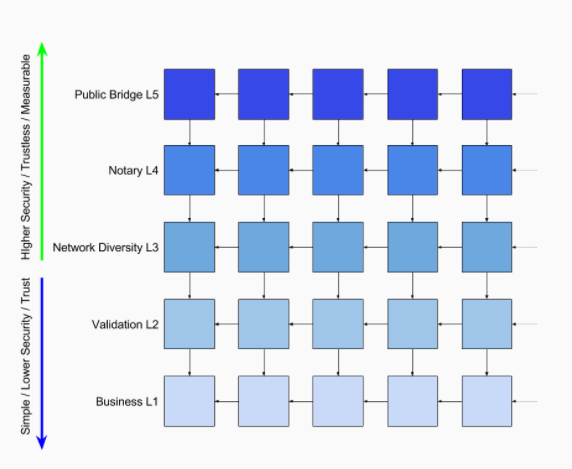 The five levels of verification are:
Level 1 Business Verification (Approval)
Level 2 Enterprise Verification (Validation)
Level 3 Network Diversity Verification
Level 4 External Partner Verification (Notary)
Level 5 Public Verification (Public Checkpoint)
The varying levels of the Dragonchain consensus architecture are worth noting to gain an understanding of how they will be utilized within the platform.
The first level is the business node, which will process transactions and have the ability to determine whether a transaction is approved or declined. Level two is an enterprise verification node, which can determine the validity of data submitted by level one nodes. The purpose of the level three nodes is to ensure requisite diversity of sources of information – it acts as a check against errant nodes which may be compromised, for example.
Dragonchain also calls for a third-party verification/"independent witness" of data at its level 4 nodes:
Hosted by an external partner, a level 4 node would cryptographically sign any level 3 verification records that it receives. This function allows the Level 4 node to act as an independent witness to level 3 verifications.
A Level 5 node will provide a bridge to one or more public blockchains, allowing clients to interact with them (e.g. Bitcoin, Ethereum, Litecoin, etc.).
With this, Dragonchain is able to provide a spectrum of trust for the consumer of blockchain data, where risk is accepted based upon a combination of real world contracts, reputation of nodes, and trustless system assertions. That is, one may trust one's own data as valid, but require varying levels of consensus verification before accepting a partner or foreign node for use. The system will provide a human readable report as well as API access to this capability.
A business may implement other forms of verification for its own purposes beyond level 5 if deemed necessary.
Currency Agnostic
Another feature of the Dragonchain is that it will not have a singular currency at its core in the way that Bitcoin does. Rather, Dragonchain's architecture defines the ability to create a blockchain without currency, or with one or more currencies in place. They believe that if a base currency were to be required within an organization, then a separate node should manage it. For the purpose of the Dragonchain, though, a multitude of currencies should be considered. Quoting page 10 of the DragonArchitecture [PDF]: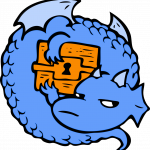 […] this architecture should not define a "base" currency, or one that the system itself runs upon. If such a use case arises (as indeed it is very likely to see value in the availability of a currency whereby nodes may pay each other for verifications), it is the philosophy of this architecture that a node should be configured to create and maintain that currency. This will allow a more flexible development of marketplaces than any attempt to define that early in the development of the platform.
Seemingly, the most interesting thing about this is that Dragonchain will apparently support multiple cryptocurrencies inside a private blockchain transaction, using their transaction class header field. At least at the outset, the network will use Bitcoin-based cryptographic addressing and cryptography. Part of the logic behind this is to make use of existing infrastructure, including Counterparty and hardware wallets for verification purposes within the organization.
Blockchain of Blockchains
Different organizations will have different purposes for Dragonchain, but one thing that may make it very useful is its ability to act as a "blockchain of blockchains." In this way, various third-party providers can bring to market solutions based on Dragonchain or to integrate competitively with existing Dragonchain implementations.
[…] each business concern will generally have its own node to do this work, each with its own blockchain. It is where these blockchains become combined that consensus is reached.
Dragonchain aims to have "simple architecture" and to be accessible to those who lack "Blockchain expertise." While banks and other large financial institutions have been going on about the value of the blockchain and their perceived lack of necessity for Bitcoin, Dragonchain seems right at home with the idea of integrating various cryptocurrencies, and even with the idea of enterprises using a system such as Counterparty to instantiate their own tokens.
The code currently available in Dragonchain's Github repository is functional, well-documented, and includes the ability to transact on the Dragonchain, query the Dragonchain, and process the blockchain. A full Dragonchain implementation would require a clarity of purpose as well as the technical prowess to modify each level of node accordingly. Its largest requirements are Python and Postgres, both of which are cross-platform.
It would appear that the currently available setup is best suited to large-scale operations, but a "lite" version could eventually come about as a result of the software being open source.
Market Growth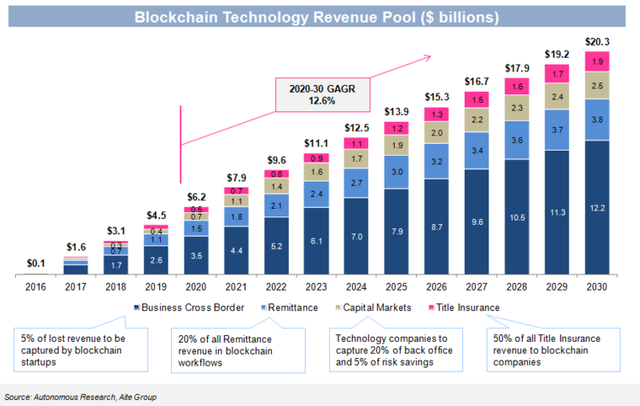 There has been a growing interest in the Blockchain as a service concept, and the technology is expected to reach a value of $7.9 billion by 2021 from its current valuation of $3.1 billion. This implies that there is a lot of area to grow for companies. Being open source and easy to use, Dragonchain is placed in a prime position to capitalize on this growth in usage of the technology. By hosting an incubator on top of the Dragonchain platform, startups are given greater incentive to use Dragonchain. This bodes well for the future of the platform.
The Dragonchain Token
So, what do Dragon tokens actually do? What value would a person derive from actually holding a DRGN token? What is its utility?
Dragons (DRGN) will be used by developers and organizations to interact with the Dragonchain commercial platform products and services (e.g. launch nodes, provision smart contracts, access incubator dashboard, etc.). As a tokenized license with value in utility service rights, the tokens will further allow individuals or organization to be rewarded in an open market for running public or private nodes for network consensus.
Dragons will also be used to support projects in the DragonFund Incubator. They will provide early access to technology and data from the projects, as well as allow first access to purchase tokens for use on the developed platforms.
For the Dragonchain Foundation (overseers of the Dragonchain open source code), Dragons will be used to reward and incentivize developers contributing to the open source project and ecosystem. The tokens will be used to increase adoption in the developer community with rewards and training. Community members will be able to contribute on issues and designs, and reward active participation in the development of important functionality anywhere in the world.
Token Distribution
Ticker: DRGN
Token type: ERC20
ICO Token Price: 1 DRGN = 0.0663 USD (0.00023 ETH)
Total Supply: 433,494,437 DRGN
Circulating Supply: 238,421,940 DRGN
One of the unique things about Dragonchain's ICO was that it was open to US citizens. 433,494,437 Dragons were created and distributed in the following order: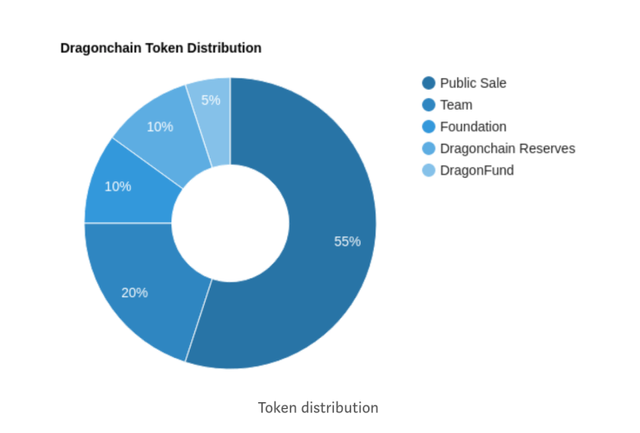 The DRGN coin was offered on October 2nd, 2017 at $0.0663 USD at the ICO and reached an ATH of $5.26687 on January 9, 2018. Currently, the price is $1.95/DRGN.
Dragon Slumber Score
Dragonchain offers benefits for those that hold their coin in the form of a Dragon Slumber Score (DSS). The more DRGN coins you own and the longer you hold them, the higher your Slumber Score will be.
A higher Slumber Score rewards you with a greater extent of the following benefits:
Everyone: bonuses for company ICOs in the future
Business Owners: discounts on smart contracts available in the Dragonchain marketplace as well as other forms of tech that Dragonchain plans to offer in the future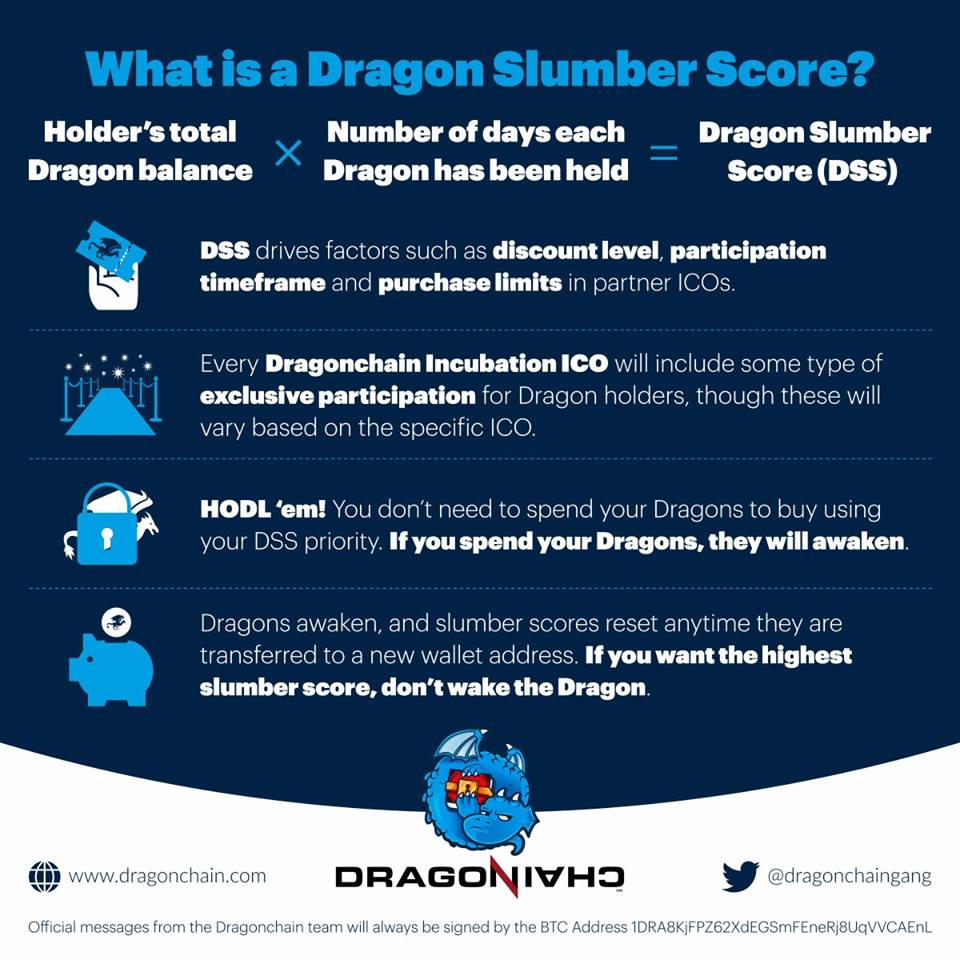 Dragonchain Platform Key Features Overview
Serverless system and smart contracts
Established language support for smart contracts (Java, Python, Node, C#, Go, etc.)
Smart contract libraries
Scalable – Amazon AWS and Google deployments
Secure – Protection of business data and operations
Advanced currency implementations
Currency agnostic
Benefits
Lower development cost via existing development languages
Faster speed to market
Significantly higher levels of security with proprietary architecture
Higher scalability with proprietary architecture
DragonFund Incubator
Standard processes for the incubation of blockchain startups and new integrations
Direct access to legal, technical, marketing, and economic subject matter experts as partners for advice and support
Direct support from Dragonchain platform team
Benefits
Higher success rate for launch with data driven insights
Expedited launch cycles
Sustainable token marketplaces
The Team
The Dragonchain team is comprised of several members with Joe Roets as the CEO and Chief Architect. He formerly worked for Disney before leaving to commit full-time to the development of the Dragonchain platform. Joe Roets has quite the extensive background with 25+ years experience with software development design and architecture. Joe is also noted for his involvement with projects at Lockheed Martin, FBI, DoD, Coinbase and Overstock.
Recently, Dragonchain picked up Catherine Lenihan, who joined the team in January as the CFO for both Dragonchain, Inc. and the Dragonchain Foundation. Catherine is no stranger to the world of finance. She previously worked with Goldman Sachs' 10,000 Small Business program for over ten years. Additionally, she was CFO with the award winning, post-Katrina New Orleans business incubator, Idea Village.
More information on each member and their involvement is available here.
Advisory Board
Dragonchain's Advisory Board includes Starbucks Vice President of Partnerships and Payments, Xbox Co-founder, and former FBI Assistant Director.
"We are fortunate to be supported by highly-motivated Advisory Board members who believe in Dragonchain's mission of moving blockchain technology forward," says Joe Roets, founder and CEO of Dragonchain, Inc. "These members bring a valuable set of technology and business acumen to Dragonchain that will help us to continuously grow and innovate."
Dragonchain's Advisory Board comprises executive and senior professionals steeped in ICO investments, the blockchain ecosystem, software engineering, finance and partnerships, interactive media and entertainment, and technology security among others. The Advisory Board members will contribute their time and expertise to guide Dragonchain leadership and introduce the brand into the business and tech community.
Advisory Board members include:
Maria Smith, Vice President of Partnerships and Payments, Starbucks
Maria serves as the VP of Partnerships and Payments at Starbucks and has over 20 years of financial executive experience. She was previously part of Disney's Corporate Treasury team, where she oversaw the global consumer payments acceptance relationships.

Matthew Roszak, co-founder, Bloq and founding partner, Tally Capital
Matthew is a co-founder at Bloq and a founding partner at Tally Capital. He is an avid supporter and investor in the exciting technology frontier of blockchain.

Ed Fries, tech industry advisor and co-founder, Xbox
Ed joined Microsoft in 1986 and, as a vice president, spent 10 years as one of the early developers of Excel and Word. He left the Office team to pursue his passion for interactive entertainment and created Microsoft Game Studios. Over the next eight years, he grew the team from 50 people to over 1200, published over 100 games, and co-founded the Xbox Project, making Microsoft one of the leaders in the video game business.

Jeff Garzik, co-founder, Bloq
Jeff is co-founder and CEO of Bloq, a code-for-hire service that delivers enterprise grade blockchain technology to leading companies worldwide. He is a renowned futurist, bitcoin entrepreneur and software engineer.

Collin LaHay (Collin Crypto), founder, Gambit
Collin is a full-time cryptocurrency trader, bitcoin angel investor, blockchain expert, ICO advisor, and digital marketing specialist. He is the founder of Gambit, one of the most distinguished crypto trading communities.

Tom Bush, former Assistant Director, FBI CJIS Division
Tom is a national security, homeland security and law enforcement subject matter expert with over 33 years in federal law enforcement and owner of Tom Bush Consulting.

Chris Boscol, founder, lifeID
Chris is a specialist in cloud-computing, Amazon Web Services, network security, TCP/IP network protocols embedded systems and Linux kernel drivers. He has more than 20 years of experience building commercially successful products.
Company Information
Dragonchain simplifies the integration of real business applications on a blockchain and provides features such as easy integration, protection of business data and operations, currency agnosticism, and multi-currency support. The company also provides professional services to build-out development and successful tokenization ecosystems with long term value utilizing an incubation model.
Source: Dragonchain
Related Links
https://dragonchain.com
Contacts
Dragonchain
Sabrina Carr, 425-278-5664
Marketing Director
[email protected]
---
References
Dragonchain Github Repository
Draft Architecture Document
Dragonchain Business Summary
Disney Dragonchain Blockchain Use Cases Document
Blockchain Standardization - Disney Notes
Dragonchain (Website)
Dragonchain (Medium)
Media
What Is Dragonchain?