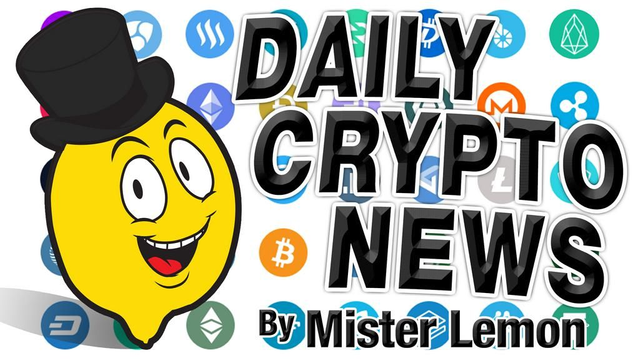 South Korea to Triple the Budget for Blockchain Projects Compared to 2018 ;
Mining Giant Bitmain Hurries to Deploy 90,000 S9 Antminers Ahead of Bitcoin Cash Hard Fork ;
Huobi Opens Office in Russia, Plans Startup Accelerator and Mining Hotels ;
Texas Takes Action Against Crypto Company Promising 200% Profit ;
The Little-Known Ways Ethereum Reveals User Location Data ;
STEEM Trading Update by @cryptopassion
Welcome to the Daily Crypto News: A complete Press Review, Coin Calendar and Trading Analysis. Enjoy!
The South Korean government has agreed to invest $35 million in next year's budget to develop blockchain technology and industry related to distributed ledger technology (DLT), South Korea's largest economic information service company Korea Economic Daily reported Nov. 8.
South Korea's government has held a meeting on industry related to DLT and blockchain technology with the participation of the Ministry of Science and ICT, the Ministry of Information and Communication, the Democratic Party of Korea, and others. The Vice Minister of Health and Welfare announced during the meeting that the ministries agreed to increase the budget for the next year by three times, approximately to $35 million.
Ahead of the imminent Bitcoin Cash (BCH) hard fork, mining giant Bitmain has rushed to deploy around 90,000 Antminer S9 machines to the western Chinese region of Xinjiang, Chinese blockchain news source DeepChain reports Nov. 8.
As reported, the BCH network will hard fork on Nov. 15, and Bitmain is reported to be strategizing its role in the forthcoming computing "power war" by reaching out to local mining farms in the coal-rich region of Xianjing.
The Russian branch of digital asset exchange Huobi is scheduled to open on Nov. 12 with a Russian-language website and local support services. The global cryptocurrency company wants to support Russian startups and mining projects, in addition to launching an educational program.
It reports that Ekniti Nitithanprapas, director-general of Thailand's Revenue Department, wants to utilize blockchain technology to help verify that the correct person paid the correct amount in taxes as well as to decrease the time it takes for citizens to receive a tax return.
The Texas State Securities Board has issued an emergency cease and desist order to an Australia-based cryptocurrency mining company and its affiliates. According to the order, the company represents that investments in its mining contracts are "guaranteed to 200% profit."
"People don't realize how much information is out in the open."
That's Péter Szilágyi, an ethereum core developer who manages development on the ethereum software client Geth. He's referring to the fact that little attention has been paid to ethereum's underlying network layer, where information is exposed in complex, unpredictable ways.
Indeed, there's an awareness of the implications of such exposure that's given rise to an ongoing acceleration in research on how to better obscure user data at the application level, which sits on top of a fully transparent system that publishes smart contract and transaction data the blockchain itself.
0x (ZRX), Cardano (ADA), EOS (EOS), ICON (ICX), IOTA (MIOTA), POPCHAIN (PCH), Siacoin (SC), Stellar (XLM), TRON (TRX), Zilliqa (ZIL)
Biztranex Listings
BiteBTC Listing
Kolin will be an exhibitor at #ScotChain18.
TrueDeck TDXP airdrop distribution will take place on 8th of November 2018, 06:00 UTC.
Meetup to discuss Holochain from 7 PM - 9 PM.
Sources: Coincalendar.info, Cryptocalendar.pro, Coinscalendar.com, CoinMarketCal
STEEM Trading Update by my friend @cryptopassion
Here is the chart of yesterday :
https://steemitimages.com/p/HNWT6DgoBc14riaEeLCzGYopkqYBKxpGKqfNWfgr368M9UvWvvWsg1a5fmJi9LEnd4HmoDDATSEyTb92dNfCHzrqmEtqJ1sSkCNL7RyNcBcbVBoEQjJRShzzqug?format=match&mode=fit
Here is the current chart :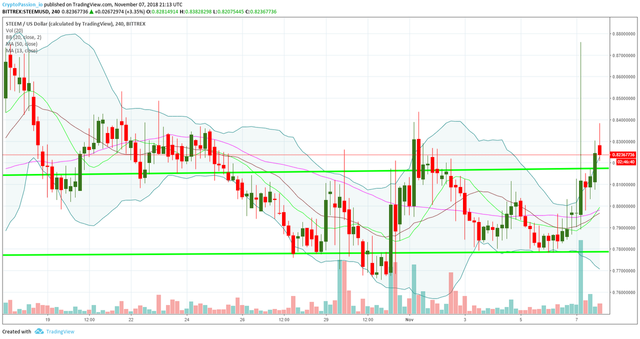 Today, we continued the nice bounce already started yesterday. As you can see, we broke the resistance line around 0.81$ just some hours ago and the current candle is showing a possible pull back on that same line. If the pull back is validated, we should go touch that line and continue the bounce after.
Last Updates
You don't want to miss a Crypto news?