Why VeraPlayer Is The Ultimate Blockchain Video Player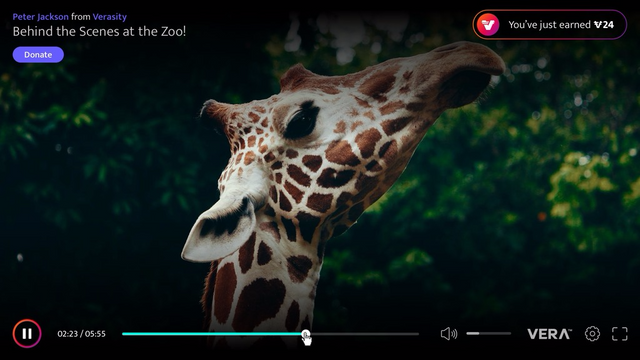 One of the core components of Verasity's technology suite is our very own VeraPlayer™. Our team have been building the technology and systems that power Verasity's video player for the past 4 years and it is already used to deliver many PetaBytes of video data in a month.
VeraPlayer™ works today, and you can use it right now — try it below!





Now you've seen it in action, let's talk about why a video player so important and what makes VeraPlayer™ so powerful!
People want to watch!
People are watching more video online every day and it's a trend that is set to continue. Over 82% of internet traffic is predicted to be video by 2020. Not only does this mean more content being consumed, it means more people are accessing content from different devices all across the world. Nobody wants any buffering or low-quality playback.
That's where the engineering of a good video player comes in. It's the way that users interact with content on the platform and it has to be fast, easy to use and work across devices. VeraPlayer™ ticks all the boxes for viewers:
It uses HTML5 technology which means it works in all major desktop and mobile browsers without needing any downloads or plugins. Simple.
It is future proof and able to deliver both 4K and 60 frames-per-second video.
It is easy to embed into other websites, forums and is supported with Embed.ly integration.
Nobody likes buffering
Verasity's video innovation isn't limited to the VeraPlayer™ interface, there's some magic happening behind the scenes. Working alongside Akamai, the world's largest CDN, VeraPlayer™ utilises cutting-edge Media Acceleration Efficiency (MAE) and QUIC (Quick UDP Internet Connections). This is an innovative use of secure Transport Layer Security (TLS) and User Datagram Protocol (UDP) to reduce buffering, and increase video resolution for Viewers.
As we mentioned before, this technology isn't theory or planned, it is working now and Verasity's video technology has scaled to efficiently deliver multiple Petabytes of video data a month.
This global high capacity platform enables the highest quality video playback experience which is essential for mass adoption of the platform. While most of the hype you hear about in blockchain today is about "cost", quality is actually the key to any highly adopted video experience.
Blockchain Technology and Payments from Within the Player
One of the major innovations within the VeraPlayer™ is having your VeraWallet built directly into the player interface. This allows viewers to directly manage donations, pay-to-view content and subscriptions from the VeraPlayer™ directly.
Having VeraWallet built into the player also means users can easily track incoming VERA rewards from watching content and advertisements on Verasity.tv or from an embedded VeraPlayer™.
While more advanced features of VERA coins will be within the full VeraPay system, incorporating the wallet within VeraPlayer™ means that mainstream adoption and use of the platform is possible.
Alternative Video Solutions
Over the past 4 years of development of Verasity's video player technology, our team and partners have investigated multiple options for delivering video content online. When establishing if an approach would be viable, key considerations included cost, viewer experience, ability to scale, continued development and ease of use.
Below are some of the delivery options we have investigated previously and have seen other projects look to utilize.
Utilizing an existing video player solution (JW Player, Brightcove etc):
Viewer experience
4/5 — works across all major platforms and devices with high quality
Ability to scale
5/5 — established network for delivery
Continued development
2/5 — existing systems with large amounts of legacy integrations would require significant resources and third-party assistance to improve.
Ease of use
5/5 — already established with multiple integrations already built.
Cost
1/5 — significant costs that would make commercial viability difficult for content creators and publishers
Peer-to-peer video distribution:
Viewer experience
1/5 — large scale video sharing utilizing P2P networks is yet to be proven. There are many technology limitations that are yet to be solved (further details in the appendix of Verasity Whitepaper, page 59.
Ability to scale
1/5 — would require a completely new video delivery network to be established on a global basis. Prior to completion this would result in many users being unable to view content on a global basis.
Continued development
3/5 — as this would require an entirely new infrastructure to be built, there would be a lot of room for continued development and improvement. It would take significant development to launch the network that takes away attention from building the core services to make the Verasity community successful.
Ease of use
2/5 — depending on exact implementation, it is likely that users would require plugins or software to be installed to distribute the content. This may also be required for viewers.
Cost
2/5 — as distribution would be decentralised, operating costs for the network would on the surface seem to be very low. However when the actual cost savings is analyzed closely while maintaining a sufficient quality level of service, the majority of platforms simply do not deliver the savings.
Custom encoding / transcoding solution:
Viewer experience
5/5 — high level viewing quality with low buffering.
Ability to scale
1/5 — integration with new devices (mobiles, IPTV etc) would require additional development. The problem here is hardware available to adopt new codecs is extremely slow, and software decoding is CPU intensive and dramatically shortens battery life
Continued development
1/5 — The amount of development work for custom encoding is enormous as both sides of the problem must be solved. Integrations with incumbent hardware / software encoding solutions must be ubiquitous, as well as hardware support in every device that is planned to be supported. The development and Go To Market efforts here dwarf the Verasity business as a whole.
Ease of use
1/5 — would require both content creators and viewers to install custom software and/or plugins in order to use the system. This would act as a significant barrier to platform adoption
Cost
4/5 — assuming an effective new encoding solution, there could be significant reductions in bandwidth requirements and costs for distribution.
VeraPlayer™
Viewer experience
4/5 — high levels of viewing quality with low buffering
Ability to scale
5/5 — by utilizing an existing global CDN (Akamai) and HTML5 player technology, the majority of users globally could view content directly from their browser.
Continued development
5/5 — Having an bespoke player solution means development can be undertaken easily. As the technology is already working, no resources are diverted from additional development
Ease of use
5/5 — No additional software or plugins would be required. Users can view content directly from browsers
Cost
3/5 — by utilizing Media Acceleration Efficiency and QUIC technology, we are able to achieve the exact right balance of viewer quality and sustainable content delivery costs.
When looking at the best overall solution that can be utilized in the near future, VeraPlayer™ was the best opportunity for Verasity and why we are positioned to disrupt the traditional online video market.
How To Buy VERA Tokens - Public Sale
Begins: May 21, 2018 - 3PM (UTC)
Ends: July 11, 2018 - 3PM (UTC)
Soft Cap: $4M (Passed)
Hard Cap: $25M
Token Price: See website for current price - increases 1% each day
Minimum Participation: Around $100
Maximum Participation: N/A
Join our community:
If you want to join the conversation about Verasity then please follow our various accounts below!
Website: https://verasity.io
Telegram: http://t.me/verasitychat
Twitter: https://twitter.com/verasitytech
Facebook: https://facebook.com/verasitytech
LinkedIn: https://www.linkedin.com/company/verasity