Hello everyone! I would like to introduce an ICO that called Contractium Network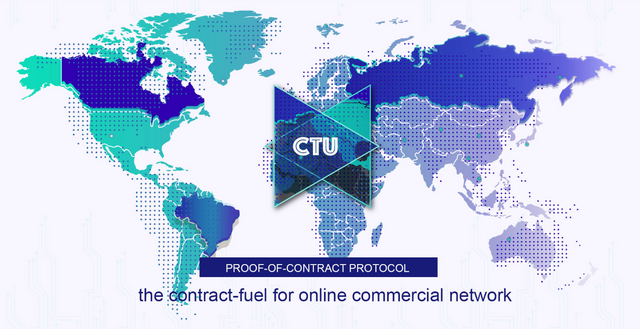 What is Contractium Network?
Contractium Network is a software designed to showcase the Contractium Proof of Contract (PoC), which is in line with the Proof of Stake (PoS) futuristic model of the Ethereum blockchain rather than the existing Proof of Work (PoW). The Contractium software stands to provide various services among which are:
Peer-to-peer Payment
Smart Contracts
Digitalization of Document and Contracts
Governmental Service
Currency Exchange and Remittance
Token Money Issuance (CTU Tokens)
Contractium is a decentralized software that runs smart contracts based on Ethereum, which run exactly as programmed without any possibility of downtime, censorship, fraud or third party interference.
This enables businesses and commercial users to create markets, store registries of debts or promises, move funds in accordance with instructions given long in the past (like a will or a futures contract) and many other things that have not been invented yet, all without a middleman or counterparty risk.
cryptocurrency community will provide significant members for the development of the Contractium Network (Proof-of-contract protocol).
The Bounty campaign program will generate communities in this situation. Participation in this program is an opportunity to get a part of the project without investing your funds, do for our project some simple actions. 45,000,000 CTU tokens will be provided for rewards program. If the maximum amount of activation of 60,000 ETH (Hard cap) in the ICO process is achieved, then it would be 90,000,000 CTU.
MISSION & VISION
Mission:
Help contracter & contractee sign the commercial smart contract easily & trustfully.
Make commercial smart contract easy & secured.
Help users earn extra money with their online consumption.
Vision:
Internet users' smart contract application.
Eliminating print contract.
Replacing online traditional rewards/bonus system.
About ICO
The detail of Contractium tokens:
Token symbol: CTU
Token supply: 3,000,000,000
Token for sales: 1,500,000,000
ICO token-price: 01 ETH = 15,000 CTU
Token allocation:
Pre-ICO & ICO: 900,000,000
Contractium Team: 200,000,000
Foundation reserved: 100,000,000
Advisors & Partners: 100,000,000
Bounty & Marketing: 200,000,000
The ICO event has 4 periods as followed:
Private Sales: From 7th July 2018 to August 2018 ( as planned)
Pre-Sales: From August 2018 to September 2018 (as planned)
Public Sales: From September 2018 to October 2018 (as planned)
Token Sales: From October 2018 to November 2018 (as planned)
Each of the 4 ICO periods has each bonus rate as followed:
Private Sales: + 65% bonus.
Pre-Sales: + 45% bonus.
Public Sales: + 25% bonus.
Token Sales: + 15% bonus.
Target sales of each ICO periods as followed:
Private Sales: 15% of the fund.
Pre-Sales: 25% of the fund.
Public Sales: 35% of the fund.
Token Sales: 25% of the fund.
For more information, you can visit:
Website
https://contractium.io/
Writer: https://bitcointalk.org/index.php?action=profile;u=1203154