If you head over to CoinMarketCap and search for a list of exchanges here, you'll find a long list of them. Over 200 exchanges are listed on CMC at the moment. The largest are well-known exchanges (OKEx, Binance) that have 24 hour volumes in the billions of dollars. There are tiny exchanges that shouldn't even be on CMC. At least 30 of them have a daily volume under $100,000 USD.
And then there is BiteBTC. An exchange you probably haven't heard of. Which is surprising when you look at the following: they offer over 65 pairings and a daily volume of approximately $3 million USD. That would rank #100 on the CMC list of exchanges.
That would best more than half of the CMC exchange field (100 out of 211). CoinExchange, a widely-known and common destination for new digital currencies is only listed at $2.8 million USD in daily volume. Crypto-Bridge, the mecca for Masternode coins, only has $2 million USD in daily volume. Both exchanges lag behind BiteBTC in volume but are exponentially more well-known. That stops here.
Analysis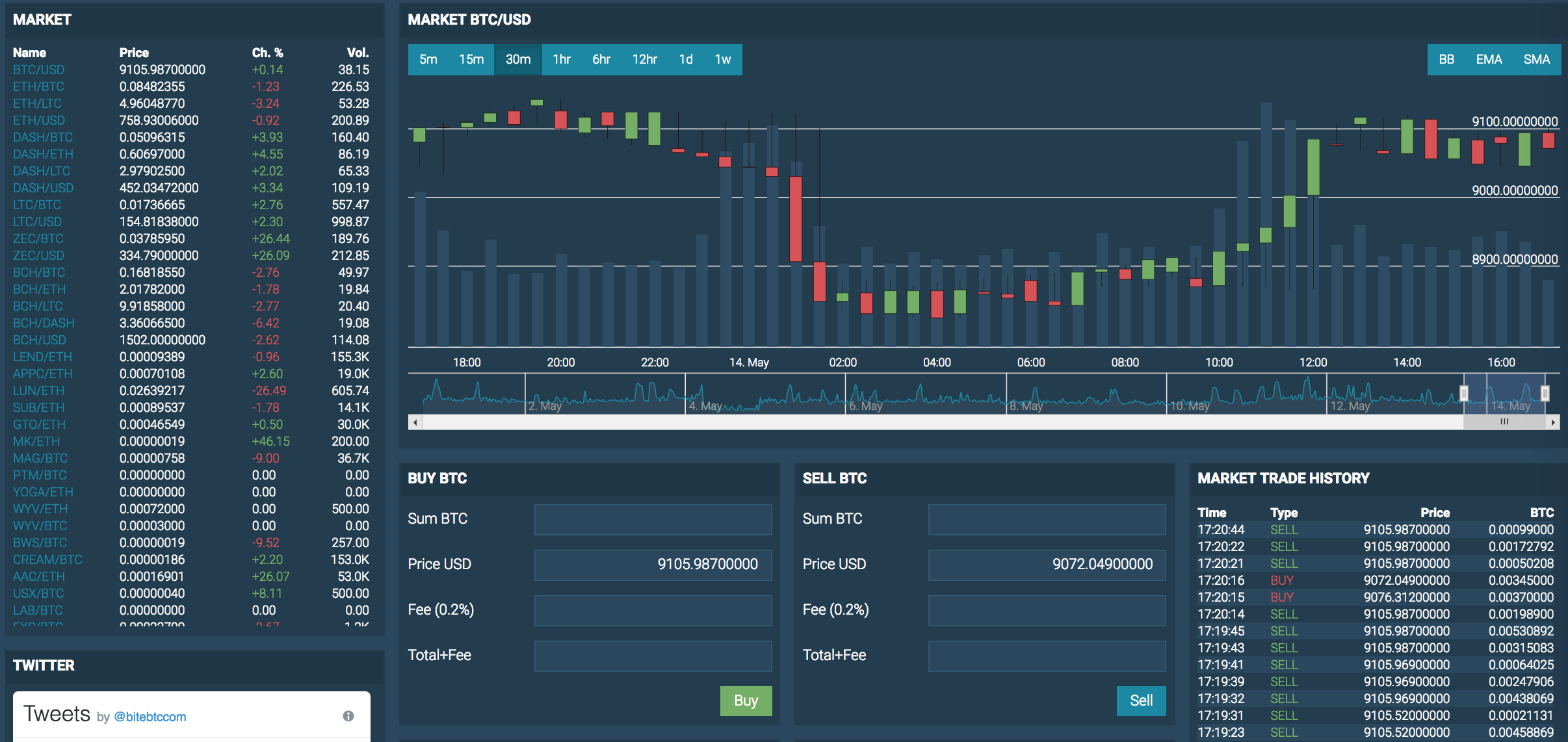 From a design point-of-view, BiteBTC is simple and sleek. A look that is becoming more and more common in the cryptocurrency exchange space. Take the Bittrex redesign recently launched as an example of that. The dark blue with white text is easy on the eyes and makes markets and prices easy to read.

The Navigation Bar at the top of the page is simple, straightforward, and gives you all the information you need in order to acclimate to the exchange. I personally love the 'Pricing' tab that tells you exactly what the fee percentages are and what the minimum and maximum for each currency is.
Also on the 'Pricing' tab is the information for Deposits and Withdrawals. As a Know Your Customer (KYC) exchange, you can use multiple forms of payment to get money onto the exchange. Wire Transfer, Credit Card, Alipay, OkPay, JBC are all included in those options.
I was elated to see the API tab. Trading bots make up 70-80% of the daily volume on exchanges. It is a integral part of an exchange's ability to move from a small, inconsequential destination for traders to one that can be automated for serious daily volume gains. This should be a great sign for investors who are looking for new exchanges.

If you're into Arbitrage, this exchange should be on your target list for possible opportunities.
One of the biggest complaints of any cryptocurrency platform, currency or exchange, is the lack of quality Support. I tested out the Support myself and I got a reply within two hours. Not bad given the last time I sent a Support request to Binance took 3 days to get a response. I'll happily try out a smaller exchange if that means the people behind it are present and ready to help.
Registration is easy and after a confirmation email to your chosen email address will set you up for the KYC portion of the registration. Once you input your credentials, address, and copies of your identification, a short verification period will pass and you'll be granted access to use the exchange.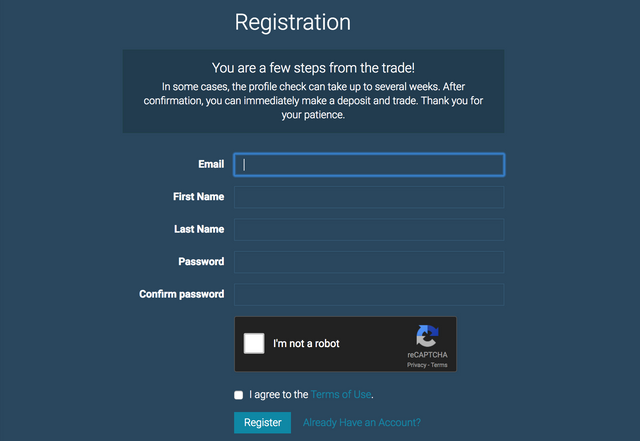 Coin Pairings
One of the advantages of BiteBTC is they spent most of their time focused on building up their blue chip coin markets. You will find Bitcoin paired with Ethereum, Litecoin, Bitcoin Cash, Dash, and USD. Each of the popular currencies listed above are also paired with one another on the exchange.
Coupling these large markets with the ability to run trading bots on the exchange have created a perfect opportunity to build their daily volume into the millions very quickly.
If you're a developer of a coin, you can apply for listing as well. Just recently, BiteBTC listed Reddcoin and Verge.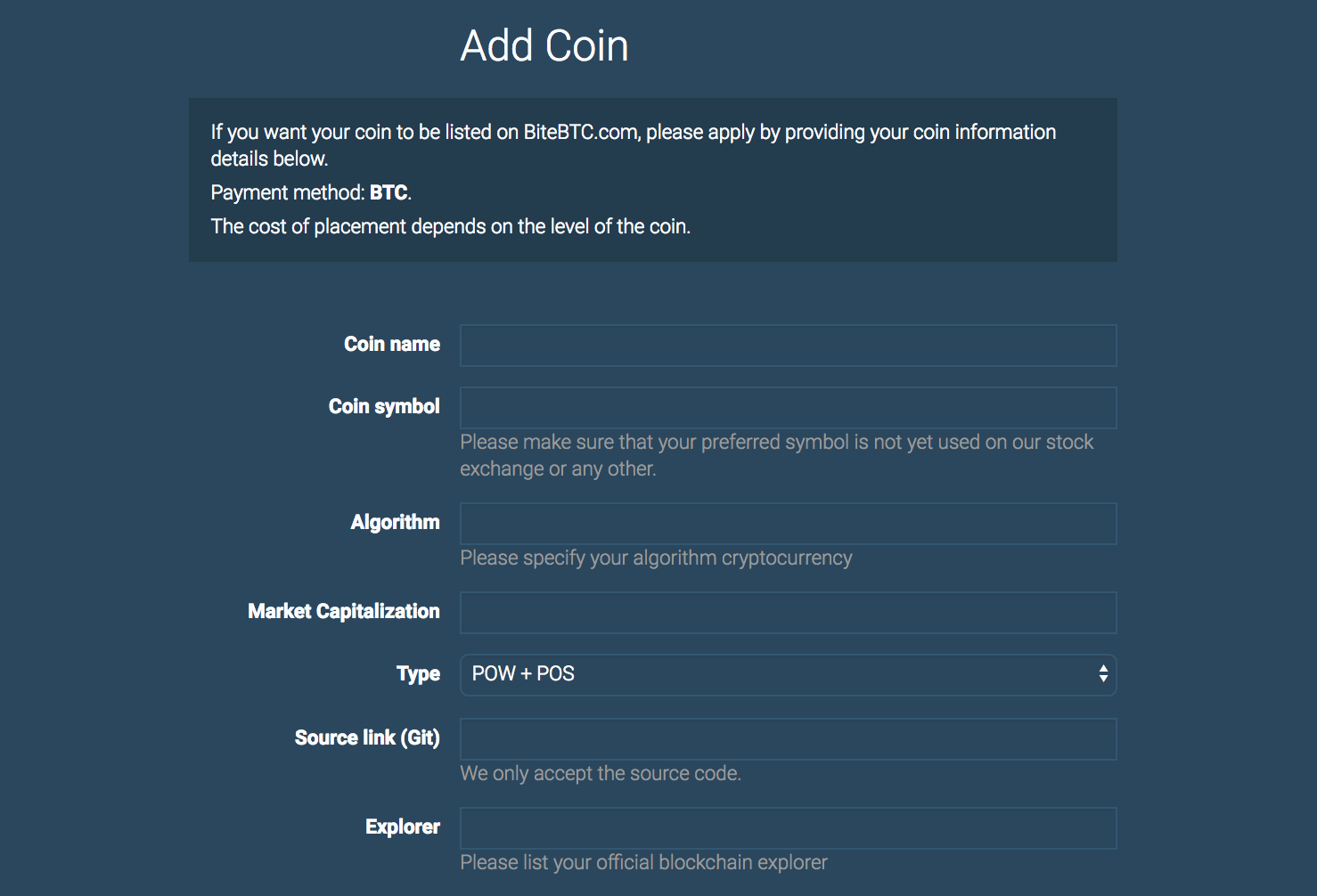 Additionally, they do frequent listing competitions in order to engage all developers, even from coins that have a smaller than average market capitalization. Currently they are offering an airdrop giveaway that is one of many tactics growth-minded exchanges use to grow their user base.
Summary
BiteBTC is a medium-sized exchange that has some great potential for future growth. The ease-of-use is top of the line which makes adapting to it an effortless process. And if you do have any questions, their Support staff will get back to you with an answer in an expedient manner.
Once BiteBTC is listed on CMC, I expect their daily volume to increase dramatically from the current $3 million USD. In the full landscape of cryptocurrency exchanges, BiteBTC current volume makes it a small player. But with the API access for trading bots and the KYC access required to safeguard their users, the future is bright for this exchange you didn't know existed.
Happy Trading!
BiteBTC Website: https://bitebtc.com/
CoinMarketCap Exchange Ranking: https://coinmarketcap.com/exchanges/volume/24-hour/