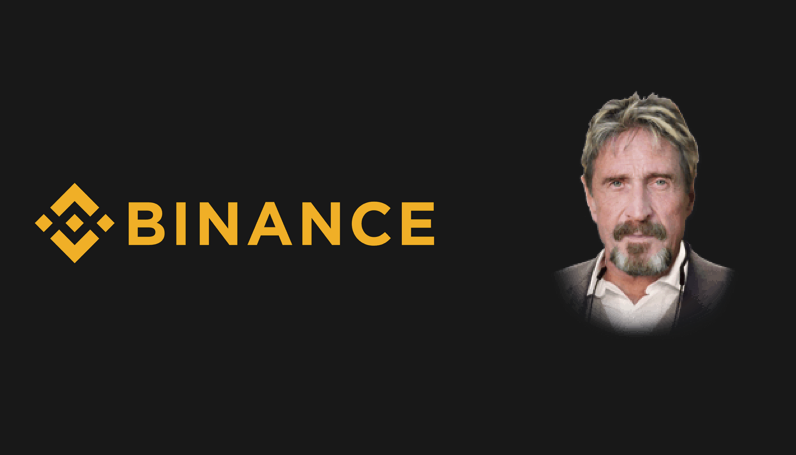 Late in the evening of February 7, Binance unexpectedly closed its doors after experiencing unforeseen server problems. Although it was not a pleasant situation for retailers or anyone with a large amount of liquidity on the popular exchange, the company kept users up to date with the situation with an update:
"Due to a significant increase in users and trading activity, Binance has to extend the system upgrade and is expected to be completed at. 14:00 (UTC).
Our team is working hard to complete this upgrade as quickly as possible. We will publish a message to all users if they are done in advance of the schedule.
Payments and trade during this period will remain suspended. We apologize for the inconvenience and thanks for your patience."
Despite the clear communication from Binance, some opportunistic FUDsters ran on the opportunity to acquire some of the spotlights - including controversial cryptocurrency bull John McAfee.
Posing as a journalist who only seeks to keep his followers as up-to-date as possible, McAfee tweets the following: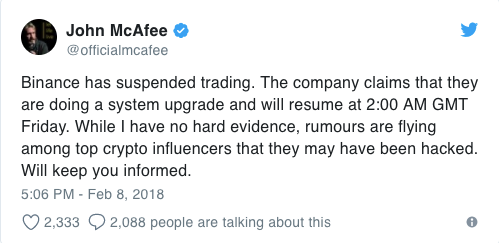 If you've learned something from McAfee's Twitter account over the last couple of months, it's that you should not believe in his rumor-based speculation. Binance certainly had none of it and quickly put McAfee in place by professional tweeting: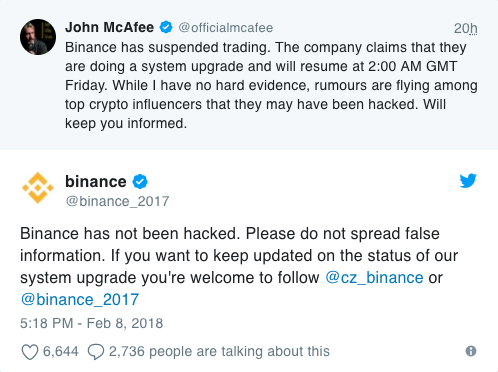 Checking Binance's wallet address actually confirms that the funds are safe. They currently have over 32,230 BTC, which is worth about $ 255 million. Although it is only Bitcoin, it is reasonable to assume that all other cryptocurrency holdings are also secure.

Don't miss out on my next post! Follow me @tradewonk