The Founder of Divisa Capital & Forexify Ltd and an online trading industry veteran joins the blockchain company that is bringing mature Wall Street technology to the world of cryptocurrency.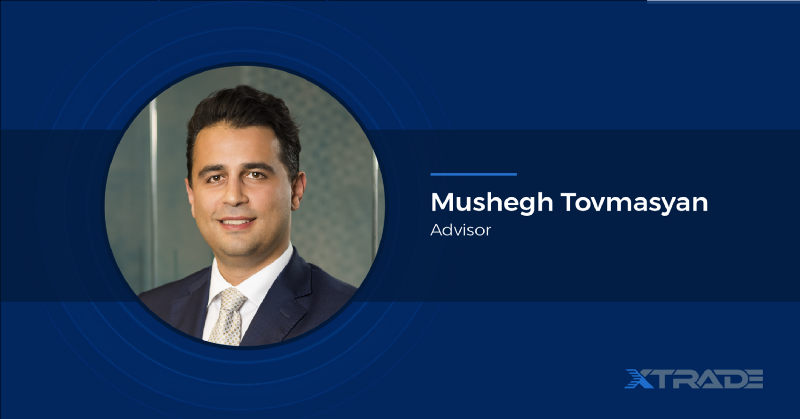 NEW YORK — XTRADE.IO has today announced that Mushegh Tovmasyan the CEO of Divisa Capital and an online trading pioneer has joined the company as a strategic advisor. XTRADE.IO is being developed by former Wall Street traders and is building a new infrastructure that would allow banks, hedge funds, and large institutional traders to easily access cryptocurrency markets.
"The technology that XTRADE.IO is building is exactly what will help bring institutional investors along with professional traders into the cryptocurrency markets," said Mushegh Tovmasyan, founder of Divisa Capital. "Their team has the background, talent, and expertise to bring a much needed technological upgrade to crypto trading and we plan to work closely with them moving forward."
Mushegh Tovmasyan is a FinTech entrepreneur and a veteran of the online trading industry and will also be joining XTRADE.IO as a strategic advisor. His senior management experience in FX and CFD space spans regulated companies in USA, UK, UAE, KSA, Germany, Switzerland, San Marino, Cyprus, Japan and New Zealand including advisory roles on various successful ICO's. A serial entrepreneur at heart, Mushegh is a shrewd negotiator and has a good eye spotting individual talent and untapped opportunities in the market.
"It's an honor having a legendary entrepreneur in the trading space like Mushegh to join XTRADE.IO as a strategic advisor," said Alexander Kravets, CEO of XTRADE.IO. "Our technology will be the bridge that brings billions of dollars in new market cap to cryptocurrency markets via institutional investors. We just have to provide the level of technological sophistication that they have become accustomed to trading on Wall Street, which is exactly what we are building at XTRADE.IO."
XTRADE.IO is proposing a three-stage solution to solve some of the many issues that are a barrier of entry for large, institutional or professional traders. In phases, the company plans to implement a universal FIX API — technology which has existed on Wall Street for 25 years, a standalone trading platform with XTRADE.IO PRO, a Singular Point of Access (SPA) for liquidity aggregation, and XTRADE DARK, a crypto to fiat large block order dark pool built to facilitate institutional scale.