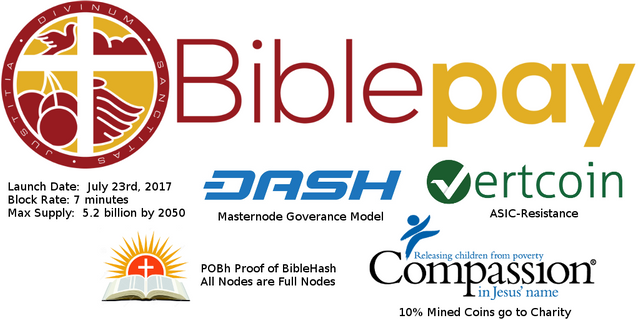 Website: http://biblepay.org/
Launch Thread: https://bitcointalk.org/index.php?topic=2388064.0
Trade: https://c-cex.com/?p=bbp-btc
CoinMarketCap: https://coinmarketcap.com/currencies/biblepay/
Subscribe on Reddit & Follow on Twitter
10% Charity is already sponsoring 175+ Orphans monthly!
Compassion - Charity Rating - Accountability - Write Letters to Orphans
Masternodes (Sanctuaries) are going live this December,
by owning one you become a part owner and can vote on the direction of the project!
Learn more about masternode decentralized governance: https://www.dash.org/governance/
"Love one another,
be a good Samaritan,
help those in distress (orphans & widows),
and spread the gospel."
Earn BiblePay Coins: Faucet - Gospel Link Rewards
Mining Guides: Windows - Linux
New to cryptocurrencies?
Learn from this youtube series DASH School!