The Daily Dood - Thursday, 2-8-18
The Daily Dood for 2- 8 -18
Today's bitcoin high was about $8,648 USD on BitFinex
Bitcoin had a fairly strong day of trading today, but struggles to stay above that $8k price range everyone is hoping for.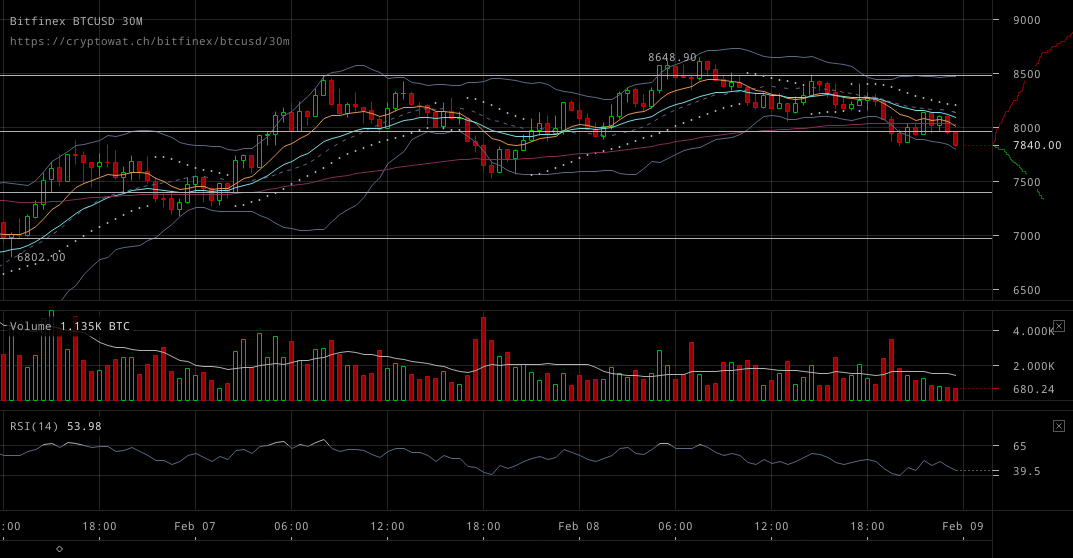 The Crypto Top 11
XEM has moved to number 11 and IOTA has moved up to number 10. Bitcoin is maintaining a 34.9% dominance, and our crypto market cap is a little over $383,000,000,000 and growing ;)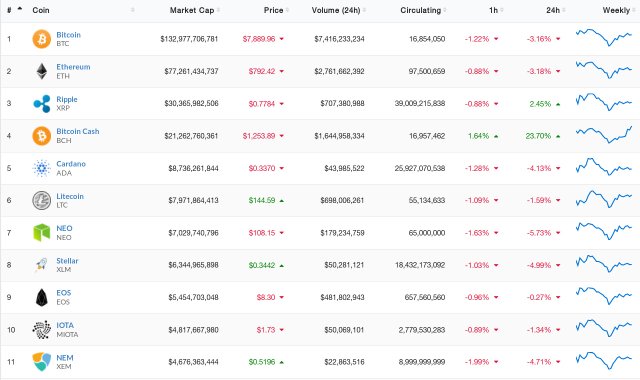 Steem & SteemDollars
The price of Steem is currently $3.71 USD and the SteemDollar is $3.22 USD

Today's Headlines
Ripple CEO Brad Garlinghouse Talks XRP and is 'Long' Bitcoin https://www.ccn.com/ripple-ceo-brad-garlinghouse-talks-xrp-long-bitcoin/
Japan's Cryptocurrency Exchanges Face Increased Inspections from Regulators https://www.ccn.com/japans-cryptocurrency-exchanges-face-increased-spot-checks-regulators/
Hackers behind $530m cryptocurrency heist 'flog coins on the dark web with 15% off' http://ibt.uk/A6xom?utm_source=social&utm_medium=twitter&utm_campaign=/hackers-behind-530m-cryptocurrency-heist-flog-coins-dark-web-15-off-1659912
A Platform Intends to Become the Only Application You Need For Crypto Trading https://cointelegraph.com/news/a-platform-intends-to-become-the-only-application-you-need-for-crypto-trading
Berkeley Eyes Its Own ICO to Thumb Nose at Trump Administration https://bitsonline.com/berkeley-ico-trump-admin/
Binance shuts down trading, deposits, and withdrawals as it struggles to overcome technical issues. http://www.crypto-news.net/binance-shuts-down-trading-deposits-and-withdrawals-as-it-struggles-to-overcome-technical-issues/
Litecoin And Dash Are Taking Over The Dark Web https://www.newsbtc.com/2018/02/08/litecoin-and-dash-are-becoming-top-coins-on-dark-web/
Bitcoin Cash Price Surge Put Other "Big-Cap" Coins to Shame Today https://bitsonline.com/bitcoin-cash-price-surge/
Nvidia: Crypto Mining Sales Beat Q4 Expectations http://bit.ly/2slqKSS
SEC to Focus on Cryptocurrency and ICO Fraud as Top Priority https://news.bitcoin.com/sec-focus-cryptocurrency-ico-fraud-top-priority/
Winklevoss Twins: Bitcoin Has Potential To Grow At Least 30-fold In 10 To 20 Years https://cointelegraph.com/news/winklevoss-twins-bitcoin-has-potential-to-grow-at-least-30-fold-in-10-to-20-years
The Story of the Four BitConnect Lawsuits https://themerkle.com/the-story-of-the-four-bitconnect-lawsuits/
Online Sex Shops Are Hoping to Revolutionize Industry with Cryptocurrencies https://www.newsbtc.com/2018/02/08/online-sex-shops-are-hoping-to-revolutionize-industry-with-cryptocurrencies/
Time To Go Bargain Hunting In Bitcoin, Ripple, Litecoin And Other Cryptocurrencies? via @forbes https://www.forbes.com/sites/panosmourdoukoutas/2018/02/07/time-to-go-bargain-hunting-in-bitcoin-ripple-litecoin-and-other-cryptocurrencies/
Cryptocurrency prices hold steady as equities slide http://on.mktw.net/2nUMNuh
Youtube, Podcasts, Media
Roger Ver BitcoinCash on Infowars Today.
Tweet of The Day
Bitcoin's finally stable above $8000, and Altcoins aren't doing too bad. It may be time to breathe a sigh of relief...https://t.co/QkskTI9kMy

21 Cryptos Magazine February 8, 2018
STEEMIT
Support the witnesses to get the services you want — Via @steevc Steemit https://steemit.com/steemit/@steevc/support-the-witnesses-to-get-the-services-you-want
Excited about SALT Lending? Be advised! — Via @fathermayhem Steemit https://steemit.com/crypto/@fathermayhem/excited-about-salt-lending-be-advised
5 Crypto Charts . STEEM Bitcoin Ethereum Litecoin Cardano . Feb 8 2018 —Via @jacobts Steemit https://steemit.com/steem/@jacobts/ivozfl6p
Dow Down, Bitcoin Up, but totally correlated, No-coiners lack imagination, $320,000 Bitcoin? — Via @madbitcoins Steemit https://steemit.com/bitcoin/@madbitcoins/phi3at1m
Links
H.R.3708 - To amend the Internal Revenue Code of 1986 to exclude from gross income de minimis gains from certain sales or exchanges of virtual currency, and for other purposes.
https://www.congress.gov/bill/115th-congress/house-bill/3708
Music and cryptocurrency commentary http://radiocrypto.com/
So many people ask me about TA or technical analysis and where to start. Tone Vays just put together a real great educational page covering the basics of TA. http://www.libertylifetrail.com/education/learntrading/
Here's something that's long overdue! The Crypto Scam Checker. Listing of known internet crypto scammers! https://fried.com/crypto-scam-checker/
LiveCoinWatch is similar to CoinMarketCap. Check it out if you like researching coins, trade volume, and who's in the top 10.
https://www.livecoinwatch.com/
It's looking like Binance is taking on new traders again. Sign up while you can, and find out why over 3,000,000 active cryptocurrency traders call Binance home!
https://www.binance.com/?ref=11560333
The End
The Daily Dood is a review of my daily Twitter feed and some of the interesting articles I find here on Steemit. If you're on Twitter hope you decide to join me here:
https://twitter.com/BitcoinDood
That's it for todays edition of The Daily Dood. If you found the information in this post useful I hope you decide to follow for the daily headlines and events happening in the altcoin & cryptocurrency space. Nothing here is meant as investment or financial advice. Please seek a duly licensed professional for investment advice, not some guy on the internets who refers to himself as The Dood. Thanks for reading and happy trading!