Trade Recommendation: EOS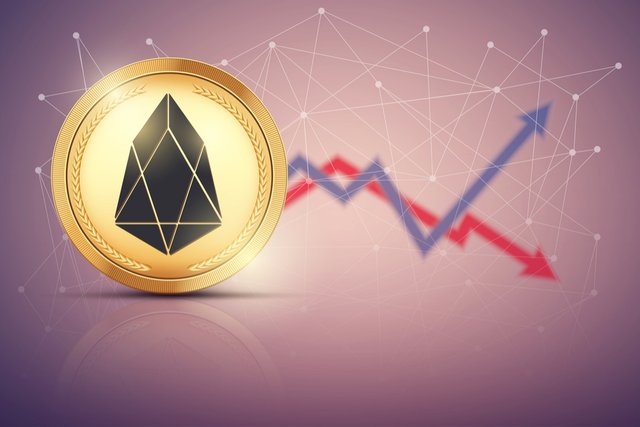 Our February 11, 2019 EOS trade recommendation hit both targets. The first target was achieved on February 18 when the market climbed to as high as 0.0009. The second target was hit on the next day as the price rallied to 0.0009567. Those who followed the trade recommendation grew their investments by over 28% in about a week.
If you failed to ride this wave up, don't worry because EOS is just starting to move. It broke out of accumulation range on February 8 when it breached resistance of 0.00073. The breakout was followed by a strong rally that propelled this altcoin to as high as 0.000996 on February 20. This rally was pushed by significantly heavy volume, which affirms our position that this coin has turned bullish.
However, the market is showing signs of short-term exhaustion. Those who want to long EOS can do so when it retraces.
Technical analysis shows that EOS/BTC is likely to correct down to support of 0.000888. We have this view because this crypto is flashing overheated signals. It is trading in extreme overbought territory on the daily RSI. Also, volume has been decreasing, which points to buyer exhaustion.
Nevertheless, EOS remains bullish. If bulls defend 0.000888, it will flip the former resistance into support. In addition, we just saw a golden cross between the 50-day moving average and the 100-day moving average. On top of that, the 50-day MA is enroute to cross above the 200-day MA. These are signs that EOS is on its way to a healthy uptrend.
The strategy is to buy on dips as close to 0.000888 as possible. As long as EOS trades above this level, bulls will likely gather the momentum to climb to our target of 0.0013.
The process may take less than a month.
Daily Chart of EOS/Bitcoin on Binance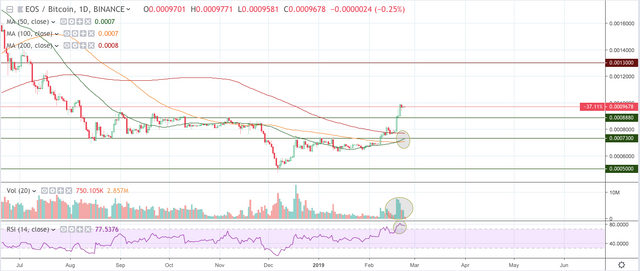 As of this writing, the EOS/Bitcoin pair is trading at 0.0009662 on Binance.
Summary of Strategy
Buy: As close to 0.000888 as possible.
Target: 0.0013
Stop: 0.00085