Space Mining (another possible cloud mining scam)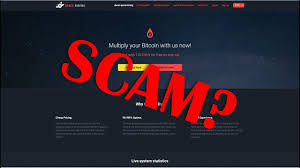 Space Mining is one of the latest Bitcoin frauds making the rounds of unsuspecting investors. With a name like Space Mining, the people that created this program are trying to capitalize on the popularity of cloud mining.
However, nothing could be further from the truth!
This website is nothing more than Sierra Hash reincarnated, and will probably scam out in less than 30 days.
Points being
-If you do a simple Google image on its team ...you'll find out each image was taken from stock images on Getty images
(meaning its not them)
-Unrealistic payouts (10% daily payout) ESPECIALLY with a downturn in the BTC market
-Unlimited open ended contracts ( Now for those of you do cloud mining ,you know thats incredibly tough to find)
-Can you trust a website that uses fake pictures of their team?
Absolutely not.
-Might you get returns until the service disappears?
Sure,but invest at your own risk. This scam will disappear one day and your BTC will gone as well.
With the sudden popularity of BTC and cloud mining ....people are looking for choices to making money online.
This definitely shouldn't be one of them.