Nebulas Mainnet Launch in 6 days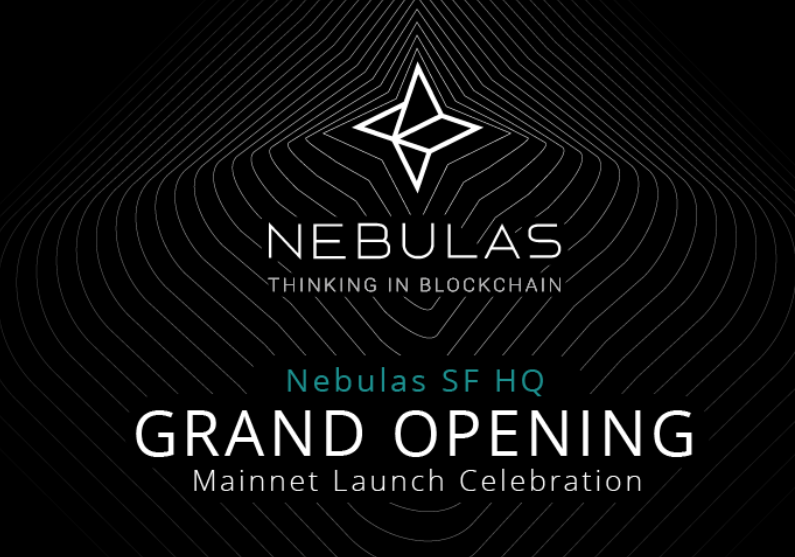 On March 29th, 2018 Nebulas will host an opening event to both celebrate our NAS Center headquarters in San Francisco and to celebrate the launch of our Mainnet 1.0 release of Nebulas.
Our new NAS Center in San Francisco will be our permanent global headquarters for our marketing, research, and development teams. The NAS Center is centrally located in San Francisco's bustling SOMA district, home to many of the city's museums and headquarters of several major internet companies. Nebulas aims to leverage NAS Center as the foundation of its presence in Silicon Valley where the team could be closer to top-notch developers and the tech community in the San Francisco Bay Area.
Our Mainnet 1.0 release will be presented by both the Nebulas CEO Hitters Xu and our CTO Robin Zhong along with our partners, advisors, and VIP guests from Dolphin Browser, 500 Startups, Facebook, and others. The Nebulas Mainnet launch is a giant step towards achieving our vision: to distribute the future evenly. Nebulas plans to continue to execute on its roadmap and demonstrate to the entire crypto and tech community that the Nebulas ecosystem is here to stay and flourish.
In addition to our VIP's and special guests we would like to invite everyone from the Nebulas community to join us at our grand opening event — on March 29th in San Francisco. Space will be very limited but if you would like to attend apply here: https://goo.gl/forms/1QVF0pTLjGfriN3g2
For our community members not located in San Francisco, we will also be live streaming the event. Stay tuned for our livestream information & announcements on our official channels.
source: https://medium.com/nebulasio/nebulas-sf-hq-grand-opening-mainnet-launch-celebration-a9d0027763a5