Charles Hoskinson at the Vietnam Blockchain week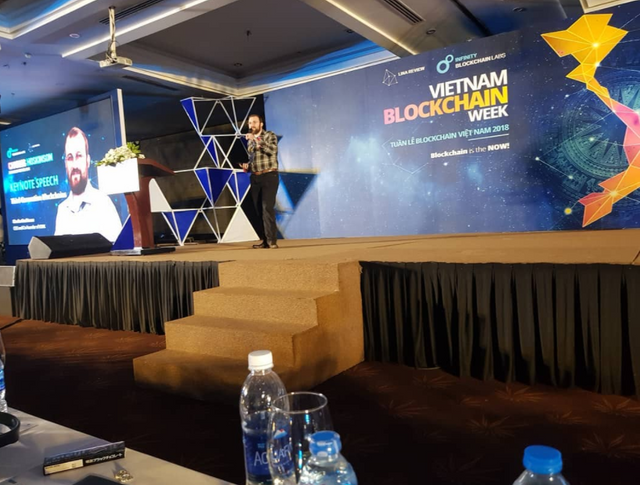 Today I visited the Vietnam blockchain week, one of the speakers of today was Charles Hoskinson. Charles Hoskinson is best known as the founder of Cardano and as CEO of the Hong Kong based distributed ledger technology company IOHK. Next to being a great entrepreneur and mathematician, I must say he also is a great story teller.
Cardano has been a project I have been following quite closely from its inception and this speech at the Vietnam Block Chain week triggered me to take a new look at the Cardano project and its native currency ADA. I got my first ADA at 2.5 cents back in October and have since then seen the price rise all the way up to 1 dollar and 30 cents before falling back all the way down to 26 cents where it sits today. Yes you need to love volatility when you're active in these markets.
Today's talk of Carles Hoskinson was directly about Cardano. Cardano he explained, is a third generation blockchain platform. First generation is Bitcoin which is acting exclusively as a currency, second generation is Ethereum adding smartcontracts and dApps into to the equation. Cardano now, is aiming to bring with its third generation blockchain also; scalability, enhanced security, and self governance to the table.
Security and peer-reviewed code
Cardano is unique in that it brings the full force of the scientific community into action, as all their new software implementation proposals are first written as an academic peer reviewed papers. Therefore all new code implementations are reviewed first by subject matter experts allowing them to be criticized and optimized before being implemented at no added cost for the Cardano project. This process allows Cardano to have very secure and error free software, which is critical for the type of financial system that Cardano is building.
Layered technology and scalability
What makes Cardano really as a system unique is that in order to solve scaling issues it will implement a multi-layered architecture. We distinguish two layers:
The Cardano Settlement Layer (CSL): This is basically the part of the software that carries out the transactions. It is also the part where the ADA native token resides.
The Cardano Control Layer (CCL): This is the part of the software containing the smart contract data and functions.
By separating these two layers the system is designed in a way that is more scalable while at the same time making changes and upgrades more easily manageable.
Banking the unbanked
As Charles explained they really believe blockchain as a financial industry disruptor will start of in the developing world, that is why they focus mostly on advocating Cardano in these nations. As the technology is still new, there still is a level playing field. Countries which are to adapt first will have great promise to emerge as new financial and industrial powerhouses much like Japan did in the 60s and 70s. More importantly there are many people without a bank account in these nations, which do have access to both mobile phones and the internet. These people will be able to benefit significantly from blockchain technology as this will allow them to be there own bank bringing great financial possibilities to these groups of people. I will leave you with the TEDx video in which Charles elaborates on this topic.
Follow me, resteem and upvote, if you like this post. Let me know in the comments what you think about Cardano?