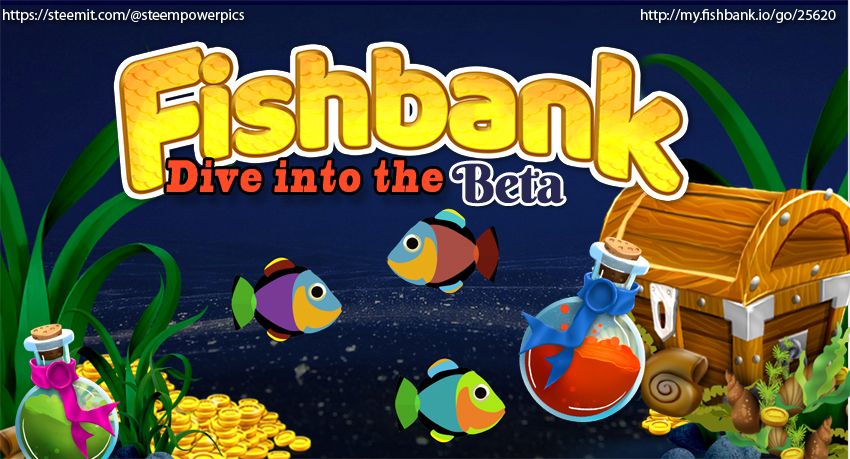 I survived the Aplha
I'm happy to report that my fish have survived the Alpha run. Although I did not actively engage other users during the Alpha period, as I mentioned in my previous post one of my fish was attacked and luckily won the match up.
From the Official Announcement: Fishbank Alpha served more than 100 000 transactions with 1 200+ ETH in total turnover on the Ethereum smart contracts. Our team analyzed results of dozens of thousands battles and developed the absolutely new fighting algorithm. We had taken in consideration every requirement sent by our players and do really appreciate your support!

Alpha and Beta versions of Fishbank are running on Ethereum testnet, that allows not to risk real Ether in order to try the game. Players may get test Ether from their friends or on special cryptocurrency faucet that requires posting of Ethereum address in social networks — that, of course, made some limitations on the amount of transactions made by 215 000 players initially registered for Alpha.
As the platform moves into Beta today it comes with a few perks. I noticed my fish all have upgraded power, agility, and speed stats and the fight history has been cleared. So it seems we get a semi-reset going into Beta.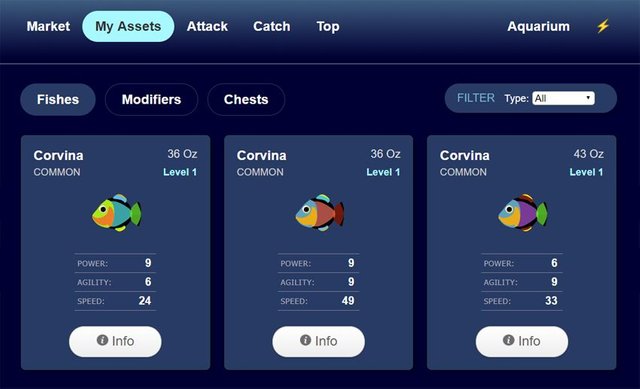 Here are some of the updates announced today:
Major priorities were smart contracts code, game back end and fighting balance. A lot of visual improvements and GUI tune up will be revealed this week.
Wider range of crypto fish tokens characteristics (Power, Agility and Speed now ranges from 1 to 150)
Modifiers to be found in Chests for boosting fish parameters (including, but not limited to: Instant Attack, Freezers, Power and Agility boosters, etc.)
New unique crypto fish species to catch (Angelfish, Cuttlefish, Viperfish, Manta Ray, Fire Goby, etc.)
Faster cooldown times (no more waiting for days, attack every 5 min to 12 hours)
Modifiers Market – collect rare boosters and put them on the Market to trade with other players
Opportunity to bite a bigger piece from bigger opponent (the more you risk the more you got)
Ability to transfer weight from your own fish – up to full amount to completely burn the token
Aquarium to demonstrate your collection of crypto fish tokens (nice screensaver btw.)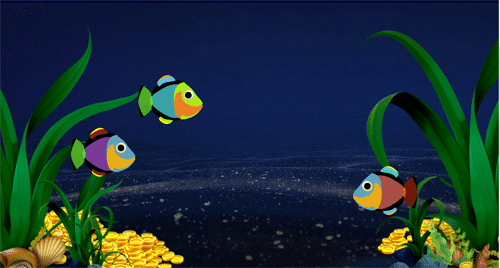 Animated Aquarium
This is a cool new feature that has your own fish swimming around in a virtual aquarium. It will be interesting to see how this evolves as more fish are added, and if they add any other effects or customizable tank options we can select.
My 3 fish are swimming happily in their tank.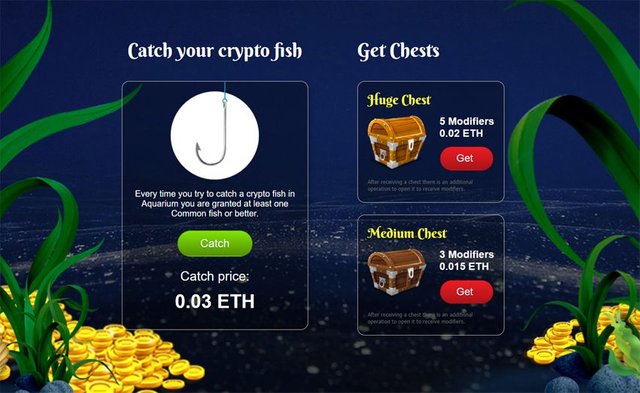 Along with buying starter fish, you can now buy chests full of modifiers (power ups) or buy the power ups individually from the market.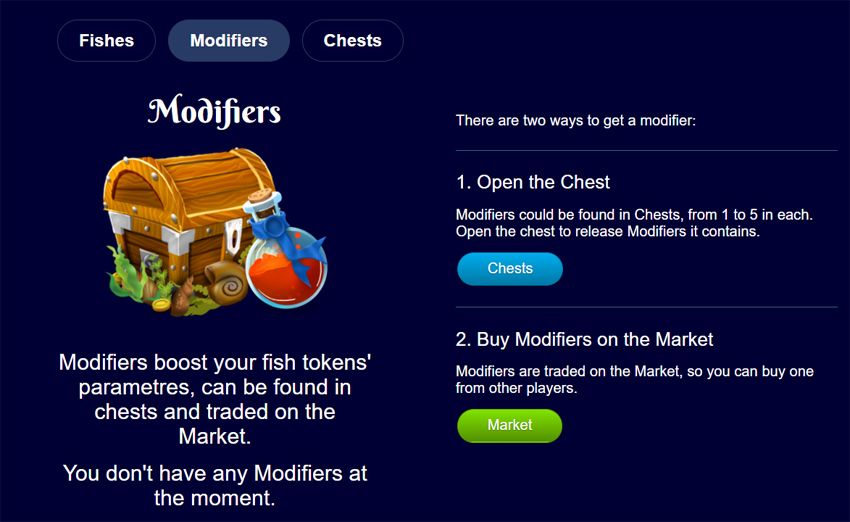 The power ups / boosters look like they will be a temporary ability for speed, agility, and strength to use just before to plan to attack an opponent's fish. I'm going to have to keep an eye on things as we get closer to the main release in a few weeks.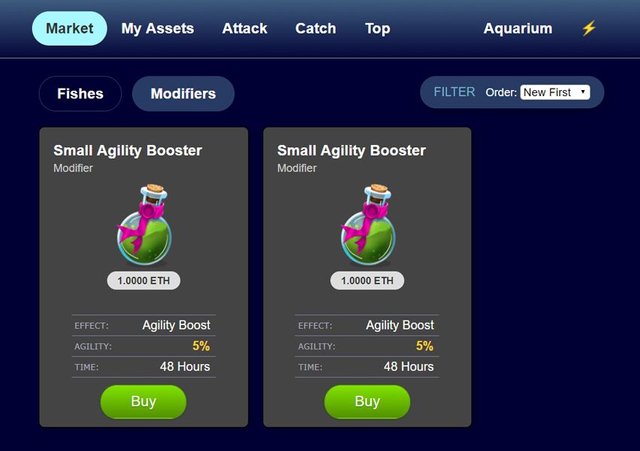 I'm not currently buy/selling on the testnet versions, but am looking forward to the "Stable" release scheduled for March 18, 2018 so I can use my actual MetaMask ETH account to interact with the platform. My fish will be ready to go!
---
---
🐠 If You Don't Have a Fishbank Account Yet
Please use my referral link to sign up and get a free account.
http://my.fishbank.io/go/25620
Once you get started, you can refer others as well with your own link to earn FREE ETH to help get you started with your own Fish.
---
---
Let me know what you think, please leave your comments below.
As always, please upvote this post and follow me if you like my work and want to see more.
If you think others will enjoy this
Please ReSteem it!
Thanks for reading!