Spider VPS: Meet the first VPS hosting platform based on blockchain technology that has its own cryptocurrency
Welcome to the section of blogs for the Spider VPS project space where we can read all information, updates or events about the project. This is space is necessary because when a project focuses on the community it is fair and necessary to have this space to be able to get all the information that the community should have. Surely the name that brings this project calls you attention but do not worry shortly we will talk about this, to start with this introductory blog we must talk from the beginning so we touch on what is a VPS.
As they say, their initials is a private virtual server which we refer to a service that is connected to a high-tech database that allows customers to administer the service automatically. A physical server that resides in a data center is used for VPS hosting. That server is divided into several spaces that create their own virtual server. The owner of the account that is put on the virtual server only sees its virtual environment and can restart the server or use it as if it were its own dedicated server.
Space acts like a dedicated server, but is actually a part of a physical server. Since it acts as a dedicated server it is a good interim solution for sites that may need a dedicated server in the future, but are not yet ready for it. VPS is a good bridge between shared hosting and dedicated hosting. Now many of us or the vast majority know that VPS and cryptocurrencies go hand in hand.
What is Spider VPS?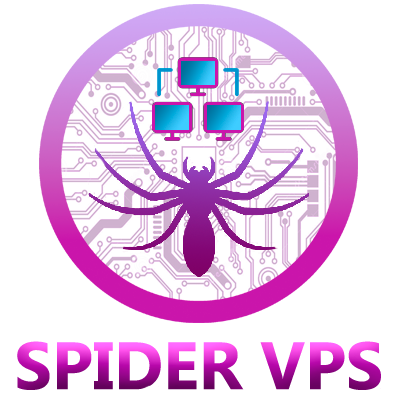 It is a planned and created project with many ideas that developed at the end of the spring of 2018 where two residents of Slovakia Tomas Horak and George Voinescu had the idea of ​​creating their own reliable VPS data center. The name Spider VPS comes from the fact that Tomas has a penchant for breeding exotic spiders at home. The partners created a business plan and took out a loan to buy the necessary equipment and rent a suitable building. But they wanted to take this further as they made contact with their friend Dean Connery (The Netherlands) in September 2018 who has been a fan of cryptocurrencies since 2015, about the project. Dean suggested a bold but very promising idea to integrate VPS hosting with a cryptocurrency and create their own means of payment for the services provided. After several hours of vigorous discussion on Skype, the idea was accepted. Soon, Rian Keegan, Paul Donegan and Emma Timmons were introduced to the team and began the active development of the project. Currently, we are installing equipment in the data center and we have legal problems. Blockchain automation and integration software is being developed and smart contracts are being designed to provide hosting services to legal entities. What is striking about this is that it is a real team that has spent hours and hours of their lives creating and organizing great ideas for a project that is currently under development and is giving a lot to talk about and what even more attention is that the team is real and they are telling things as they actually happened and this is important since few projects for the present are honest and reveal their identity but the truth is that this is fundamental for the community.
The idea of ​​being the first platform to offer VPS hosting that has its own blockchain was something very amazing since we are in a time where we face the era of masternodes and to be able to run a node it is essential to have a VPS. In addition to having its own cryptocurrency which has been created as a means of payment to use it on a platform and also any person who needs a VPS either for the purpose of having and hosting their masternodes or any other use that may be given to them. In order to acquire a passive income with our currency. Those people who are generating passive income with our currency can get a lot out of this because they can pay their VPS for free because the payment would really do it in the passive income of the masternode. Another of the things that characterizes our currency is that it is a kind of hybrid consensus which you can get more profit since you could undermine it because it is POW and POS a striking mixture since it follows the lineage of those traditional miners and the new system of ecological mining that has to be a wonder for many since really anyone can mine in an ecological way which is simple and effective since it is measured by the amount of coins you have, that is, the more coins you can have blocked in your wallet You can get more. Spider VPS seeks to be transparent and sincere with your community so we will implement smart contracts for the Spider currency code. An intelligent contract is a computer code that runs on a chain of blocks that contains a set of rules according to which the parties agree to interact with each other.
Let's talk more deeply that you can really focus on Spider VPS and what you can really offer.
What is the approach of Spider VPS?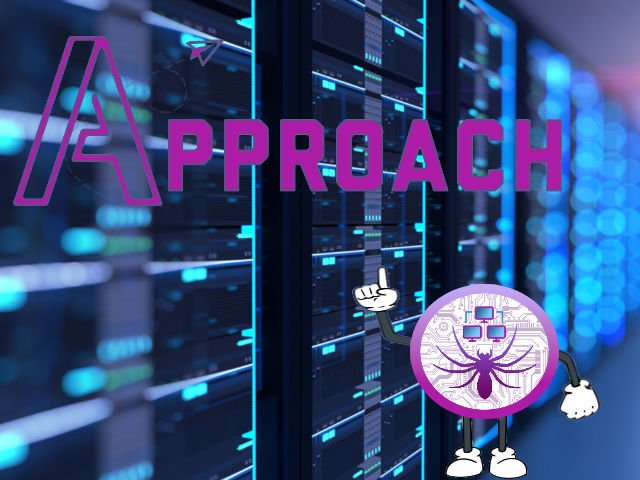 First project to be focused on hosting VPS that has its own blockchain
We offer the best for it, we use high-power servers that are based on high-end hardware with Intel Xeon E5 processors.
Open source project based on the PIVX code
Flexibility in our hybrid rewards system Our block chain uses a complete hybrid system in which POW + POS + Masternodes work simultaneously, making our community more profitable. PHI2 is an efficient algorithm aimed at GPU mining and resistant to ASIC.
When it comes to masternodes ROI is fundamental because we are flexible and we focus on early investors who provide return on investment.
You can pay with your Spider coin with your VPS hosting and receive amazing bonuses for it.
Spider VPS makes a difference because you can choose your server in different countries.
Spider coin is fast and safe private, having low transaction confirmations 10 to be exact you can do this very fast unlike many coins that taradan much in being confirmed.
What differentiates our project from many VPS services is that we give real support 24 hours a day, seven days a week on multiple platforms, our focus is the community and therefore we try to be as close as possible to you.
Our data centers will have certified equipment from world famous brands.
In a VPS you have much more control over your hosting environment as they are less expensive than a full-fledged dedicated server.
A VPS can grow with your website as the needs of your server increase.
Another thing that this project that we can mention in this publication is that after having a time in operation is that we strictly take our road map to the margin since we have done everything as we set out in that roadmap, we also have a great support with a very excellent community. Our price already being in an exchange is stable and with a considerable volume for that reason we are very happy that things are going at a good pace.
Let's talk about our platform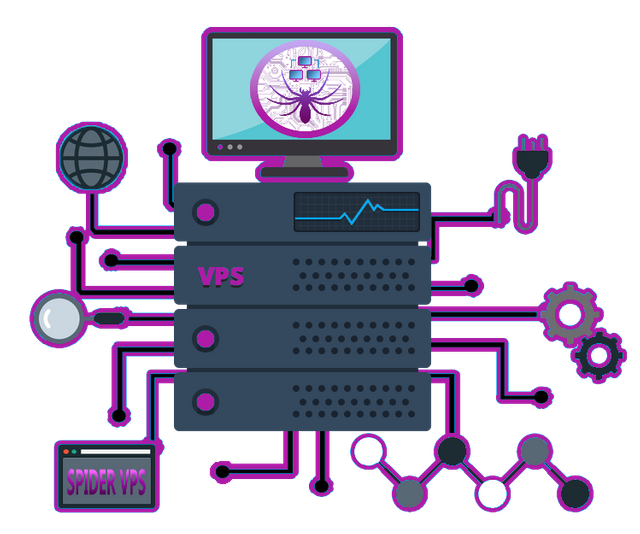 When it comes to doing things right, planning is the essential thing for it, as our roadmap focuses, we are working every day to offer them a proper and true service, since things must be done well. That is why we are going to know what we are going to offer our investors in the platform.
With Spider VPS you can relax as our experts will be attentive to keep the servers in constant maintenance.
Security is something we take very seriously because of this we offer DDOS protection, external firewall, secure VPS system.
Every day our experts will make a backup to all the data of their servers to avoid any problem whether hacking or corruption or some type of accident, we decided that this is something important for it every day they will make backup copies in other servers to keep information secure.
We guarantee that we will be 100% of the time dedicated to work so that the activity of your servers is working correctly.
We guarantee a 100% refund within 15 days from the day you start using our service, without questions.
We guarantee a 5 day grace period to our clients, they could pay the invoice for 5 days after the invoice has been sent to them. During the grace period, services will be provided without any restriction.
All our servers have fast SSD units.
ONLY ONE CLICK! you can install your server in a few steps
Now knowing the great advantages of using our VPS we will know what really matters to many rates, after doing a study in the different providers of VPS accommodation we decided to make a plan where we offer the best quality and price for users.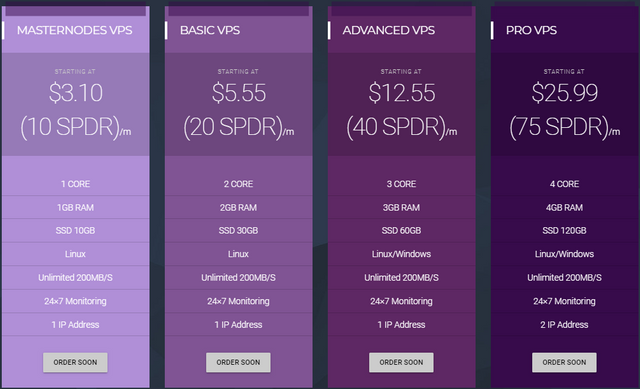 Meet our dedicated servers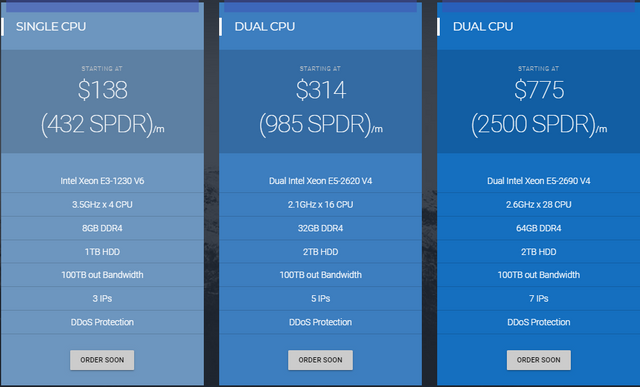 Our high performance INTEL XEON servers developed by an optimized Cisco network and located within an ultra secure level 3+ data center, our customers enjoy the advantage of a superior hosting infrastructure.
The fastest configuration in less than 4 hours.
We replace any hardware you want as we have a replacement policy
If there is any problem and you have to send a ticket to the support, we promise that in 10 minutes you will have a response.
We use multiple Level 1 fiber carriers to ensure maximum reliability and lower latency.
Our network hardware and our hypervisors in the cloud have a real fast failover in case of failure. Giving maximum operating time.
Are you one of those demanding people or do you need a specific configuration other than what we offer?
As we are a project dedicated to offer you the best and really what you need or want we can be flexible and we create a service where you can modify according to what you need, what can you really configure?
EXTRA CPU
EXTRA RAM
EXTRA STORAGE
EXTRA BANDWIDTH
Spider Career
We want more and we look for more because of it we have thought about something new and that is that the Spider Career program includes the formation of the support team of the Spider platform from the experienced members of the community. The more you know, the higher level of support you can work with. Our training courses will help those with limited skills but with great enthusiasm to move forward and earn more. In addition to having flexible hours of work with a decent payment. Do you want to apply? THIS ATTENTION! WE NEED YOU!
Currency specifications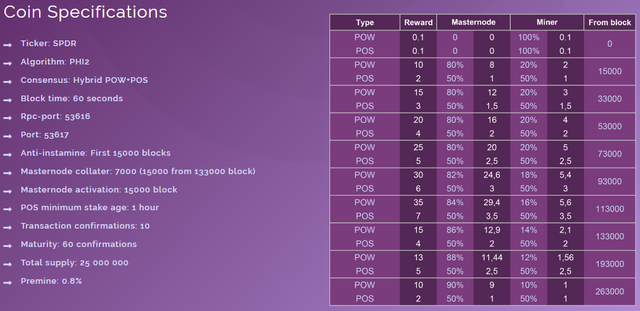 RoadMap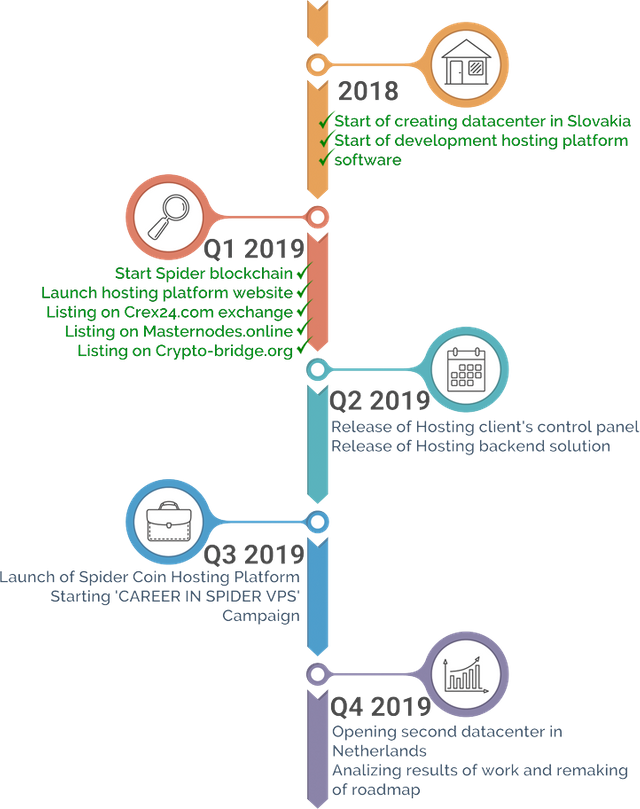 Wallets
Mining Pools
Exchanges
Stats
Team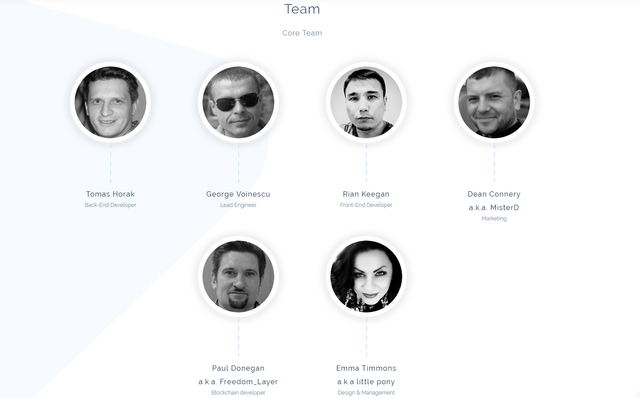 Something that we must also take into account is that in Spider VPS we have a team that gives the face and offers us an honest, effective and good service. This has been the introductory publication for our social networks, every week there will be a publication about the progress and events that are happening in the project and what do you think of Spider VPS? leave it in the comment box.
Contact us