Hi all,
Taking a small break from the game development, I thought I'd share some interesting Cryptocurrency news! I've been one of the lucky UK residents that have been invited into the Beta pre-testing of the VertPig UK Exchange!
WOW, simply WOW!
The site is:
Beautiful
Easy to use
Cost effective!
The Exchange
The exchange has been opened in the UK for Beta testing today and will be opened up to a wider audience when any bugs (I can't see any yet) have been ironed out.
There is already a plan to roll this to the US via Vertbase.
WHY am I excited? VertPig is the first true FIAT/Vertcoin exchange here in the UK!
Up until yesterday, I would buy at inflated prices through bittylicious; which has served me REALLY WELL, so thank you!
...but I've always been overpaying for coins that I would then have to exchange on Bittrex and into the denomination I wanted (which was often Vertcoin); often incurring MORE charges.
Today, I can now go to: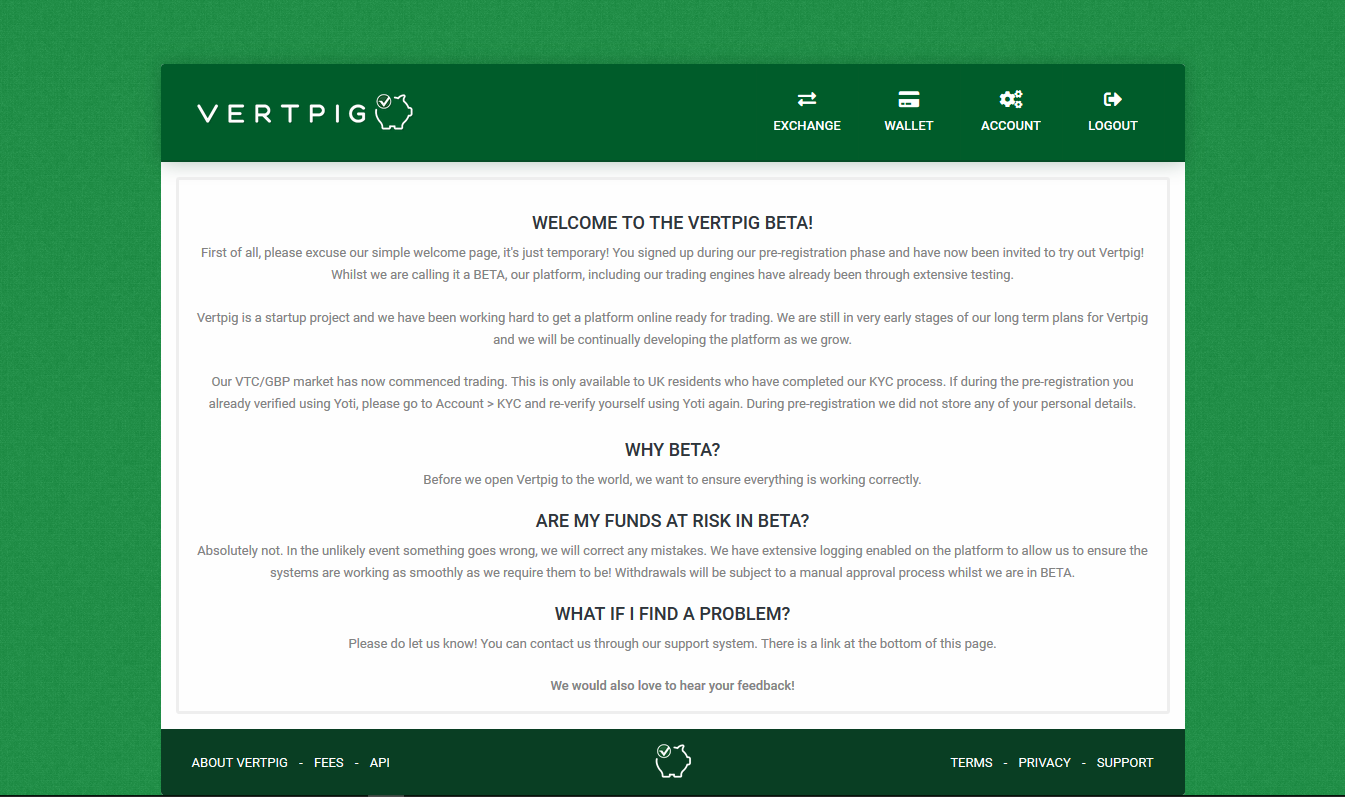 Let's have a peep around.
The exchange
The following is a snapshot of the exchange: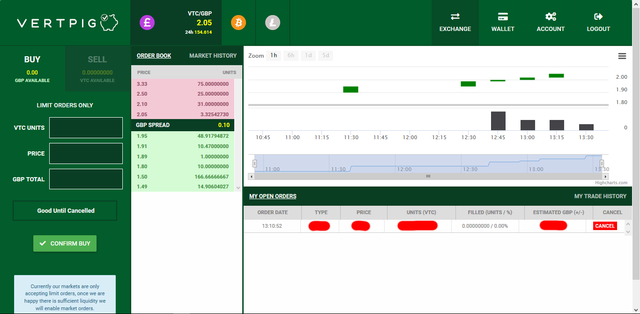 It provides the usual features, such as buy and sell options on the left, but because this is primarily Vertcoin, there is no need to go hunting for the particular market!
I've placed a pessimistic order, but blanked out for purposes of obfuscation (sorry)!
The panel to the right of the order panel is the Order Book. here you can see a list of placed buy and sell orders; nice and simple!
Clicking Market History switches exactly to that: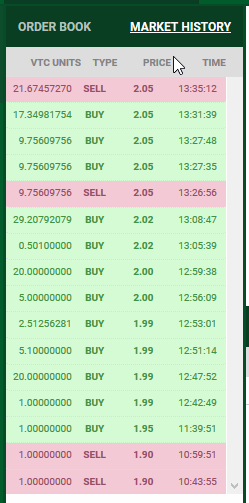 As you can see, people are buying through it now!
In the chart section, you can zoom into the current time, print a chart or save them! This is going to be an extremely useful facility for me! I like record keeping and reflecting as time passes.


You'll note there is an intention to support Bitcoin and Litecoin, but they are offline for now:


This is pleasing too, as Bitcoin is the route into other Alts! When it becomes enabled, I'll be there with my pennies.
Wallet
It's simply that, a view of your wallet standing to date:


Depositing coins is easy, by sending to the provided wallet address (VTC in the following screenshot):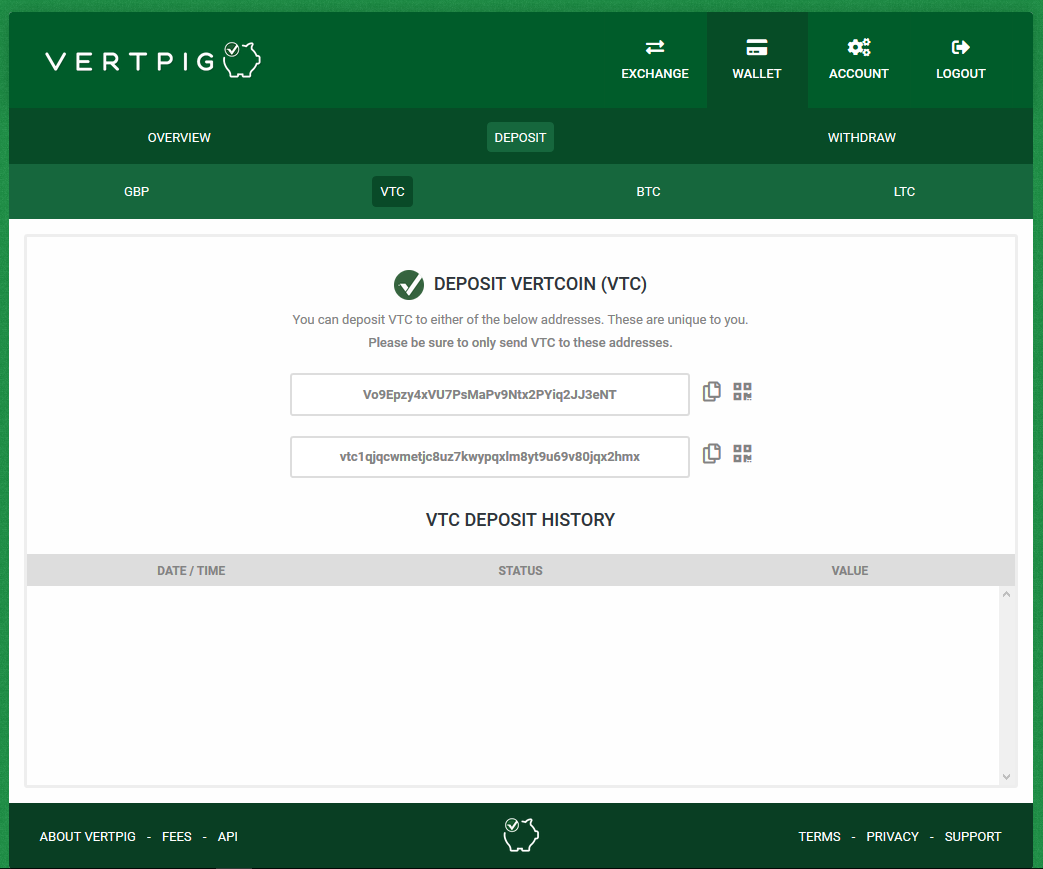 OR in Great Britain Pound!!!!!

Depositing is really simple:
Sign-in to your UK Bank
Create a bank transfer payment to the listed bank account, remembering the special REFERENCE code
Wire the amount over
Wait just a few minutes, and it pop's up in your VertPig account!
For some reason, I had to phone up my bank, as the transaction got listed under Fraud Protection. After 5 minutes with the really helpful chap on the end of the line (who is a crypto coin investor himself, so will look into Vertpig!), I was up and running. They'd noticed lots of people paying to the recipient address, therefore it had hit their flags (which is reassuring)!
At some stage I'll want to withdraw my Vertcoin to my local wallet (I as I don't like leaving coins on ANY exchange); however, as this is a new service, I'm going to be a bit more forgiving. After all, if this works well, it is my route into buying and selling crypto, so I NEED it to work! The withdrawal screen: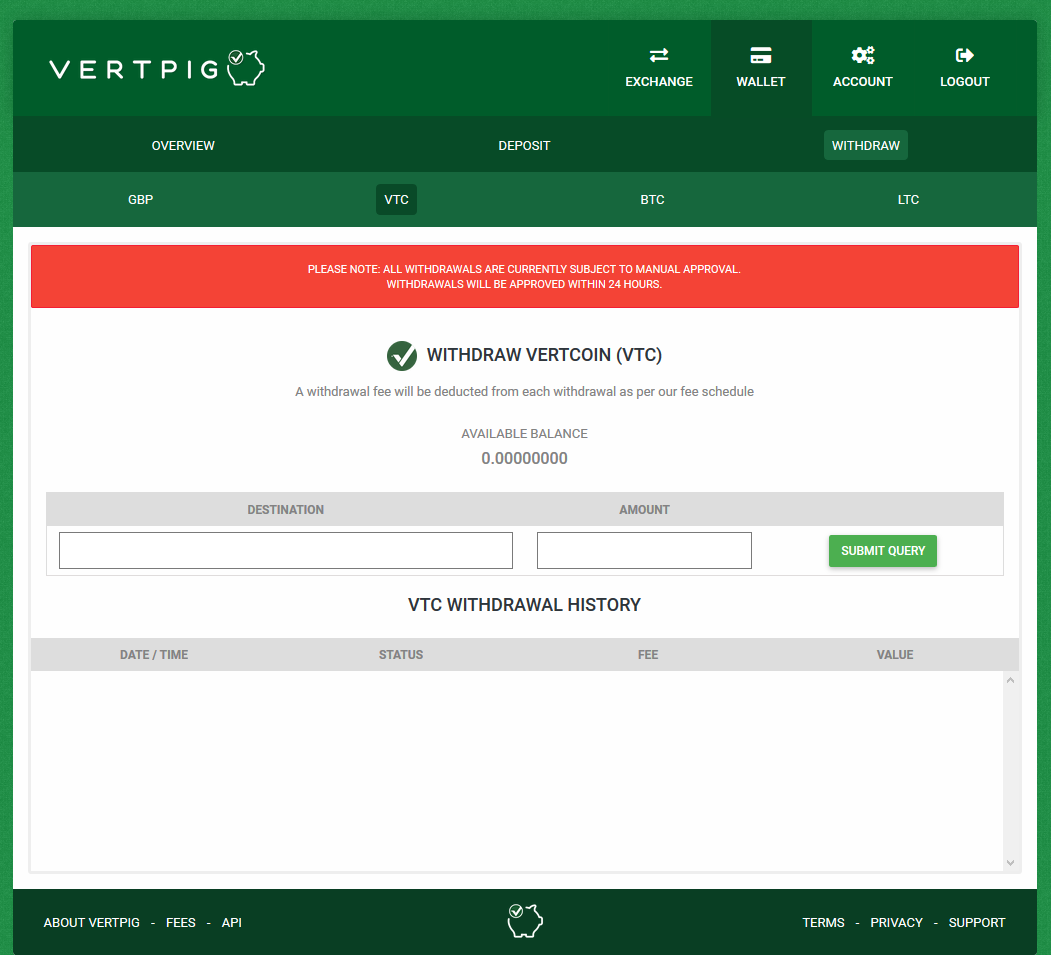 Clearly, there is a manual process in place, which I personally appreciate right now; given this is in a 'Test'/'Trial' sort of phase! At some stage, I'll end up using this process and assume it'll be automated by then!
Fees
The fees, in my opinion, are amazing! Given I'm NOT paying a mark up on coins in the first place, the typical Taker and Maker fees are very reasonable. No more will I scratch my head on working out how to make the fees back when buying (i.e. by bidding less on the buy)!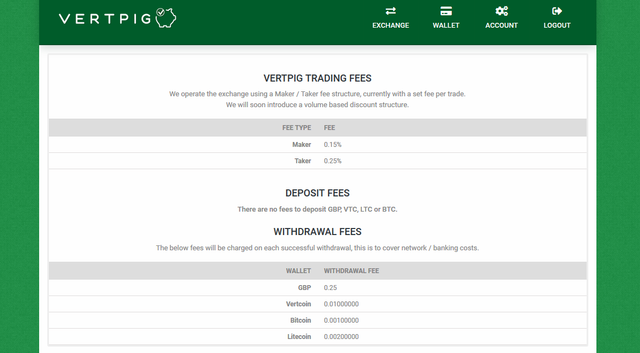 You'll also NOTE that there is an API link, but this isn't enabled yet (that will make it very interesting for a bot I've been considering!)

Account
The account area is as you'd expect it, although I must point out that they have incorporated "Know your customer" well, through the Yoti App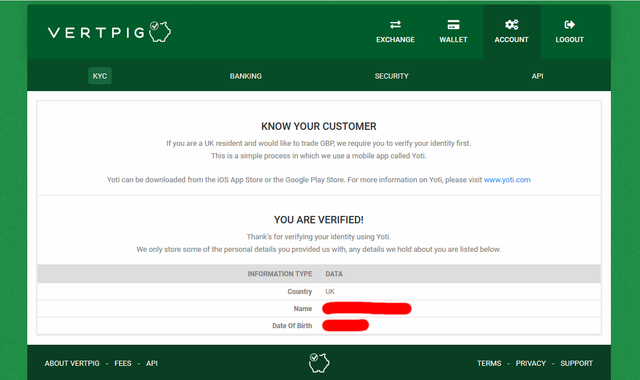 I had a few initial problems with YOTI, due to my name being double-barralled after marriage, but their helpdesk was superb and got me up and running! I just had to install YOTI on my phone, proceed through their questions, submit copies of documents and was completed in a few hours (ignoring my specific problem).
I've linked my bank account for withdrawals: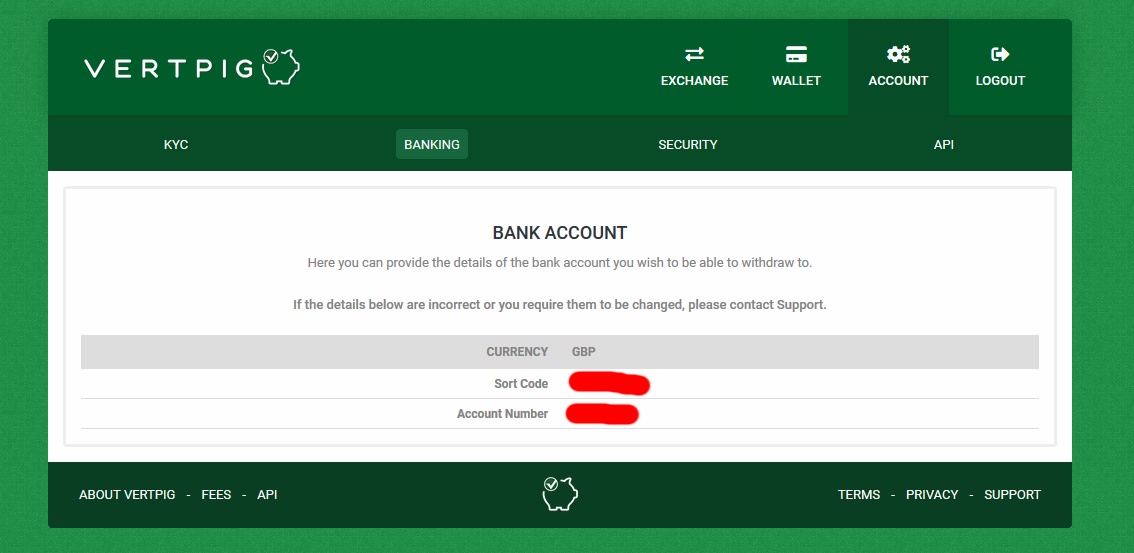 ..and have setup Multi-Factor Authentication (DO NOT FORGET TO DO THIS!):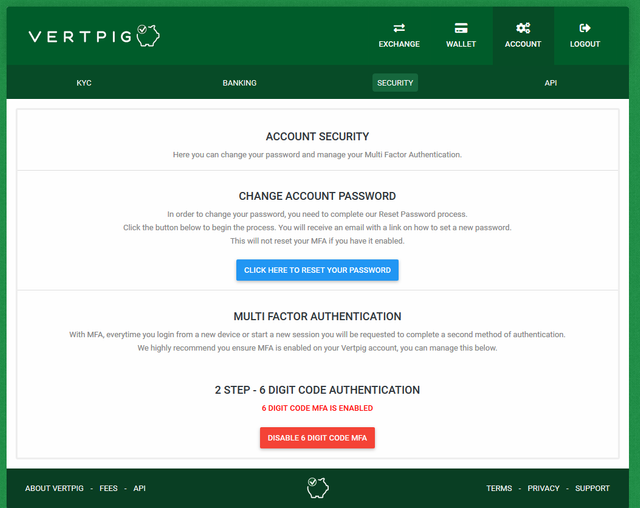 Final remarks
Overall, I'm excited and delighted by the arrival of this new Exchange. Not only do I have a FIAT/VTC pairing, BUT I've now divorced both BTC and ETH from my future buy and sell orders when they are NOT required!
I will gain by the direct deposit with no fees and will pay on trades and withdrawals, as I would in any other exchanges.
Given the VTC Road-Map, which includes Atomic swaps, this exchange is going to be absolutely perfect for the UK Investor!
It's going to be the cheapest way to buy in and to cash out with Crypo-currency!
IF you've not registered already, and you live in the UK, what are you waiting for?