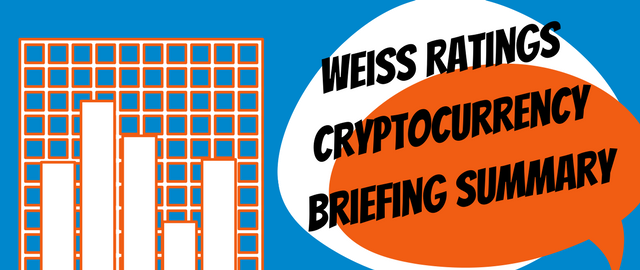 Would you like to know what is the 3 top coins you should invest in and why? How about the 5 coins you should avoid? If your answer is Yes!, to these questions you are in for a treat. Let's get into it.
---
Cryptocurrency Briefing Summary
Last night I attended the "Weiss Ratings Cryptocurrency Briefing" and I must be honest. It was educational. I thought it best to share the knowledge with my fellow Steemians since Steem was a topic in the briefing …
Categories that were discussed …
7 Questions you should ask yourself before you invest in any digital currency ...
3 Top coins …
5 Coins to avoid …
New profit strategy ...
7 Questions
1. Governance - The ability of the network to upgrade itself without going through continues hard forks.
2. Speed - How fast are the transactions? You need hundreds of thousands of transactions.
3. Cost - The cost of the transactions. How much money do I need to spend to send money?
4. Smart Contracts - What can you do with the smart contracts? With 3rd generation smart contracts you can build an entire company on the blockchain.
5. Decentralised - How decentralised are the currency? Decentralisation is at the core of what a cryptocurrency should be.
6. Security - How secure is the coin? Can it be easily hacked?
7. Adoption - How many people are using it?
3 Top Coins
1. EOS - EOS is a faster version of Ethereum. It can do everything that Ethereum can do. It's just much faster. EOS can scale up to tens of thousands of transactions. It can effectively out compete Ethereum at it's own game. This is basically why EOS is so promising. EOS doesn't have fees. You don't have to pay to use EOS.

2. Cardano - Cardano is another 3rd generation cryptocurrency like EOS. If EOS is ambitious, Cardana is just off the charts. There is not many differences in terms of what they are trying to do. It's basically trying to build a better Ethereum. A better EOS. Another way to think about it is if EOS is an improvement upon Ethereum, than Cardano is an improvement upon EOS. Cardano are fixing some things that EOS isn't even talking about. EOS is all about speed. Cardano is about speed but much more. It's about how you upgrade the code. It's about how you pay developers that want to push new code.

3. Steem - It's a social media platform where people get paid for posting things people like. It's like a blog and if people like what you are doing you get paid. Steemit, Steem has a working platform. It's one of the few blockchain companies out there that have a working, functioning platform. The blockchain is regularly doing north of 1.5 million transactions per day on it's network. It's probably one of the most successful working blockchains to day.
5 Coins to Avoid
1. Bitcoin Cash
2. Bitcoin Gold
3. Vertcoin
4. Electroneum
5. Bitshares
The reason they are selected is because there is just not enough there ...
View the Weiss Ratings Cryptocurrency Briefing Replay
---
Takeaway
The more informed you are the better the decision you can make. If you are serious about investing in crypto with a lot less risk and maximum profit I encourage you to have a look at what Weiss Ratings has to offer.
For the New Profit Strategy you can have a look at Weiss Cryptocurrency Portfolio
"The number of people using cryptocurrencies is still tiny. So the biggest profits in cryptocurrencies are still to come. Cryptocurrencies are going to change to world in ways that we have not even begun to understand yet."

To my fellow Steemians,
Thanks for being here. You're awesome and I appreciate you …