As much as J P Morgan's JPM Coin creates the hype around cryptocurrency and stablecoins, it neither addresses nor solves the burgeoning problem that mainstream stablecoins are facing — long time price parity and convertibility.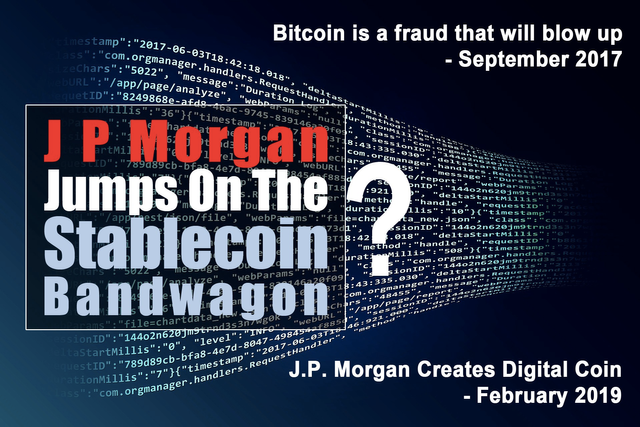 On valentine's day J P Morgan announced that they created a JPM coin, which will be pegged to the US Dollar. The move comes less than two years after JPM CEO Jamie Dimon called bitcoin a "fraud." The announcement spread a frenzy across the crypto industry. Some calling it awesome for blockchain adaption, others warning against the hype. While Yahoo Finance predicted it will turn up the heat in the blockchain arms race among the largest U.S. banks, a Forbes author claimed that it's not even a cryptocurrency. And, Bloomberg calling JPM coin a direct threat to Ripple.
Bitcoin bull Tim Draper told Fox Business that JPM Coin is "great news" for the overall industry.
But the question for us is whether it is indeed the much sought after Utopian Holy Grail of cryptocurrency, or the curse that all stablecoins are fated to be?
According to their own disclosure,here's how JPM Coin works as a stablecoin. A client converts fiat currency (USD) to tokenized JPM Coins which reside on the Quorum blockchain (JPM's own Ethereum-based private blockchain). The JPM Coins are then transferred to another JPM Client at which point they are converted back into fiat currency, and the JPM Coins are destroyed.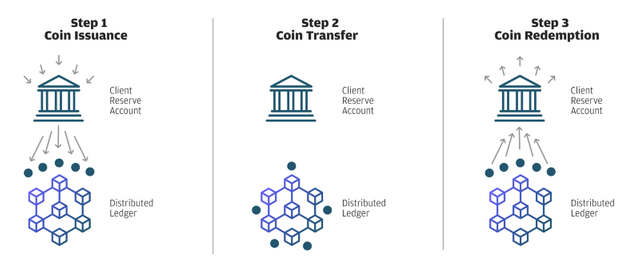 Source
JPM Coin is just a prototype that can only be used by some of the bank's corporate customers. It will facilitate the instantaneous transfer of payments between institutional accounts. It is neither intended to be used by retail customers, nor will it be ever traded on exchanges. Hence the following maxim that we previously formulated does not come into play.
Perpetual growth is bare essential for any pegged, collateralized or algorithmically stabilized cryptocurrency scheme to work, and no market can support bulls forever. Bears will eventually kill it. Such schemes of selling speculative crypto assets to acquire money only work as long as the humans are playing along.
Being neither created on a public blockchain, nor intended to trade on exchanges, JPM Coin isn't a cryptocurrency in that sense. It sustains within a speculation-independent self-sustaining closed ecosystem. As reasons therefore JPM Coin neither addresses nor solves the problems that mainstream stablecoins are facing — long time price parity and convertibility.
The quest for Ideal Money continues…….
Prosperist Pledge-LVIX:
If you wish to pledge support to the Prosperism movement, the terms remain the same as previous posts, with the following pledge:
"I pledge to share my SBD+Steem reward from this post with @prosperist to earn Xteem tokens @ 1 Xteem token / $0.01".
Thank you for your continued support.