Can you still make money claiming from crytpo faucets? Week 18 of data analysis for my crypto faucet experiment. I started this because of typical fear of missing out,(if only I had started this, 6 months ago, a year ago it could be worth X). This is not your typical faucet post with "check out this faucet" (affiliate link). While these are my affiliate links, you will also see my transparency in reporting.
TL/DR: Lifetime Value: $27.80 (Up $2.31 from Week 16)--- Over 7,195+ claims $24.47. 96% of earnings are from my actions, 4% are from referral claims.
Week 15 - Over 404+ claims for a total of $1.25. 88% of earnings 12% ($0.14) are from referral claims.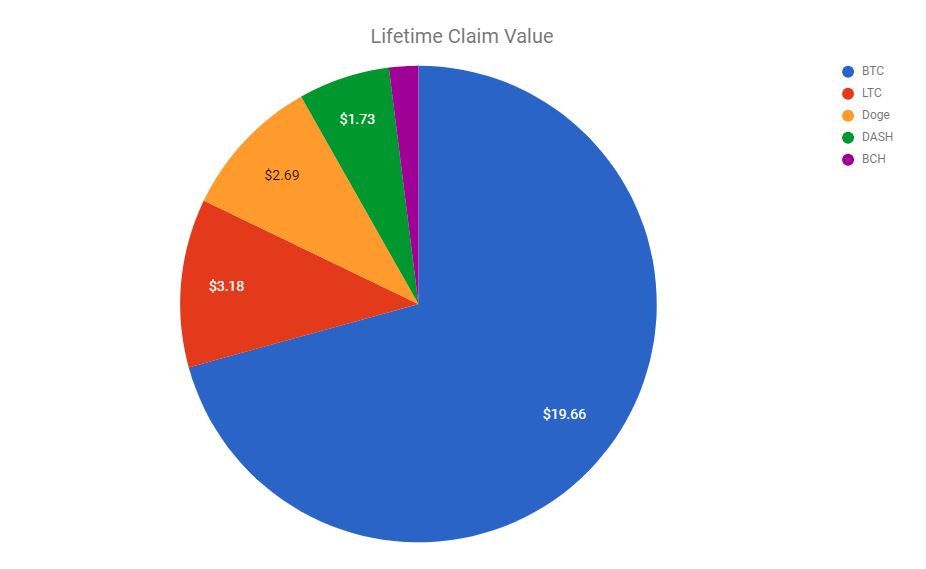 Week 18 Breakdown
Personal Actions
Value
Referrals
Value
Faucet claims:
$1.06
Referrals claims: 65
$0.14
Daily Bonus: 7
$0.04
Offers Completed: 0
$0.00
CoinPot Mining
$0
Down week for me, I lost drive to claim and I was very focused on work. I was focusing on driving up my bonus on Freebtc... classic mistake I went bust again. Here are my weekly claims, clearly a down trend.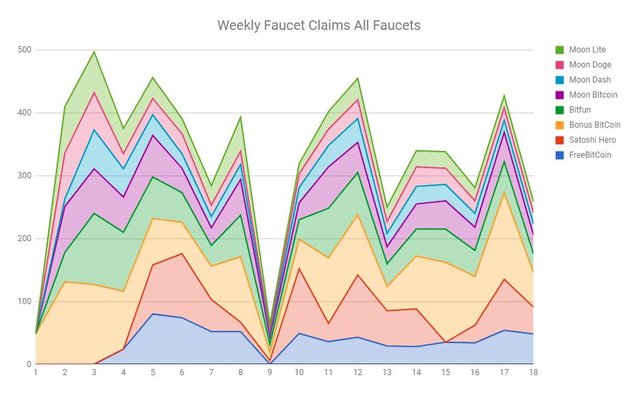 I spent more time on steemit and playing hi/lo than doing claims. I have managed to keep my loyalty bonus at 100% for the Moon faucets.
Here is a quick breakdown by coins and value for the week
| Coin | Amt Claimed | Value |
| --- | --- | --- |
| BTC | .0008149 | $0.79 |
| BCH | .00006477 | $0.08 |
| Dash | .00017032 | $0.10 |
| Doge | 19.93 | $0.13 |
| LTC | .00053365 | $0.11 |
There are 9 faucets I am using for this experiment, I only plan on adding more if CoinPot does. Honestly at this point it is hard to keep up with them all to maximize returns. Plus I start traveling for work, and I doubt airports and plane rides are conductive to reCaptcha.
MoonBitCoin
MoonDash
MoonLiteCoin
MoonDogeCoin
Bonus Bit Coin
BitFun
Freebitco.in
Satoshihero
PrimeDice
Lifetime Claim Data *(slight variance to total holdings due to missing claims in Coinpot data)
Currency
Faucet Claims
Total Currency
BTC
Bonus Bitcoin Faucet Claim
.00051982
BTC
Bonus Bitcoin Daily Bonus
.00007012
BTC
FreeBitco.in Faucet.
.00029275
BTC
FreeBitco.in Hi/Lo
(.00041757) *see below
BTC
BitFun Faucet
.00031840
BTC
MoonBitCoin Faucet
.00036707
LTC
MoonLitecoin Faucet
.01551691
Dash
Moon Dash
.00265519
Doge
Moon Dogecoin
561
BCH
Moon BCH
.00049045
Offers
BTC
MoonBitCoin
.00008680
BTC
Bonus Bitcoin
.00000080
BTC
BitFun
.00001190
Referrals
BTC
FreeBitco.in Referral
.00004158
BTC
BitFun
.00005280
BTC
Moon Bitcoin
.00006010
Mining
BCH
CoinPot Mining
.00002656
LTC
CoinPot Mining
.00005574
DASH
CoinPot Mining
.00019045
* Loses include referral commission and bonuses.
Getting your coins!
Coinpot has recently announced they are no longer to send deposits to Coinbase, but they have removed fees, and lowered withdrawal limits. From now on I will send the majority of my coins to my Ledger.


Is it too late? Removing price volatility.
The graph below tries to remove the price volatility from my faucet claims results by using a static prices based on the price of the first day I started to claim from that faucet. That dip reset me to almost even, but it has climbed back to profit from the growing coin values. I love those dips to really crank up the faucet claims. They can be almost double on the dips.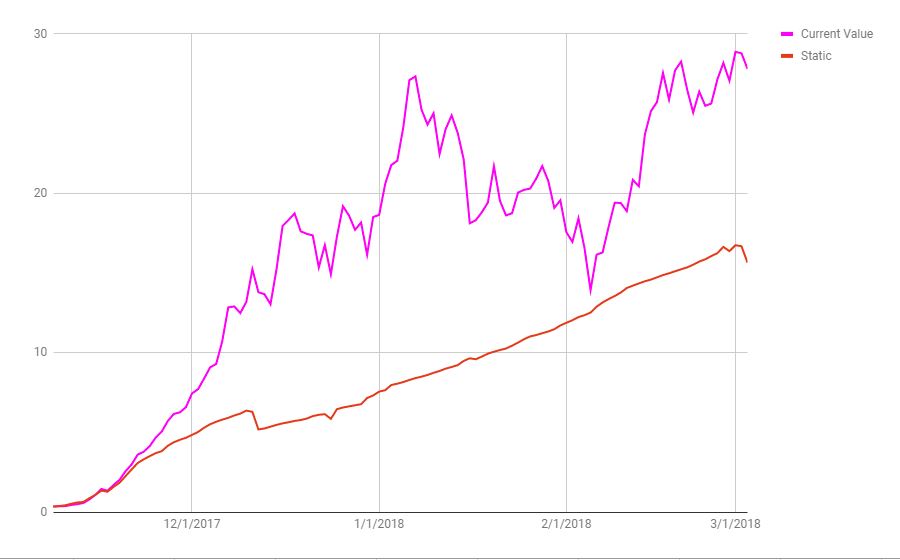 Upcoming
Give me feedback below, if you actually read this.