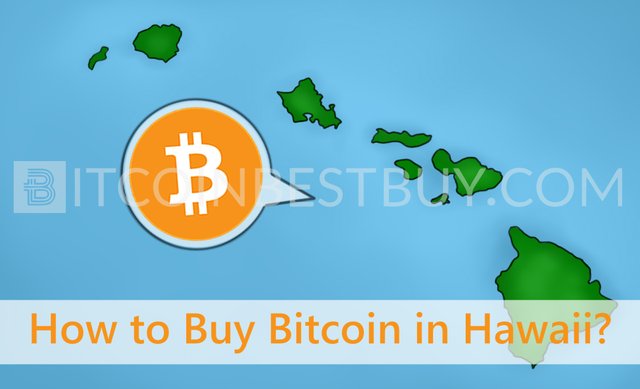 Active bitcoin users, who travel around the USA, have probably noticed that in some states purchasing cryptos can be harder than in the others. This is why it is good to know not only the federal laws, but delve deeper into the rules of Bitcoin trading in a particular state. I, John Ryan, a crypto expert from https://bitcoinbestbuy.com/, will help you with this. In this article, I will tell you how to buy bitcoin in Hawaii.
Regulation of Bitcoin in Hawaii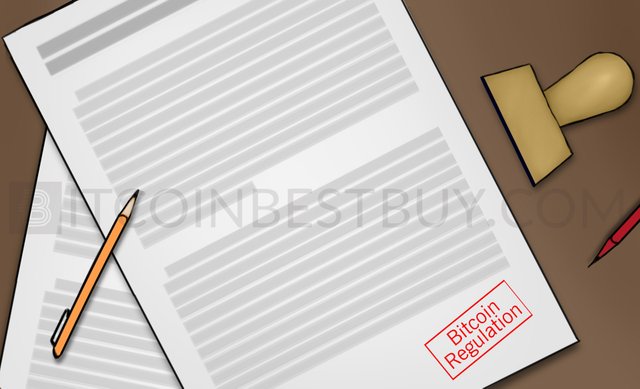 In the United States of America, each state has its own laws and regulations for individuals and businesses that deal in cryptocurrencies. In addition, the government in Washington has its own understanding about how to treat Bitcoin, and oftentimes, the guidelines from federal authorities contradict one another. Let's take for example two verdicts — one from the Financial Crimes Enforcement Network, and another from the judge of the federal district court in New York. In simple terms, the former claims that cryptocurrencies are money, and the latter qualifies them as commodities. This lack of consensus between the federal and state regulators causes much trouble to Bitcoin proprietors, and sometimes makes them emigrate from one state to another.
Talking about Hawaii, it is important to mention at least five Bills that are meant to regulate virtual currencies in the state:
Senate Bill (SB) 949, introduced in March 2017. It establishes the special working group to decide if the activities with cryptocurrencies are covered by the Money Transmitters Act of Hawaii;
two SBs, 2853 and 3082, both claiming that virtual money should be regulated in the same manner as fiat one. At the same time, these two propose to implement licensing for businesses dealing in cryptos, and, in general, make it more difficult for Hawaiian residents;
House Bill (HB) 2257, from January 2018, which, first of all, states that virtual currency is a unit of value that "is not money, whether or not denominated in money." Secondly, it obliges all licensees to guarantee total refund of all money received from the customers on request if the transaction fails. To top it all, this bill suggests that the businesses have to warn their clients about all risks associated with exchanging, receiving and sending cryptos;
finally, HB 1481, voted on 22 February 2017, requires establishing a group of cryptocurrency experts and business leaders that would study, educate and propagate the most beneficial practices of using blockchain technology.
For a lame user this may sound a little bit complicated, so what does it all mean in real life? It means that Bitcoin is legal in Hawaii, but there is no final understanding on how to treat it. And the trend is not optimistic, because the regulators include more restrictions and obligations with every accepted law.
The best example is Coinbase, along with a couple of other major cryptocurrency exchanges, which were forced to leave the state seeking a better place to do business. The new laws obliged them to keep the reserves equal to all funds of all clients at any time, both in virtual and fiat money, for refunds. That was a huge and unnecessary burden for the crypto exchanges. Keeping in mind, that the procedure of applying for a license is very invasive, yet necessary for all participants of the cryptocurrency trading, it is not a big surprise that individuals with Hawaiian ZIP code were blocked from Coinbase, Bittrex, and others. However, it does not mean that they did not search for alternatives.
How Can I Buy Bitcoin Here?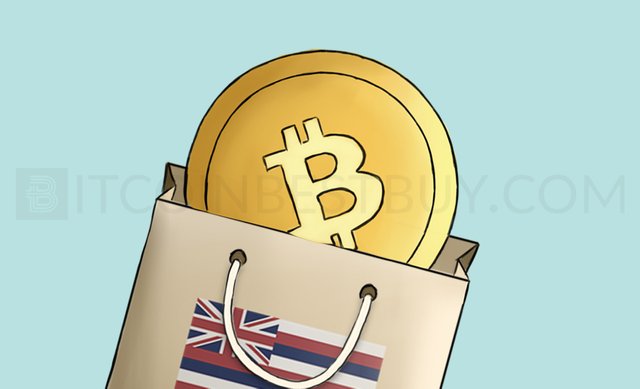 If you look at Google Trends, you will see that those improvements from Hawaiian legislators significantly decreased the popularity of Bitcoin among people who live here. According to the statistics, while in December 2017 the number of requests reached 100, in November 2018 it dropped down to 5. Still, the cryptocurrency activities did not stop completely after some leading trading platforms left the state. The users switched to competing internet resources to buy and sell virtual tokens. In addition, there are ways to purchase bitcoins that are not related to the internet.
To make a long story short, here is a list of what you can do in order to get some cryptos in Hawaii:
you can use the exchanges that still work with the residents of the state;
you can join one of the Bitcoin communities in Hawaii;
you can get bitcoins via ATMs.
Let's see how these methods work in more detail.
Exchanges That Can Be Used for Bitcoin Buying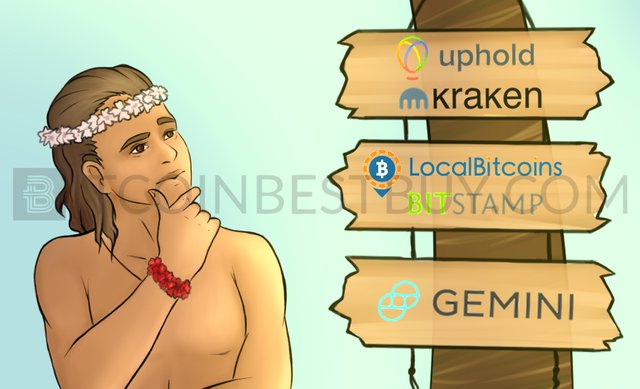 First of all, you need to know that there are no online bitcoin exchanges registered in Hawaii. The state's Division of Financial Institutions did not issue any licenses to local businesses transmitting cryptos. Thus, be aware if a company offers its services claiming that they operate under the state's jurisdiction, most probably this is a fraud. However, there are several US-based exchanges, along with international platforms, that successfully work here.
Uphold
Uphold is a cloud-based digital money platform that works in 184 countries at the time of writing this article, and conducts operations with fiat money, cryptos, and even precious metals, 35 assets in total. The list of digital tokens includes:
Bitcoin, with its forks Litecoin, Bitcoin Cash, Dash, and Bitcoin Gold;
Ethereum, and cryptos based on this platform: Basic Attention Token (BAT) and Libra Credit (LBA);
XRP and VOX.
This company was launched in 2015, it is headquartered in the USA, with offices in Portugal, China, and England. There is a web-based version of this platform, and mobile apps for iOS and Android. Uphold users say that this is not a usual cryptocurrency exchange, as it has no trading controls and no charting. It is more of a platform where you can comfortably store, buy and sell currencies and commodities. The company provides instant and safe operations, and backs all funds of the users with its own reserves.
Here is a brief description of advantages and disadvantages of Uphold. The upsides are:
the transactions take seconds;
a handy crypto wallet where you can store and convert 35+ assets;
the transactions are free within the Uphold system;
the sign-up and verification process is short, easy, and not too invasive;
you can deposit using your credit card, bank account, or your cryptocurrency holdings. The funds will be on your - account in minutes;
support service works quickly;
you can manage your funds in real time.
The downsides are:
there is a 3.99% fee for funding from debit/credit cards. Withdrawal costs the same;
U.S. residents cannot deposit more than $500, and withdraw more than $10,000 per day;
there are additional fees for converting between currencies;
other wallets support more cryptos.
To conclude, I can say that Uphold is a handy but rather expensive way to purchase BTC.
Kraken
Kraken is a traditional cryptocurrency trading platform founded in 2011. It is one of the oldest and biggest exchanges registered in the USA. As of November 2018, here you can trade bitcoins, along with 17 other altcoins, and world's major fiat currencies. Among the benefits of Kraken I would name its great reputation and high security level, lots of trading options, various mechanisms to protect you from extra losses (Limit, Market, and Stop Loss orders), and low fees. The disadvantages of Kraken are fewer in number and less significant: according to the customers' reviews, the support service may be overwhelmed sometimes, and it's website is not really beginner-friendly.
Gemini
Gemini is an online digital asset exchange launched in 2015 by the famous U.S. traders — the Winklevoss brothers. Its headquarters are located in New York, and you can completely trust it because it has a license from the city's State Department of Financial Services. It works exclusively with U.S. dollars, and conducts USD to crypto and crypto to USD transactions. Here, you can buy and sell BTC, BCH, LTC, ETH, and ZEC. It operates in the USA, United Kingdom, South Korea, Singapore, Hong Kong, and Canada.
It is a reputable crypto exchange, with zero fees for depositing and withdrawal and low trading commissions. It has one of the highest security levels, and positive reviews from the customers. The downside of this platform is that it works with few altcoins. For Hawaiian residents, however, this is not the biggest disadvantage, when it comes to Gemini. Unfortunately, this company is only pending approval from the state's regulators. "Coming soon" is what they say in the list of areas of operation next to "Hawaii." The website asks you to leave your email address, so that they could inform you when they expand to the state. Still, I believe, if you've already been registered on Gemini from another state, you can use it in Hawaii, too.
Bitstamp
Bitstamp is a cryptocurrency exchange that was founded in 2011, which makes it one of the oldest platforms available. It has a solid reputation as a reliable, safe and advanced cryptocurrency marketplace. The range of tokens and fiat money accepted is rather limited — you can only use U.S. dollars, euros, Bitcoin, Bitcoin Cash, Ripple, Litecoin, and Ether here. The fees are very low, unless you deposit from your credit card and the sum is less than $500. Bitstamp has an office in the United States, and is fully operational in Hawaii.
Among the pros of Bitstamp I would point out its high liquidity, which means that you can quickly buy and sell large amounts of tokens without cutting the price. As for the cons, it is not easy to use for beginners. Bitstamp applies 2FA (2 factor authentication), which some like, and others don't. They also have high anti-money laundering and know your customer standards, which is good for security, but may be not acceptable for those who like anonymity.
LocalBitcoins
LocalBitcoins is one of the best solutions when it comes to buying and selling bitcoins. This peer-to-peer trading platform works with a great number of fiat currencies and altcoins, and supports all popular payment methods. It operates in more than 200 countries, providing people all over the world with the opportunity to trade tokens directly with each other. This way you can choose the best rate from the offered ones, with the lowest fees. To register here, you need only your email address. This service has a very user-friendly design, and the transactions take no more than a couple of hours. The main drawbacks of LocalBitcoins are:
it is more risky than the advanced exchanges like Kraken, or Bitstamp;
the limits and exchange rates are established by traders themselves, so they can vary greatly;
it is a peer-to-peer system, so you have to deal with all transaction details yourself.
In conclusion, I have to warn you about two things concerning LocalBitcoins — be aware of scams, and be ready to pay higher fees if you want to buy with cash.
Do Hawaii Islands Have Bitcoin ATMs?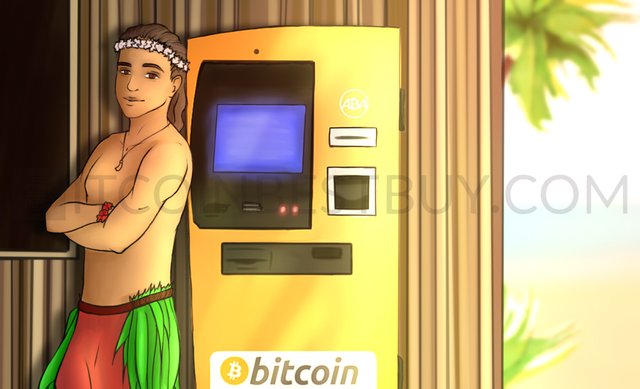 As of November 2018, there are 7 Bitcoin ATMs in Hawaii (according to Coin ATM Radar), they are located in:
greenteaHAWAII, 4-1613 Kuhio Hwy STE 16, Kapaa;
Vape Kings, 579 Farrington Hwy. Ste 106, Kapolei;
Rick's Tea Service, 743-E Waiakamilo Road, Honolulu;
Hawaiian Island Stamp & Coin in Honolulu, 1111 Bishop St;
Shirokiya Japan Village Walk, 1450 Ala Moana Blvd, Honolulu;
Hawaiian Monarch Hotel, open 24/7;
Vape Kings in Honolulu, 1915 S King St.
This way is rather inconvenient and expensive, as the fees vary from 14.99% to 18.88%. It may be good for those who, for any reason, have no internet access. On the other hand, ATMs are secure, user-friendly, and you have your coins in seconds.
Community Meetups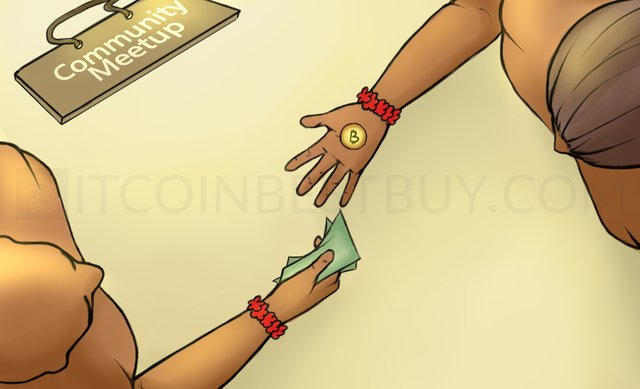 No matter how hard I tried I could not find many Bitcoin communities in Hawaii with plans to organize meetups in the near future. Actually, there is only one, HonoluluBitcoinGroup. Such gatherings are the best way to buy some bitcoins directly from other users without any intermediaries, and you can also keep up with Bitcoin news and share your experience there.
Summing Up
In conclusion, I would like to say that despite the extremely unsupportive strategy of Hawaiian regulators, Bitcoin is still in great demand in Hawaii, and people have a wide range of options to buy and sell crypto tokens. However, everything may change very soon, because the policy of the state turns from cautious to paranoid. It is up to you to make decisions, of course, but I would be in a hurry and buy bitcoins now, when there is a legal way to do it without going to the mainland.