15–07–2018 - New decrease in Blocks rewards !
On the night of July 15, 2018, the blockchain SCRIV passed block number 345 700. Now the rewards are reduced by 20% as planned in the SCRIV program. This once again marks a good evolution in the progression of the SCRIV blockchain and the implementation of a stable and growing system in its progression.
The next decrease will occur around block 691 300 (is located around November 2018).
So far, the rewards are divided so that 70% go to minors and 30% to Masternode. (See Whitepaper).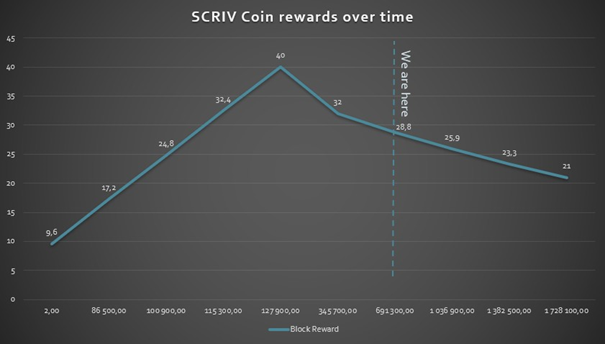 SCRIV Network also informed its users about the arrival of a Community Governance system at the project's breasts. This new addition will divide the rewards, so that 60% will return to miners and 10% to governance. The percentage of masternodes will remain unchanged.
As a reminder, the Community Governance system makes it possible to define a block reward percentage dedicated to the community, in order to vote for proposals approved by the community.
It is thus an important and indispensable element for a blockchain system of quality and for the self-financing of important project. Deeper decentralization gives more weight to users. It is therefore appropriate that SCRIV uses it as well.
New progress very soon.