Well that certainly did not take long. Once we cracked 5,500 on BTC it left the downside exposure open down to 3,600.
BTC Had Pulled Into the Station
Looking at the daily chart of BTC you can see the support line drawn in the 3,600 area.
This level marks a couple of things:
It was the pivot point that began the parabolic rally last year.
It basically represents a full round trip back to where it all started.
Now, the swing low is 2,975 so we could easily touch there and based on history price action shows us we could find support anywhere from that price on up to 3,600.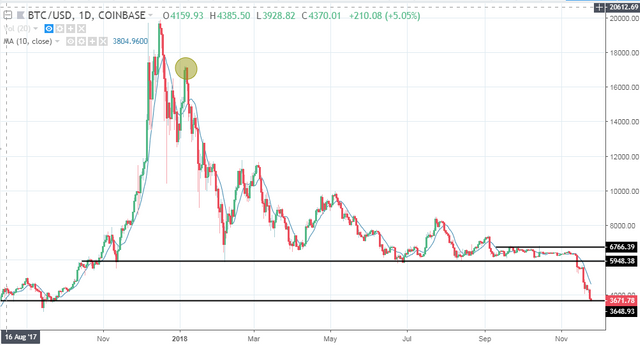 Will We Sweat?
If BTC doesn't find footing at the levels I mentioned above then 1,975 comes into play. Ouchie, let's not think about that for now.
The main goal is to establish above 3,600. I'm not sure price is quite ready to do that, but we shall see.
Risk-Reward
As a last note: investing is all about risk-reward. The one positive of the crypto sell-off is you are getting coins at much lower prices. We are further from the highs and closer to the lows. This means there is a better risk-reward ratio offered presently. I may add especially if we touch the 2,900s being my downside is max 2900 and my upside is four to five times that at the all time highs.