Daoswap - yeld farming revolution
The idea of the first Cryptocurrency, the "Bitcoin" is based on greatest innovation of last years: it was developed by unknown man, under the name of Satoshi. Banks, financial authorities and traditional entrepreneurs thinks that cryptocurrencies are like a big bubble, but crypto investors know that will be like internet 20 years ago.
During this period a lot of people are gaining money with a brand new platform called Uniswap.
In this fantastic place a lot of gems were born, and one of the new concepts that has emerged into Uniswap is yield farming. It's a new way to earn rewards with cryptocurrency holdings using permissionless liquidity protocols.
People can add liquidity into liquidity pools, and get rewards.
I discovered an hidden gem, a new legit project under presale right now: Daoswap.

With yield farming, an investor lends out their digital asset using a platform like Uniswap, earning a return that, ultimately, stems from borrowers paying a premium for the asset. For example, a yield farmer can lend ETH on Daoswap and earn a yield based on how much Daoswap charges borrowers for ETH loans.
Daoswap developed an amazing dashboard where crypto investors can track their investments and calculate rewards trought a simple user interface.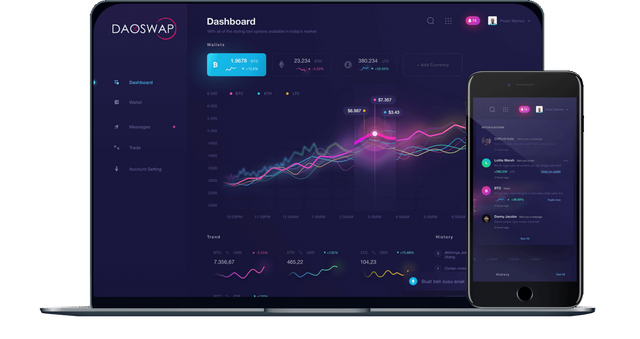 Tokensale details
Here you can find some info about presale:
private sale will be ends on 20th October 2020 - just one round
Accepted: ETH ONLY
TOTAL SUPPLY = 50000 DVS
PRIVATE SALE = 6250 DVS
DISCOUNT = 25%
PRIVATE SALE CAP = 100ETH
MIN/MAX CAP = MIN 1 ETH/ MAX 10 ETH PER WALLET ADDRESS
Private Sale Price = 62.5DVS/ETH
Public sale will start 21th ends 28th October
PUBLIC SALE P1 = 50DVS/ETH
PUBLIC SALE P2 = 36DVS/ETH
UNISWAP LISTING = 25DVS/ETH
LIQUITY LOCK = 200ETH + 5000DVS
Learn more about Daoswap:
DAOSWAP Official Website: https://daoswap.app/
Whitepaper: https://daoswap.app/downloads/whitepaper.pdf
Telegram group: https://t.me/daoswap_chat
Reddit: https://www.reddit.com/user/daoswap2021