News Flash: 'It's Virtually Certain': Bitcoin ETF Will Be Approved, Prominent Analyst Argues
Hi Steemians,
Ric Edelman, a prominent financial markets analyst and founder of Edelman Financial Services, recently said that a bitcoin (BTC) exchange-traded-fund (ETF) will "certainly" be launched.
Edelman, a cum laude graduate of Rowan University and the recipient of an honorary doctorate, told CNBC (on February 11th):
The SEC [US Securities and Exchange Commission] has several legitimate thoughtful concerns that the industry has to overcome but I'm confident they will. Eventually we will see a bitcoin ETF and it's at that stage that I will be much more comfortable recommending that ordinary investors participate.
Edelman added: "It's virtually certain. The only question is when."
On February 5th, 2019, Dr. Drew Hinkes, an adjunct professor at New York University, had revealed that Robert J. Jackson Jr., an SEC commissioner, has said a bitcoin ETF will "eventually" be approved. Although the commissioner's interview has not yet been published, Hinkes stated (via Twitter) that the pending crypto ETF proposal may satisfy all of the US securities regulator's requirements.
"Some Serious Players" Have Entered Crypto Sector
Explaining why a bitcoin ETF proposal has taken longer than expected (by some) to be approved, Jackson was quoted as saying:
Getting the stamp of approval from the deepest and most liquid capital markets in the world is hard, and it should be. Once we make it available to everyday mom and pop investors, we are taking risks that Americans can get hurt.
Meanwhile, Edelman believes:
We've [now] got some serious players [in the crypto space]. Fidelity has made a major announcement in the custody issue. We've got Kingdom Trust and a number of other very serious players on the custody side. I'm confident that in very short order VanEck or Bitwise will satisfy the custody concern to the SEC.
VanEck Director Explains Why Bitcoin ETF Would Help Investors
On February 3rd, 2018, Gabor Gurbacs, digital asset strategist and director at VanEck (a financial services firm that has prepared several bitcoin ETF proposals), argued via Twitter that a bitcoin ETF "serves the public interest" as it provides:
"increased liquidity using the ETF ecosystem",
"lower counterparty risk",
"better valuation & execution practices",
"separation of duties: trading, custody, valuation",
"transparent fees",
"established compliance framework"
According to Tom Lydon, the chief editor at ETFTrends.com, there's currently huge demand for a bitcoin ETF. He remarked (during the same CNBC interview):
There is pent-up demand. We interview advisors all the time. Seventy-four percent say they've talked to clients about their interests in bitcoin so they need to step up when this happens because that money is going to go elsewhere.
Ref: https://www.cryptoglobe.com/latest/2019/02/it-s-virtually-certain-bitcoin-etf-will-be-approved-only-question-is-when/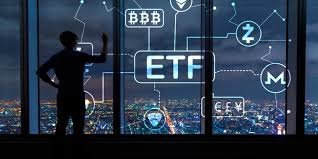 Cheers