Crypto Flash: Many Bitcoin Millionaires Still Hodling, Expecting More
Hi Steemians,
A number of Bitcoin (BTC) millionaires, after having made new fortunes in the 2017 explosion in cryptoasset values, have held onto their stacks even after the 2018 bust, according to the Detroit Free Press.
Nate Talbot, Bitcoin millionaire who now runs the educational outreach organization Detroit Blockchain Center, says that many people he knows "[came] for the riches, [stayed] for the revolution."
About 200 of these people showed up for Talbot's "Detroit Blockchain & Fintech Pitchfest" event, suggesting that there is still life in the community.
One attendee - David Smith - exhibited the same sort of hodling attitude that got him to millionaire status in the first place, saying:
I think there's more upside to be realized [...] I don't want to sell at $20,000 and have it go to $100,000 in the next three years and then be like, 'Oh, I just missed out on 5x'ing my money.'
Smith added that "there is also like a religious component, where I feel like this is a good thing to exist in society."
Not All In
But it seems that not all of the Bitcoin rich, who have been in for years, agree that Bitcoin is still a good investment.
CryptoGlobe reported recently on Erik Finman, a millionaire teenager who started investing in Bitcoin when he was 12. In his view, Bitcoin is "dead" due to the vicious infighting that has crippled it for the past year and a half - like the kind over the issue of scaling, that led to the Bitcoin Cash contentious fork in 2017.
Finman conceded that Bitcoin "may have a bull market or two left in it," but overall he thought that other projects like Ethereum (ETH) and ZCash (ZEC) have a better chance of succeeding.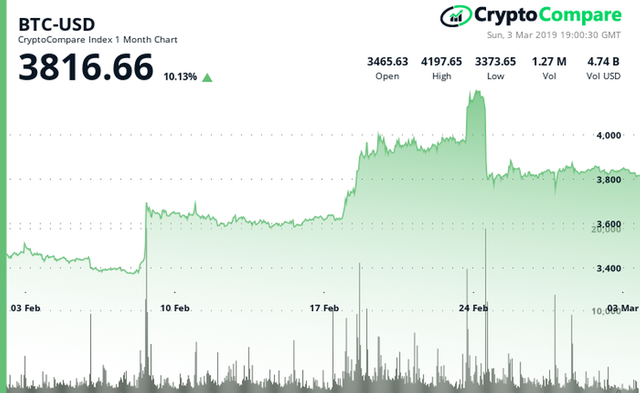 (source: CryptoCompare)
Bitcoin continues to range sideways, as of Sunday evening UTC. February was a bumper month for the leading crypto, however, with as much as 25% gains from trough to peak.
Ref: https://www.cryptoglobe.com/latest/2019/03/many-bitcoin-millionaires-still-hodling-expecting-more/
Cheers