Cryptocurrencies. Many people love the digital assets and everyone has their favorite for different reasons. The followers of DeepOnion have now the chance to support the minting of physical coins. There is currently a kickstarter campaign where you can crowdfund the production of physical DeepOnion coins.
The standard coins will consist of 63% Copper and 37% Zinc and will have a nickel coating to create the illusion of a gold coin. Furthermore they will be all laser engraved with sequential numbers and will have about 11 Grams.
MisterLG, the initiator and creator of the project, made also a commitment in form of a stretch gold that the first 100 backers that buy at least 10 coins will receive an additional 22 Karat gold plated coin. There are also a few other stretch goals but the gold coin attracted the most attention. The most backers pledged for the ten coin option.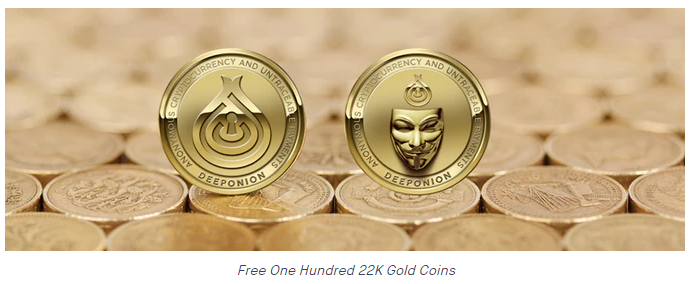 Screenshot of the gold plated coin from kickstarter
Currently, 15.03.2018, there are 90% of the funding and 45% of the gold plated stretch limit reached. People who are interested in the gold plated coin, there are still spots left. Backers should receive their coins at the end of Mai, except the kickstarter funding is not reached. MisterLG published a timeline on kickstarter

Screenshot of the timeline from kickstarter
As you can see on the screenshot the project started back in February with a design voting for the coin. There was an own thread for the voting on the DeepOnion forum. The project is also an intensely discussed topic in the official announcement.
To everyone who would like to fund the project, you can find further details here. Don't forget that you will need the ten coin package to qualify for a gold plated coin
https://www.kickstarter.com/projects/327018978/mint-deeponion-physical-coins
Further readings
Design Voting: https://deeponion.org/community/threads/physical-coin-voting-thread.31379/
Announcement: https://deeponion.org/community/threads/physical-deeponion-coins-for-sale-on-kickstarter.29399/
I also published this article on the DeepOnion forum: https://deeponion.org/community/threads/article-get-your-minted-22-karat-gold-plated-deeponion-coin.32638/