Cryptocurrency Market Update; EOS surges 16%, Bitcoin price at $7,650 as Cryptocurrency market gains $10billion.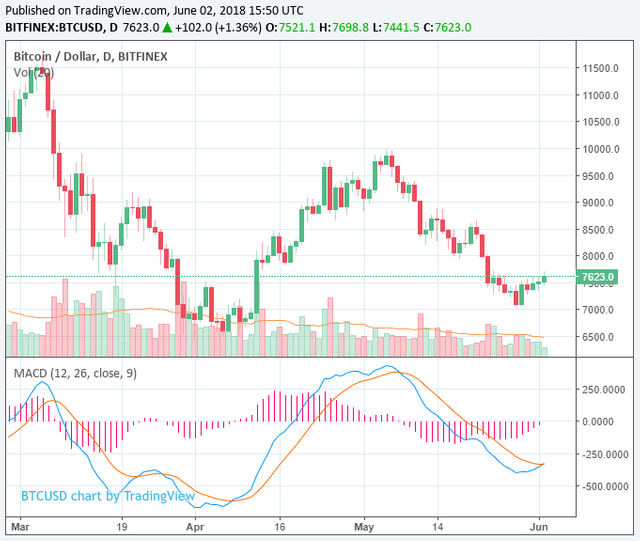 The cryptocurrency market has increased by around $10 billion over the past 24 hours, as major cryptocurrencies including Bitcoin, Ripple, EOS, Stellar, and Tron surged in the range of 2 to 16 percent. EOS was the strongest performer, recording a gain of 16.24 percent subsequent to its main net launch.
No Major Movement Over the Past 7 Days.
Although it seems as if the market has recovered by large margins and bitcoin has rebounded from its previous dip, BTC has remained in the same region over the past seven days. Last week, on May 27, the price of BTC was $7,560. As of June 2, the price of BTC remains just over $7,600, less than 1 percent higher than its position on May 27.
On May 27, analysts predicted a downward trajectory for BTC and a possible drop below the $7,000 mark. BTC did drop to $7,040, but recovered relatively quickly back to $7,500, as bulls refused to allow bitcoin to drop below a key resistance level at $7,000, which could have led BTC to enter the higher end of $5,000.
The descending trendline from May 6 to June 2, covering two corrective rallies on May 11 and May 21, demonstrate that BTC has the potential to regain momentum at its current level, establishing $7,040 as the bottom.
However, BTC has also replicated the head and shoulders top that was formed throughout May 15 to May 20, which ultimately led BTC to fall from $8,500 to $7,040.
Performance of Tokens.
Tokens such as Ontology, ICON, WanChain, Theta, and others recorded a surge in volume and price over past few days, benefiting from the short-term recovery of BTC. Because tokens tend to decline and increase in value with larger margins in comparison to BTC, tokens usually provide high-risk and high-return trading opportunities.
EOS recorded a 16 percent increase in price, as traders and investors have started to anticipate the performance of EOS post-main net launch. Some analysts and traders have claimed that the performance of EOS is not organic and it will likely fall in value in the upcoming days.
Other tokens such as Tron have also experienced an increase in value due to their main net launches, but quite often, a price spike triggered by a certain event or a single factor is vulnerable to a short-term correction.
Image from TradingView.com